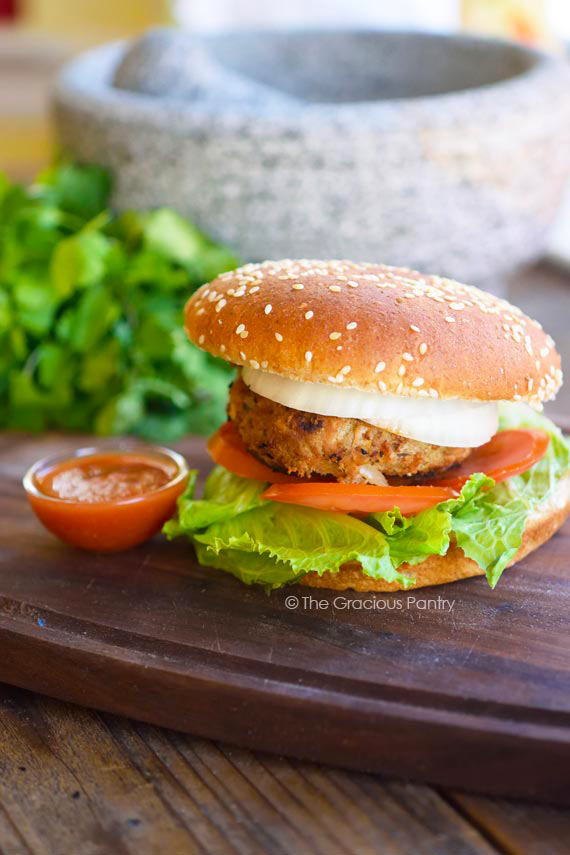 It's true. Turkey burgers can get boring. In fact, most burgers can get boring if you eat them the same way all the time.
There are some pretty decadent burgers out there. Stuffed or topped with all sorts of not-so-good for you ingredients. Once you start eating clean, your burgers may start to get a little dreary compared to the way you may have been used to eating them before. But it doesn't have to be that way!
While I will admit to often being baffled by what kind of burger I should make next to keep it interesting, this was a real winner at the table. If you have kids, definitely choose a very mild salsa. But aside from that, you can make these as spicy as you like! Simply adjust with the salsa used and/or with the use of the chili powder, which adds really great flavor, so try not to skip it unless you are overly sensitive to spice.
Many burgers labeled as "Taco Burgers" have crushed corn chips in them. But I skipped that here. I know there are chips out there that have a clean ingredients list, but I always struggle with the idea of how processed they are to get them into chip form. So I leave that up to you. If you want to use them, I would simply crush them up and stir in about 1/4 to 1/2 cup with everything else. But it's not necessary here. These are yummy!
YOU MIGHT ALSO ENJOY:

Clean Eating Taco Burgers Recipe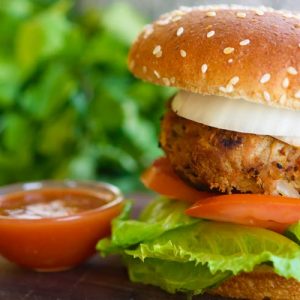 Author:
Tiffany McCauley | The Gracious Pantry.com
Ingredients
1 lb. ground turkey or beef
¼ cup clean salsa (consider mild sauce if using the chili powder)
1 tbsp. garlic powder
1 tbsp. onion powder
1 tbsp. chili powder, optional but good (consider omitting if your salsa is very spicy!
1 tbsp. ground cumin
Instructions
In a medium mixing bowl, knead all the ingredients together by hand to blend well.
Form 4, equal-sized patties and cook them either in a skillet with oil, or bake them on a parchment lined baking sheet at 350 F. for about 45 minutes or until they reach at least 165 F. on a meat thermometer.
Stack on a clean bun with your favorites like lettuce, tomato and cheddar.... and enjoy!
Note: If you don't have time to make your own burger buns, you can either use regular, clean bread or the Alvarado Street Bakery brand is pretty clean. I get them at Whole Foods but many stores carry them. It's worth a call to see who has them in your area. You can also order them from Amazon. (Affiliate link)