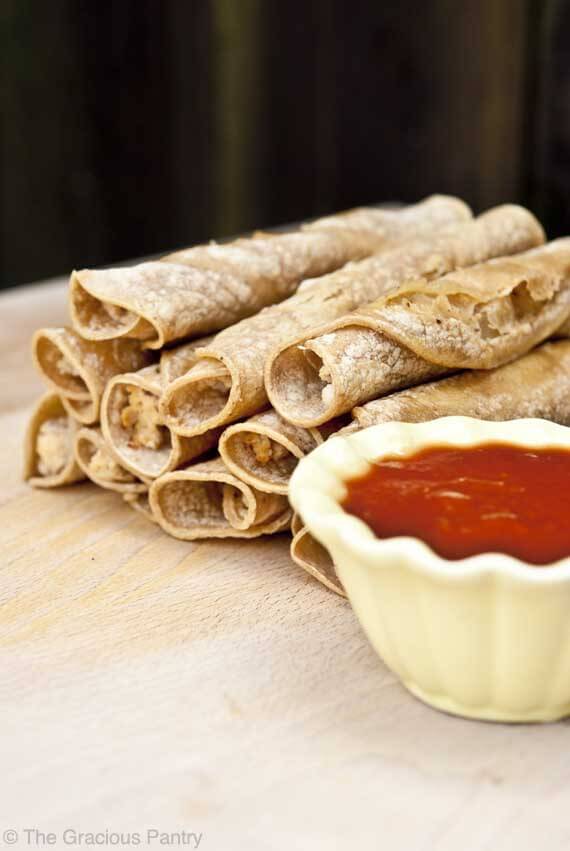 When I worked as a nanny, it seemed no matter what family I worked for, every household had a steady supply of those frozen taquitos you can buy at Costco. You know, those big orange boxes that just call your name from the freezer? I think I put on more weight eating taquitos in those years than any other food. But when I stopped being a nanny, I completely forgot about taquitos. Until recently.
I'm not entirely sure what made me think of them, but all of a sudden, I had the most intense craving for some microwaved, greasy, processed, chicken taquitos.
Well, I can tell you that that craving made it about as far as a fruit fly drowning in fruit syrup. I was not about to bend to that craving for anything. So instead, I got into the kitchen and created my own. Not too bad if I do say so myself!
YOU MIGHT ALSO ENJOY:

Clean Eating Taquitos
(Makes 48 taquitos)
Ingredients:
3-1/2 pounds boneless, skinless chicken breasts
4 tablespoons garlic powder
4 tablespoons onion powder
1 cup clean salsa (use mild if kids will be eating these!)
2 tablespoons olive oil
2 tablespoons nutritional yeast (Not the same as yeast for baking bread)
4 packs (12 count) small, clean, corn tortillas
Directions:
Bake the chicken breasts in the oven at 350 with half of the onion and garlic powder sprinkled on them, until done.
Cut off any unwanted parts and put the cooled chicken breasts into a food processor.
Add the rest of the garlic and onion powders, salsa, olive oil, and nutritional yeast. Blend until you have a well blended, "crumbly dough" looking mixture.
Warm the tortillas in the microwave, wrapping them in a wet paper towel. Get them nice and "pliable" so they don't rip while you are rolling them. They will be hot, so don't burn yourself!
Put about 1 tbsp. of meat on a tortilla, and roll up like you are rolling a carpet.
Place the taquitos in an oiled baking pan and spray the tops with olive oil using an oil mister/sprayer. This will give you the browned crunchiness that everyone loves in a taquito.
Bake at 400 degrees F. until they are golden brown (About 20 minutes, but the time can vary from oven to oven. So keep an eye on them).
Cool and serve with salsa for dipping!
Note: These freeze well. To eat after freezing, defrost overnight in the fridge and then warm in the oven. You can microwave them, but they get soggy.