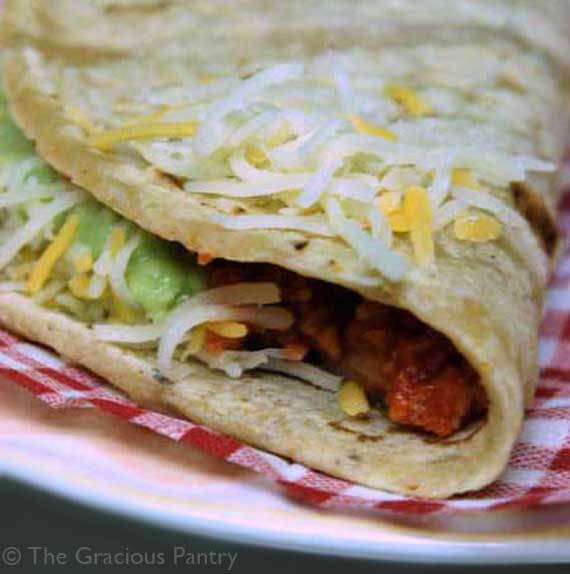 I don't think I've ever met a person who didn't like Tacos. They are such a fun and easy food to make and eat, and even easier to prepare clean.
I buy my tortillas at Trader Joe's. There are very few and very simple ingredients in them. Lime, water, and corn. So I know they are as clean as I'm gonna get with a pre-packaged food. (I'll be making my own corn tortillas very soon, so stay tuned for that recipe).
The great thing about Tacos is you can make them as healthy as you like. Heck, you can even make them vegetarian like I did. That basics of a taco always remain relatively the same. You just have to "upgrade" the toppings and spices to a clean version (The only thing I would avoid is the sour cream. The low-fat and non fat stuff are so loaded with chemicals that there's no way they qualify as clean – Try non-fat Greek yogurt instead).
YOU MIGHT ALSO ENJOY:
Clean Eating Tacos
Ingredients:
1 1/4 pounds lean ground turkey meat
1 teaspoon olive oil
1 tablespoon garlic powder
1 tablespoon chili powder
1 medium red onion chopped
1 tablespoon paprika
1 can tomato sauce, low sodium, no sugar added
Lettuce
Tomatoes
Onions
Low fat shredded cheese
Guacamole' (see my recipe for Clean Eating Guacamole)
Directions:
Cook your meat in a non-stick pan using olive oil, or, if you really want to do away with the fat, use a bit of chicken broth. You can even use this method in a cast iron pan if you don't like or have a non-stick version.
Stir in the spices and tomato sauce.
Prepare the rest of the ingredients for toppings.
Stuff your shells and serve!
Nutritional Information not available for this recipe as it will vary based on the ingredients you choose.