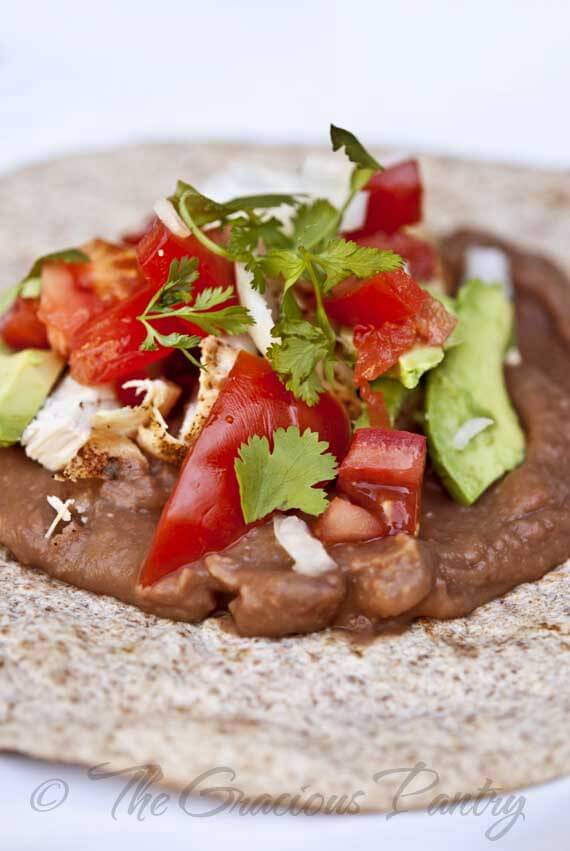 A fan on Facebook mentioned that she was having BBQ Burritos for dinner one night. I was so intrigued by the thought that I asked her how she did it. I just couldn't fathom throwing an entire burrito on the BBQ to cook (yes, that was one of my many blonde moments).
Thankfully, she took pity on me and explained the process. I felt a little silly, but I also felt hungry. And frankly, hunger wins over embarrassment in this house every time. So I got to work on my own version.
I have to tell you that the true secret to these delicious burritos is the chicken. I can honestly say that it's my BEST chicken recipe yet. And you don't have to stop with burritos! Use it in tacos, enchiladas, fajitas, taco salad or just about any mexican dish that uses chicken. You can even enjoy it by itself!
YOU MIGHT ALSO ENJOY:

Clean Eating BBQ Burritos
Chicken Ingredients:
4 large chicken breasts
1/2 of the seasoning recipe below
Zest of 2 limes
Juice of 2 limes
Seasoning Mix:
1 tablespoon garlic powder
1 tablespoon onion powder
1 tablespoon ground cumin
1 tablespoon chili powder
Burrito Fixings:
Refried beans (I get the fat-free ones at Trader Joe's)
BBQ red bell pepper (or any veggies you want)
Tomatoes, chopped
Low fat cheese (optional)
Fresh cilantro
Whole grain tortillas
Directions:
Combine all the Seasoning Mix in a small bowl. Mix well.
Zest and juice the limes.
Cover the chicken, first in lime juice and zest, and then with the spices. Be sure to turn them and cover both sides. You can marinate them for about 20 minutes if you like, but it's not necessary.
Place the chicken on the BBQ and grill until the internal temperature reaches 165-170 degrees F.
If you are BBQing any veggies, put those on the grill as well.
You can warm your tortillas on the BBQ if you like, but I find they get too hard to wrap as a burrito. So I wrap mine in some damp paper towels and microwave for 1-2 minutes. This gets them warm and pliable.
Assemble your burritos and serve.