This post may contain affiliate links. Read my
Privacy Policy.
As an Amazon Associate I earn from qualifying purchases.
Healthy lunchbox snacks don't have to be a headache. This list of easy snacks will get that lunchbox packed quickly and easily.
It's always a tug of war. You want to give them healthy snacks, and they inevitably want something that most often comes from a vending machine. But the best way to keep them munching on healthy foods is to keep things simple and basic. Oh… and toss in some dipping sauce. That always helps!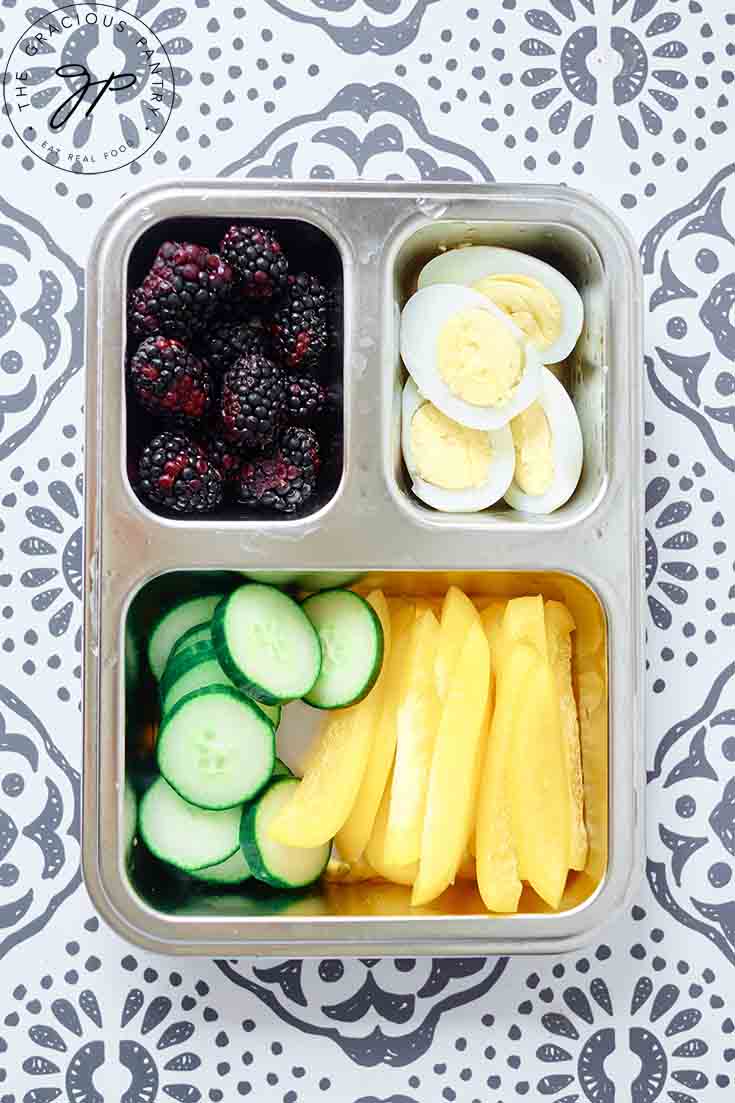 HOW TO PACK HEALTHY LUNCHBOX SNACKS
The main thing is to keep thing simple. And the younger your kids are, the more important this becomes. Kids like simplicity when it comes to healthy foods. And the good news is, that makes life much easier on you!
To keep thing efficient, you can purchase produce that is already prepped, and sauces or dressings are easy to make in batches over the weekend. Most will last for the full week without going bad, so that gives the kids healthy dips all week long. Even for after school snacks!
And if you need ideas for after school snacks that won't ruin dinner, check out these suggestions. Psst… you can use some of these suggestions for filling lunchboxes too!
PROTEIN SNACKS
All protein snacks should be packed with an ice pack against the container to make sure the food stays safe to eat.
Hard boiled eggs – See instructions below
Deviled eggs – These will require more careful packing
VEGGIE SNACKS
Baby carrots
Cut red bell peppers
Cut cucumbers
Blanched asparagus
Grape or cherry tomatoes
Blanched green beans
Snow peas
Celery sticks
Edamame beans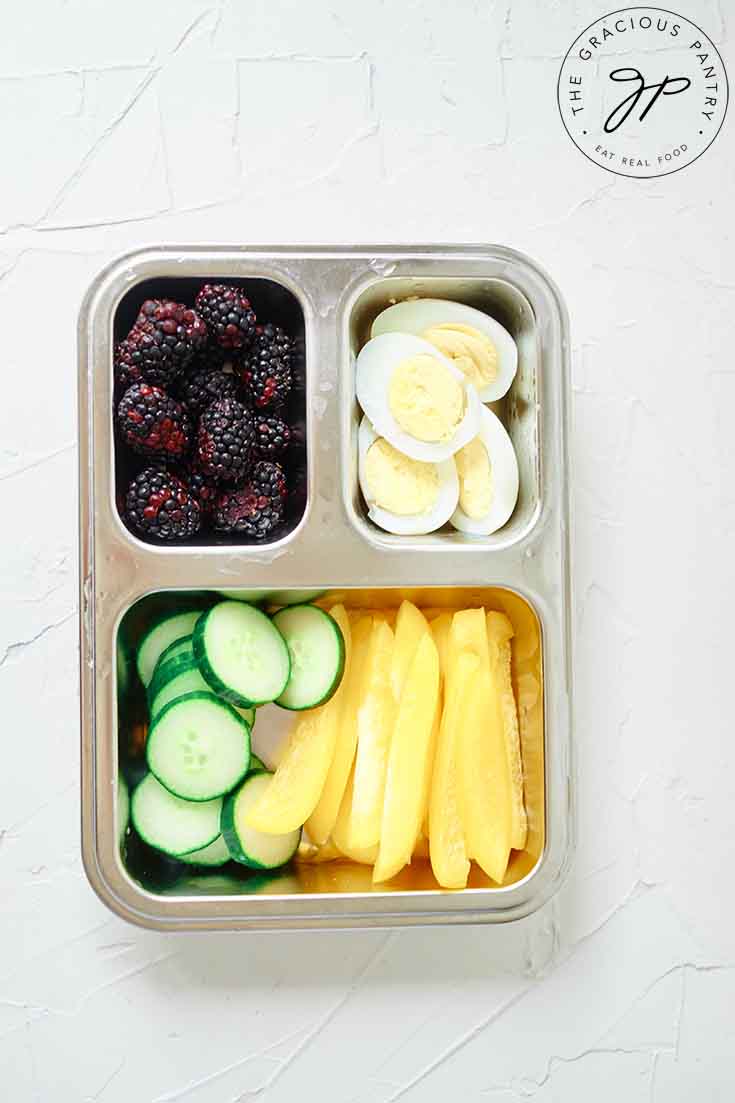 FRUIT SNACKS
Orange slices
Bananas
Cut apples
Strawberries
Blackberries
Blueberries
Dried cranberries
Dried apricots
Tangerines
Plums
Nectarines
Peaches
Cut pineapple
Cut mango
HEALTHY CARB SNACKS
Brown rice crackers (rice cakes) with healthy toppings
HEALTHY LUNCHBOX SWEET TREATS
LUNCHBOX DIPS AND SAUCES
HOW TO HARD BOIL AN EGG PROPERLY
Bring a small pot filled with water to boil.
Lower 2-3 large eggs, gently into the boiling water.
Set timer for 11 minutes and continue to cook at a full boil
Prepare a small ice bath (ice and water in a bowl) for the eggs.
When done, drain the water and quickly transfer the eggs into an ice bath.
Let sit for at least 10-15 minutes, or until fully cooled.
Crack the egg at both of the long ends, and then turn it on it's side and roll the egg gently on the counter to crack the rest of the shell.
Remove the shell, cut the egg in half and add to your lunchbox. Store in the fridge if making ahead of time.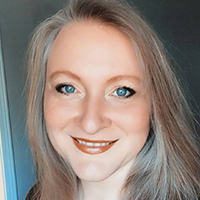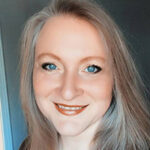 I'm Tiffany, a writer for MSN and the AP Newswire, a cookbook author, digital publisher, food lover, and mom. I create healthy, clean eating recipes for everyday living.