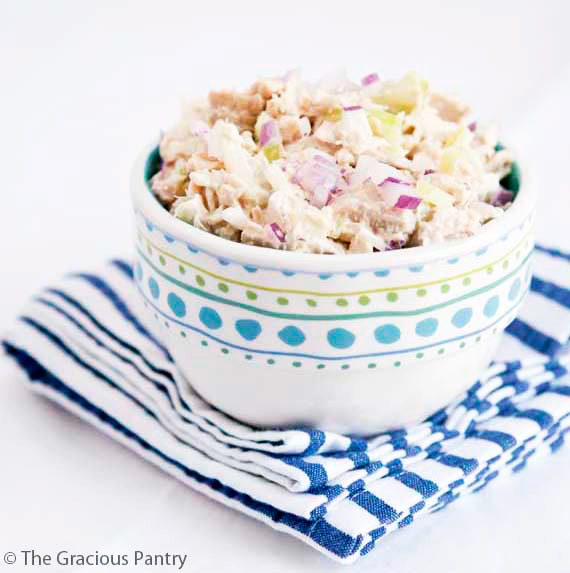 I'm not sure what it is, but lately I just can't seem to get enough tuna. I'm starting to think there is something in it that my body needs. Or, it could just be that it's darn delicious.
A good, traditional tuna salad goes well with a lot of things. It's versatile and often pairs well with salads and other veggies, or even bread for a sandwich. My little guy loves his on a brown rice cracker. In fact, I've done this for his dinner a few times when he wants something a little lighter for dinner.
In fact, I would say that lately, with three blogs, culinary school, a 6 year old and a new part time job, this dish is becoming a little more regular around here than I'd like to admit. Thankfully, we're enjoying it, and I hope you will too! It's quick and easy to put together and makes for a great lunch as long as you stick an ice pack in your lunch for it. Enjoy it as a snack with crackers or as a full meal on a salad or in a sandwich.
YOU MIGHT ALSO ENJOY:
RECIPES USED:

Clean Eating Traditional Tuna Salad
Author:
Ingredients
2 cans water packed tuna
1 large stalk celery, thinly sliced
1/4 cup diced thin, red onion,
1/3 cup clean eating mayonnaise
Salt to taste if needed
Instructions
In a medium mixing bowl, combine all the ingredients together.
Mix well and server as you like.