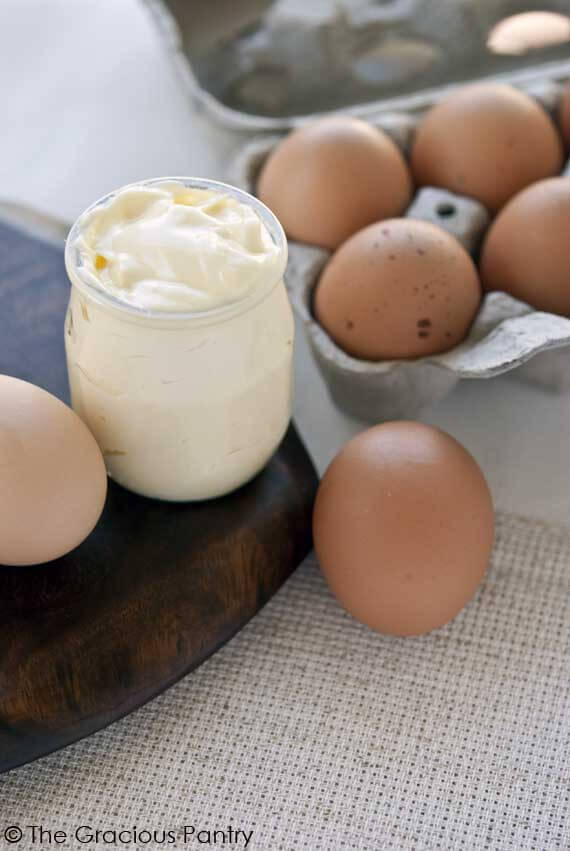 This recipe has been a long time in the making. I think I have tried about 30 different variations trying to get it just right. But all that work was not for nothing. I finally got a mayo I'm happy with.
You will notice, in the ingredient list, that the oil called for is unspecified. This is not an accident. Choosing your oil is a personal decision, and your choice will greatly affect the flavor of the mayo.
I have tried it with olive oil, coconut oil and even sesame oil. But in the end, I wanted more of a traditional flavor, so I went with safflower oil. I found that it gave a slightly less dense texture than some of the other oils I tried which turned out quite thick. So I ended up sticking with safflower oil which turned out to be the best choice for me and what I was trying to achieve with this recipe. This is a delicious and traditional mayo, mainly because the oil is so light in flavor.
That being said, most safflower oils bottled for cooking are refined. If you can locate the unrefined food-grade version, it's better (cleaner) than refined, but it also has a stronger flavor. So you kind of have to pick your battles on this one. Any way you look at it, this is far healthier than anything you can buy at the store.
Also, please note the storage notes at the end of the recipe. Never leave this mayo sitting out! It must be refrigerated at all times.
I tried making this recipe in a blender and failed miserably. So I used my immersion blender instead and it gave me perfect mayo in under 20 seconds. It was actually pretty impressive to watch. So I do recommend an immersion blender for this recipe. Otherwise, you'll have to make it by hand which is a workout in itself with all that whisking!
If you'd like to see me make this, check out my video on Thyme To Chop..
NOTES ON THE EGGS: I highly recommend purchasing pasteurized eggs for this recipe to avoid a food borne illness. I have found one brand that specializes in this, but they are not sold everywhere. So you may have to hunt one down in your own area. If they are pasteurized, it will say so on the box. Some people say that you should not eat raw eggs at all. It's a personal decision you need to make for yourself and those you feed. But please be aware that the very young, the very old and those with immune issues are far more susceptible to food born illness from things like raw eggs. So if you try this, use it wisely, and please use pasteurized eggs.
PRODUCT NOTES:
If you'd rather buy your mayo, the only clean mayo I have come across is the Chosen Foods brand (affiliate link).
YOU MIGHT ALSO ENJOY:
PRODUCTS USED:

Clean Eating Mayonnaise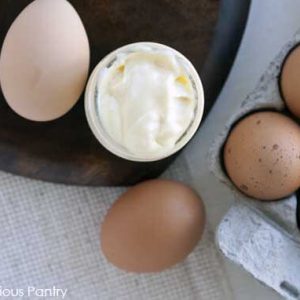 Author:
Tiffany McCauley | The Gracious Pantry.com
Yield:
16 servings (about 1 cup)
Ingredients
1 cup oil
1 tbsp. apple cider vinegar
¼ tsp. sea salt (I use Real Salt)
1 pasteurized egg yolk
1 tbsp. water
Instructions
Place all ingredients in a tall jar or cup that fits your immersion blender.
Using your immersion blender, blend for less than 30 seconds until you have mayonnaise.
Store in refrigerator immediately and up to 1 week.
Storage Notes: There are varying opinions on the shelf-life of homemade mayonnaise. Some people won't keep their mayo longer than three days no matter what, while others say it expires when the date on the egg carton says so. I have found that a week is just about right. You'll notice a slight change in flavor, consistency and sometimes even color when it starts to turn. But above all, please keep it in the fridge at all times! There are also plenty of folks out there that do not use pasteurized eggs. That is your prerogative. With a little one at home, I tend to err on the side of caution and use the pasteurized eggs for this.