40 Clean Eating Road Trip Snacks
This post may contain affiliate links. Read my
Privacy Policy.
As an Amazon Associate I earn from qualifying purchases.
These 40 clean eating road trip snacks are a great reminder that you don't have to survive on convenience food on the road!
Summer is around the corner and it will be a hot one this year! For some reason, on the hottest of days, we love to pile ourselves into these hot things called vehicles and go places. Preferably some place with air conditioning, a pool, a beach or just generally cooler weather (Unless you're one of those crazy people who actually enjoy hot, balmy weather. I kid, I kid… but not really. I hate anything over 75 degrees F.).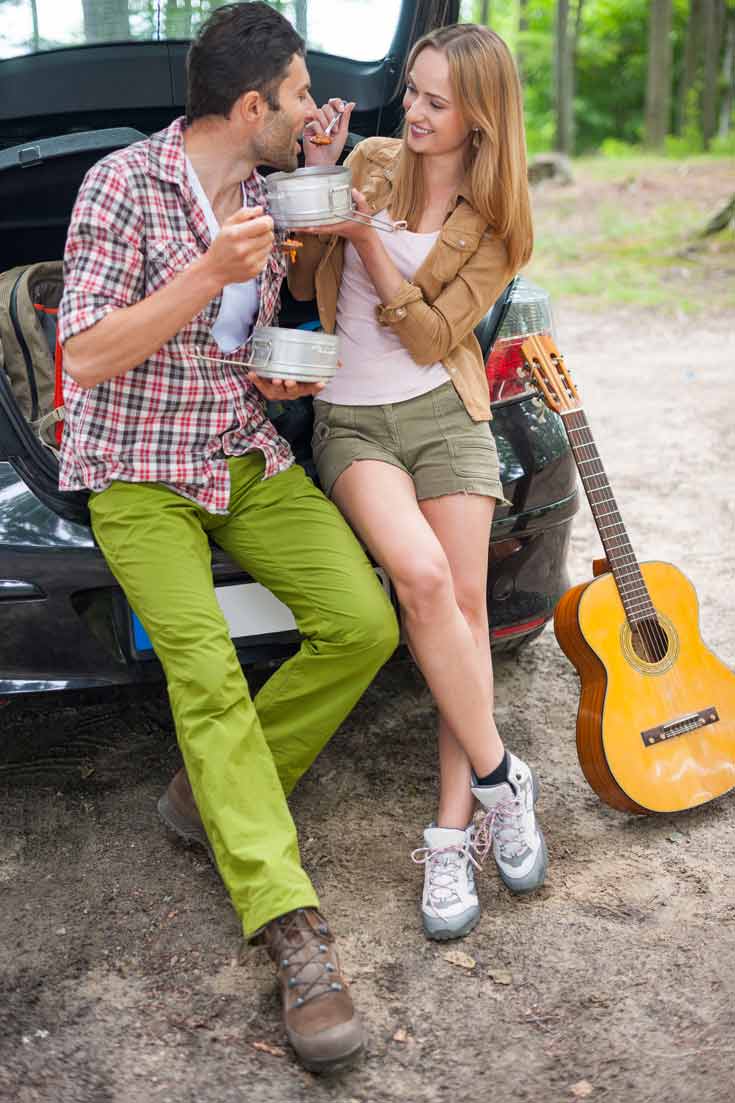 I'm preparing to hit the road myself here shortly, but I'm also incredibly dedicated to my eating plan right now. So treating myself to garbage convenience food for several days is just not an option.
Mini Chef and I are heading to a tiny house that we will rent for two nights. I've been considering the tiny house thing for a while because California is becoming too expensive to live. But I can't take Mini Chef from the only family he has left, so that leaves me with finding more affordable ways to live in this pricy state. Seriously people, I know the weather is nice, but when the rents are $2500 for a hole in the wall, it's time to move on. I love sunshine too, but this girl has her budgetary limits!
So while I will be doing some shopping for cooking our meals in the tiny house, I still need some healthy snacks to take along on the drive there.
WHAT CLEAN EATING ROAD TRIP SNACKS AM I PACKING?
I want as many foods as I can find that don't require refrigeration. But I will also be packing a small cooler with an ice pack for foods that require it. (Don't miss the pinnable image below!)
Here's what I'm taking:
In the interest of keeping it clean, I have to side-step my usually low carb meal plan. But as long as I keep it clean, I'll be fine. See below for an image with all my suggestions for clean eating road trip snacks.
Blueberries
Veggies, peeled and cut ahead of time
Nuts
Garam Masala Red Lentil Stew (This will be my ready-made dinner for when we arrive later in the evening. I won't want to cook after the drive)
Egg Salad (Mini Chef's favorite at the moment!)
Green Salad
HERE ARE 40 CLEAN EATING ROAD TRIP SNACKS THAT TRAVEL WELL: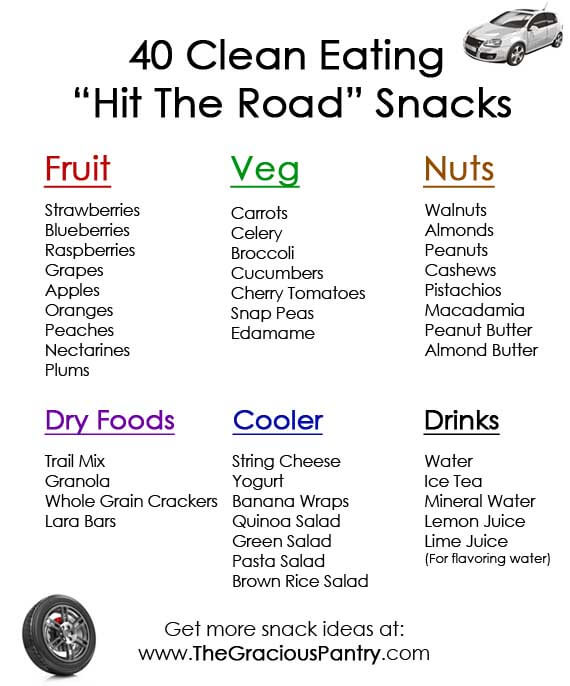 25 MORE TRAVEL FRIENDLY SNACK IDEAS:
Who me?
I'm Tiffany, a cookbook author, food lover, mom, and wannabe Elvis when I'm in the shower or driving in my car.
   
Looking to stock your freezer for busy weeknights?
I wrote the book! Grab a copy of my book, Clean Eating Freezer Meals on Amazon here, or at select bookstores nationwide!   
Did you make one of my recipes?
Tag @graciouspantry on Instagram or post your pic on Facebook! I love to see my recipes in action!