Clean Eating Lemon & Honey Almonds Recipe
This post may contain affiliate links. Read my
Privacy Policy.
As an Amazon Associate I earn from qualifying purchases.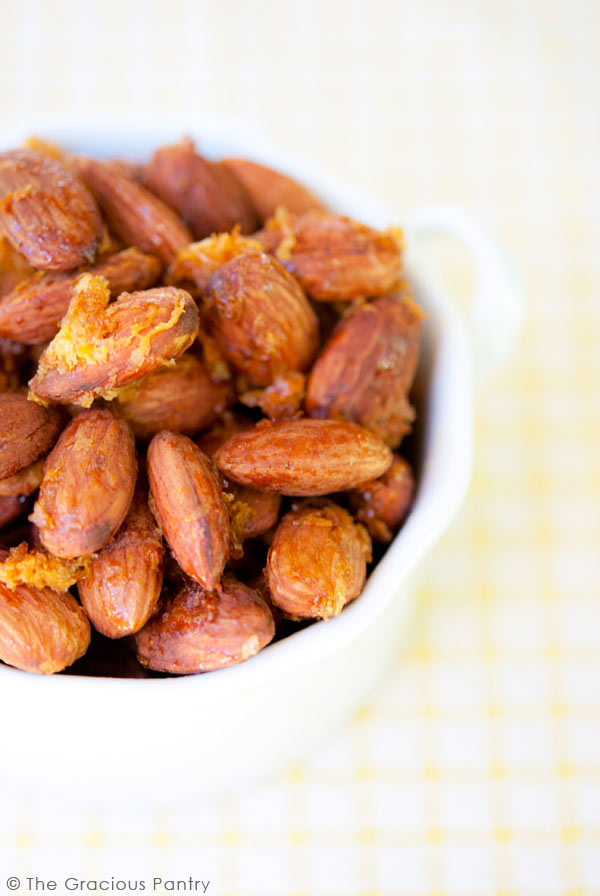 This simple snack takes only minutes to prep if you have the lemon zested already!
Tip: When you use fresh lemons, don't forget to zest them first. Freeze the zest on ice cube trays and you'll have "fresh" zest any time you need it for cooking or baking. Just break the "cubes" into a ziplock bag after freezing. 1 cube equals approximately 2 tablespoons and they defrost quickly or are easy to break up by hand or with a knife.

This recipe from the Gracious Pantry archives, originally posted 6/29/12.
Clean Eating Lemon & Honey Almonds Recipe
Author:
Ingredients
1 cup raw almonds
2 tablespoons lemon zest
1 tablespoon honey
1/2 teaspoon olive oil (or any heart-healthy oil)
Instructions
Preheat oven to 325 F.
Oven rack should be in the middle. Not the top or bottom.
Place all ingredients in a mixing bowl and mix well. Spread over a parchment lined cookie sheet and bake for 15-20 minutes. Stir halfway through the baking time. (Please don't burn yourself. Use something with a long handle to do this.)
Note: Keep any eye on this in the last 5 minutes of baking. Oven temperatures vary from oven to oven. You don't want these to burn in the last few minutes. They should simply have a nice, golden brown look to them when they are done.