This clean eating Irish soda bread is a fabulous bread that is easy to make with minimal steps or ingredients. It's a great bread recipe for all you non-bread bakers out there.
I swear by all that is holy in my life, this is THE best bread I've ever had.
My mom recently went on a trip to Ireland. She has never really gone anywhere, so this was the trip of a lifetime for her. She loved every second of it and is now talking about buying a vacation house over there.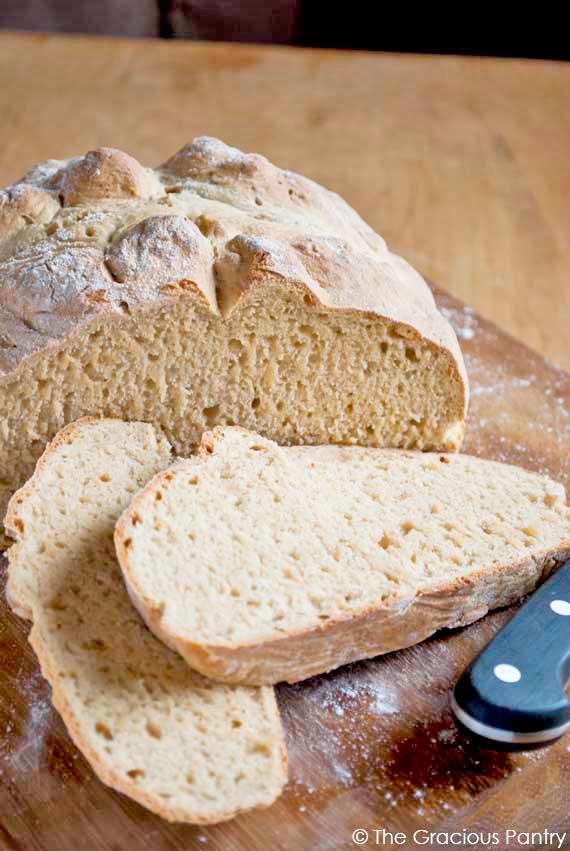 Who am I to argue with such sheer genius??
Well, to say she came back inspired by Irish cooking is an understatement.
The other night, she made me some Irish Soda Bread using a recipe from this website (it's a really interesting read on the history of Irish Soda Bread!). It was straight out of the oven, and she had put a little bit of Irish butter on it to boot.
Now, I have to tell you, I avoid butter like the plague these days. But that was just more than my willpower could withstand. So I bit into it.
Now, I could be wrong, but I think the heavens parted and the angels sang. It was really that good.
So I just had to go home and try a clean eating version of it. And you know what, the angels are singing louder than ever cause I think I outdid my mom's recipe!!
YOU MIGHT ALSO ENJOY THESE CLEAN EATING RECIPES:

CLEAN EATING IRISH SODA BREAD RECIPE: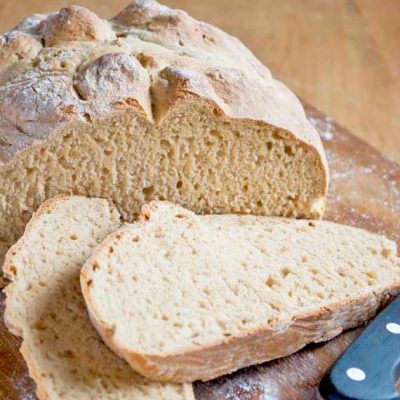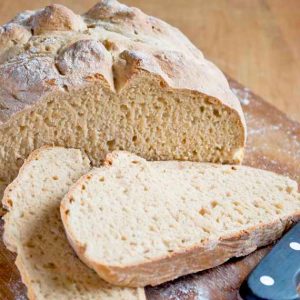 Ingredients
3

cups

whole wheat pastry flour (affiliate link)

1

tsp.

baking soda

1/2

tsp.

sea salt

1 1/2

cups

butter milk

(plus a little extras reserved)
Instructions
Preheat your oven to 450 degrees F.

Put the flour, baking soda and salt in a bowl and mix well with a whisk.

Make a "well" in the middle of the flour.

Pour your buttermilk into the well.

Combine slightly with a wooden spoon until it get's too thick to continue mixing with the spoon.

Then you've got to get in there with your hands. Go ahead... kneading dough is the fun part of making bread!

Knead until you have a nice firm dough. If your dough is very dry and doesn't form a nice ball, add a little extra buttermilk, 1 tablespoon at a time. Knead well before adding your next tbsp. to be sure you don't overdo it.

Form your dough into a round disk that is approximately 1 1/2 inches in thickness. Place on an ungreased cookie sheet or pizza pan.

Score your bread with a sharp knife. I cut mine a little deep which is why the bread separated as much as it did in the top photo. But no matter how deep you do or don't cut it, it will bake well. The idea is to cut it so that you can easily break it into quarters when it's done.

Bake it in the oven at 450 F. for 15 minute, then reduce the heat to 400 degrees F. and continue baking for 25-30 minutes. If your bread starts to look to brown, loosely place a piece of aluminum foil over the top of it.

Once it's cooled, store it in a plastic bag. But ya... um... it just didn't last long enough around here for me to store it. In fact, I cut into it immediately and burned my finger. But man... was that burn worth it!

Notes
Please note that the nutrition data below is a ballpark figure. Exact data is not possible. This data is for the entire loaf. Simply divide the data by the number of slices you get from your loaf for a per-slice count.
Nutrition
Serving:
1
entire loaf
|
Calories:
1447
kcal
|
Carbohydrates:
276
g
|
Protein:
59
g
|
Fat:
20
g
|
Saturated Fat:
8
g
|
Cholesterol:
39
mg
|
Sodium:
2688
mg
|
Potassium:
1792
mg
|
Fiber:
38
g
|
Sugar:
19
g
|
Vitamin A:
595
IU
|
Calcium:
536
mg
|
Iron:
13
mg
This recipe from the Gracious Pantry archives, originally posted 6/14/10.