If you've ever watched "It's A Wonderful Life", you may remember a part of the movie where George and Mary welcome the Martinis to their new house. Mary says to Mrs. Martini,
"Bread, that this house may never know hunger. Salt, that life may always have flavor."
Then George says to Mr. Martini,
"And wine… that joy and prosperity may reign forever."
I love this part of the movie because I'm a sucker for these types of traditions. They have so much meaning and good will behind them and sadly, they are quickly becoming a thing of the past.
Many of these types of traditions are already extinct. I think this is a sad thing because these types of traditions add a certain "flavor" to everyday life that is lacking in our ever busy, technologically "improved" lifestyle these days.
I don't talk a lot about my home life on this blog for multiple reasons. But I'm so excited right now that I just had to share with you, not only a recipe for hearty and delicious Clean Eating Housewarming Bread, but also my reason for baking it in the first place.
A LITTLE BACKGROUND…
About 2 years ago, my husband lost his job. We lost our home to foreclosure like so many in this country, and had to move in with my in-laws. Bless their hearts, they are very generous people. I'm sure having 3 of us plus a cat move in was not part of their retirement plan!
I can also tell you that when you go through job loss and the loss of your home, you find out VERY quickly who your friends are and who they are not. You find out who will stand by you when it counts, and who won't. You find out what people really think of you. It's a life altering experience and a blow to your ego. It's scary, it's depressing, and it can feel close to impossible to get back on your feet. But when there is a child involved, you have to put on a happy face and do your best to just get through "today". It's not easy. It's been a tough struggle these last 2 years with many more downs than ups. But there is finally a light at the end of the tunnel!
THE GOOD NEWS!
With the growing success of this blog and a hard-working husband who continues to work around the clock to support his family, we were finally able to get enough money together to rent a small apartment. It's tiny, but to me, it's 500 square feet of pure, independent bliss. I finally feel like I can hold my head up again. There's a lot to be said for being able to say that you can put a roof over your child's head all by yourself. The feeling is like no other.
So from now on, this is the kitchen where I will be preparing all the recipes I share with you here.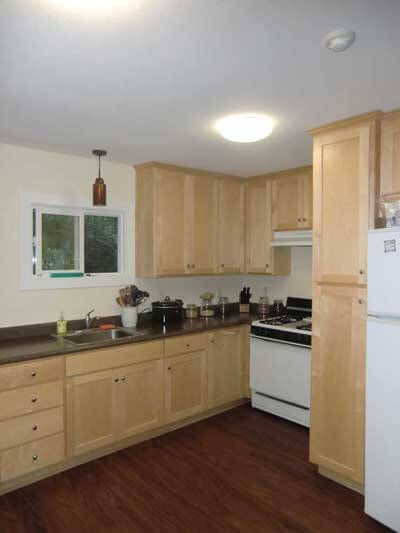 Not bad, eh? It's a cute little place and I'll have it set up and feeling like home in no time.
Mini Chef is very excited about the move and his new school, and I'm really thrilled to have a new start in life. What a feeling! A place to call home!
So with that in mind, I made this Clean Eating Housewarming Bread to celebrate my new home, and also with the hope of encouraging just a little bit of an old tradition before it disappears into the computer age.
I would like to also say thank you to Angelica Z. for sharing this recipe with me. It's wonderful! I had to change the recipe slightly based on what I had, but it's a really great recipe. (My changes are in parentheses.)
SURPRISE!
I'm so excited with all the new changes in my life that I'm hosting a giveaway for this amazing bread knife today! It's a Wusthof knife, so you know it's amazing quality. My husband bought me some Wusthof knives as my wedding gift almost 7 years ago, and I haven't cooked in the kitchen without them since. Fantastic, top-of-the-line quality. Trust me, you want this knife! Cutting bread with it was like slicing through air. No resistance and no "shredding" of the bread (I really hate that…)
The new Classic 9-inch Double Serrated Bread Knife is available now at Chef's Catalog, and other retailers nationwide beginning August 1, 2012 for $109.99 suggested retail.

CONTEST IS NOW CLOSED
The winner is: Jan Gomes
DIDN'T WIN?
Purchase one of these fabulous knives here! (affiliate link)
YOU MIGHT ALSO ENJOY:

Clean Eating Housewarming Bread
(Makes 2 loaves)
Ingredients:
3 cups warm water
1 tablespoon instant yeast (Active Dry Yeast)
1 tablespoon sucanat (Honey)
3/4 cup vital wheat gluten
1/4 cup 10-grain cereal (Multi-grain cereal from Trader Joe's)
1 1/2 cup oat flour
5 1/2 cup white whole wheat flour
1/2 cup olive or safflower oil
2 teaspoons kosher salt (1 teaspoon)
Directions:
Combine all ingredients in a large stand-mixer bowl with a dough hook and mix on low for approx 3 minutes until combined. turn up to med-low and kneed for 7 minutes (Place all dry ingredients in a large mixing bowl and whisk together. Then add the wet ingredients and knead by hand for at least 5 minutes).
Place dough in a large bowl and cover with plastic wrap, allow to rise until doubled, approx 1 hour.
Gently press down on dough to release any air bubbles and divide into two equal pieces. shape and put each into a 9×5 loaf pan. allow to double again, about 1-1 1/2 hr.
Meanwhile, preheat oven to 375 F.
When dough is ready, place in oven and bake for 25-30 minutes. you will know when bread is ready when it sounds hollow when you tap on the bottom, OR if you have a kitchen thermometer, plunge it into the center of one of the loaves, if the temperature registers between 190 – 210F, its done.
Disclosure: Wusthof sent me this knife for free to review here. No other compensation was accepted. The item received was for the purpose of sampling. This is not a paid review. This is my honest opinion of the product I was sent. You can read my full blog disclosure here.