Clean Eating Egg & Vegetable Basil Scramble
This post may contain affiliate links. Read my
Privacy Policy.
As an Amazon Associate I earn from qualifying purchases.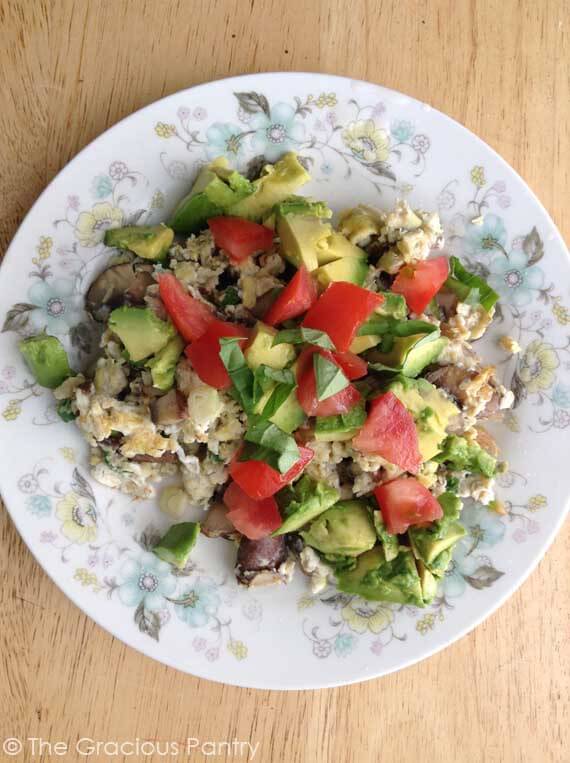 A while back, I got an email from another blogger asking me about my Instagram account. I thought this was peculiar because at the time, I didn't have an Instagram account. I simply didn't have a device with which to use it. So I looked into "my account", and wouldn't you know it, there were two accounts opened in my name and I wasn't the one that had opened them.
So after a surprisingly quick process, the accounts were handed over to me and then I was left with a dilemma. What to do with two accounts I couldn't use.
So pretty quickly, I came to the conclusion that I'd better get with this century and find some sort of device I could use. A quick trip to the local tech store, and a huge shock to my bank account later, I had a new device.
After figuring out how to use it (sort of), I actually managed to get some images on my account. But what I was most proud of was the fact that I took the above photo of my breakfast that next morning and easily shared it on my Instagram account. I was excited beyond words! It's always a little exciting when you figure out new tech.
So this is the breakfast I enjoyed. I hope you'll enjoy it too!
YOU MIGHT ALSO ENJOY:

Clean Eating Egg & Vegetable Basil Scramble
Author:
Ingredients
2 eggs
2 mushrooms
1 green onion
2 tsp. coconut oil
1/4 avocado
1/2 tomato
Fresh basil for garnish
Instructions
In a medium to large skillet, scramble the eggs, mushrooms, and green onions in the coconut oil.
Once done, transfer to a plate and top with the avocado, tomato and basil.
Don't skimp on the basil, that's the best part!
Add salt and pepper to taste and enjoy.