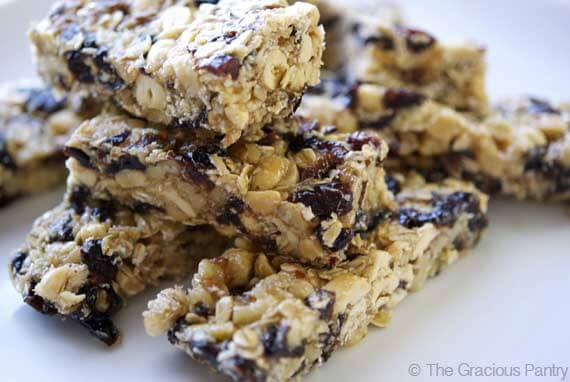 These delicious bars are truly a meal replacement bar. Pair one with a hard boiled egg whites or some other source of lean protein, and you've got a complete meal on the go!
These calorie dense meal bars are filled with good fats and carbohydrates. They'll fill you up and keep you going. But I should warn you, these bars aren't for sissies. This is a serious bar.
On the flip side, the kids will love them too! Just remember to add some protein and you're good to go!
YOU MIGHT ALSO ENJOY:

Clean Eating Nutty Coconut Granola Bars
(Makes 12 bars)
Ingredients:
1 cup walnut pieces
1 cup peanut halves
1 cups dried cranberries, fruit juice sweetened
1 cup traditional oats
1 teaspoon ground cinnamon
3/4 cup dried coconut
1 cup organic brown rice syrup
1/4 cup honey
1 teaspoon vanilla extract
Directions:
In a large mixing bowl, combine the walnuts, peanuts, cranberries, oats, coconut and cinnamon. Stir well to combine.
In a small to medium sauce pan, combine the brown rice syrup, honey and vanilla extract. Bring to a boil while stirring occasionally.
While the sweetener is still hot, pour it into the mixing bowl and stir everything together.
Working quickly, transfer the mixture into an oiled baking dish (Mine was 9 x 13).
Using a piece of parchment paper that is large enough to cover the entire surface area, press down the mixture down using your flat hand(s) to compress it tightly. If you don't pack it down tight enough, these will not stick together when you cut them.
Place the baking dish in the freezer overnight and cut into bars in the morning.
Storage: Once these have been cut, it's best to wrap them individually in parchment or plastic wrap and store in the freezer. If they warm to room temperature, they start to fall apart.
Note: These can be a bit sticky on the bottom where the brown rice syrup settles as it cools. You can dust the top with a little sucanat if you find you need to, but these are generally sweet enough. Your best bet is to just have a napkin you can wipe your hands on after eating them. The stickiness is minimal. (Or try dipping the bottoms in dark chocolate and chilling on a parchment lined cookie sheet overnight!)