20 Healthy 30 Minute Dinner Recipes
This post may contain affiliate links. Read my
Privacy Policy.
As an Amazon Associate I earn from qualifying purchases.
These 20 healthy 30 minute dinner recipes will help you get dinner on the table fast and easy.
I've heard from many of you that finding time for cooking is often your biggest sore spot where clean eating is concerned. Particularly, at dinner time when you've just gotten home from work and the last thing you want to do is get into the kitchen.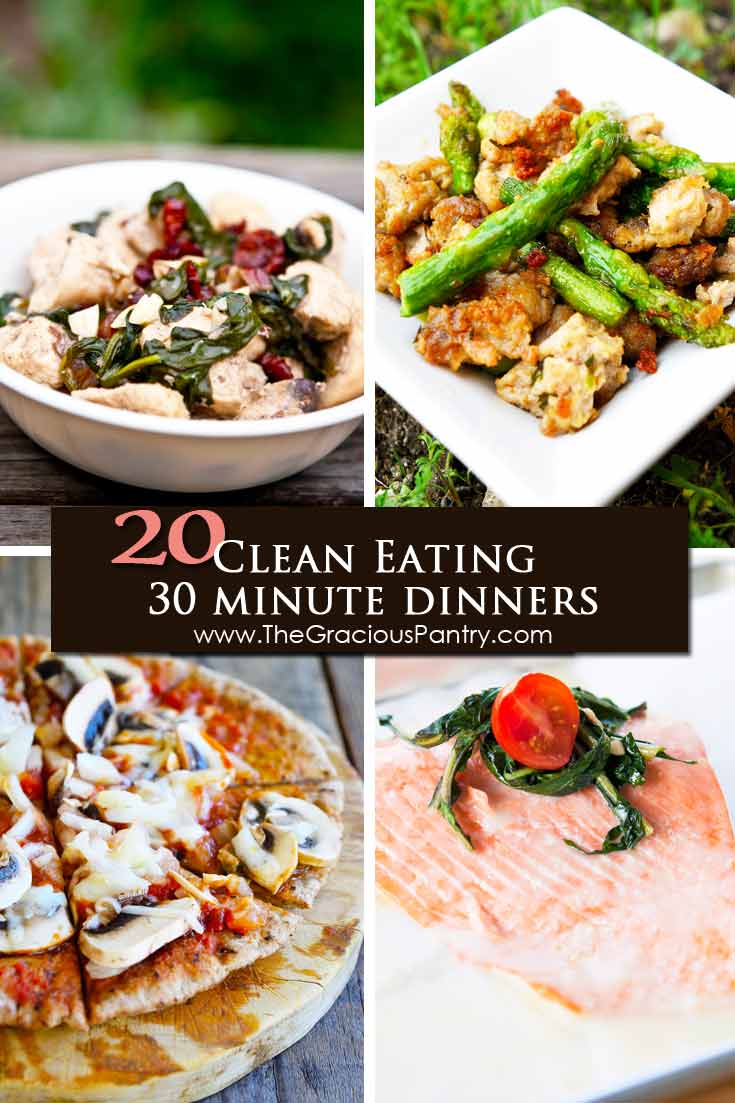 I totally get it!
But clean eating doesn't have to take hours in the kitchen. In fact, some meals can be so simple that they take only 5 minutes! It all depends on your approach. Of course, it can be complicated if you allow it to be. But it can also be super easy and these 20 clean eating 30 minute dinner recipes prove that!
YOU MIGHT ALSO ENJOY THESE CLEAN EATING RECIPES:

20 CLEAN EATING 30 MINUTE DINNER RECIPES:
Clean Eating Ground Turkey Asparagus Skillet Recipe – The Gracious Pantry
Clean Eating Portobello Mushroom Tacos – The Gracious Pantry
Clean Eating Tuna Asparagus Skillet – The Gracious Pantry
Ginger Maple Chicken with Brussels Sprouts & Butternut Squash – Eat Yourself Skinny
Clean Eating Shrimp Fajitas – The Gracious Pantry
Clean Eating Pizza Pie – The Gracious Pantry
Clean Eating Sheet Pan Hawaiian Salmon – The Gracious Pantry
Garlic Shrimp with Quinoa – Well Plate
Clean Eating Italian Shepherd's Pie – The Gracious Pantry
Clean Eating Shrimp and Asparagus Spaghetti Squash Spaghetti Recipe – The Gracious Pantry
Clean Eating Garden Vegetable Turkey Skillet Recipe – The Gracious Pantry
Clean Eating Baked Salmon with Roasted Garlic and Lemon Sauce – The Gracious Pantry
Ground Turkey Sweet Potato Skillet – Life Love Liz
Clean Eating Chinese Style Sheet Pan Cod Recipe – The Gracious Pantry
Clean Eating Mushroom Onion And Swiss Pita Pizza – The Gracious Pantry
Pesto Mozzarella and Tomato Stuffed Chicken Breasts – Laughing Spatula (use this homemade clean eating pesto sauce)
Clean Eating Red Vegetable Chicken Skillet Recipe – The Gracious Pantry
Clean Eating Coconut Almond Cranberry Chicken – The Gracious Pantry
Clean Eating Chicken Bok Choy – The Gracious Pantry
Chicken Breast with Tomatoes and Garlic – iFoodReal