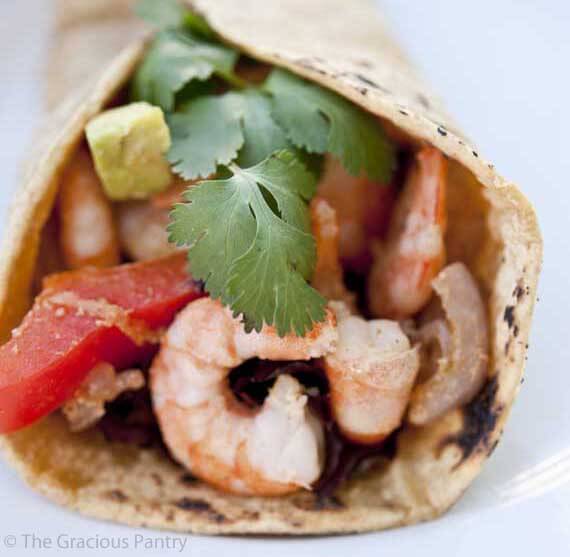 Fajitas are a beautiful thing. They make me long for the beach, a margarita and good friends all around.
But seeing as how I've been avoiding the margaritas for a while now and my friends are all about 2 hours away, I had to settle for just the fajitas. But these weren't just any fajitas. These were shrimp fajitas! No margaritas necessary! Friends maybe, but I was pretty happy with the fajitas.
As many of you know, I've teamed up with eMeals . They have fabulous meal plans for clean eating, paleo eaters and many more. In fact, this is one of their recipes!
Disclosure: I receive a portion of all sales on eMeals subscriptions if you purchase a subscription via the link in this post. This money pays for keeping this blog running as well as for buying food to create the recipes you find here.
YOU MIGHT ALSO ENJOY:

Clean Eating Shrimp Fajitas
(Makes about 2 servings)
Ingredients:
2 tablespoons olive oil
1/2 pound shrimp, peeled and deveined
1 teaspoon blackened seasoning (or omit)
1/4 teaspoon kosher salt
1 small onion, thinly sliced
1 small red bell pepper, thinly sliced
1 head romaine lettuce
Toppings of choice
Directions:
Heat oil in a large nonstick skillet over medium heat.
Combine shrimp, seasoning and salt in a small bowl, tossing to coat. Add shrimp to pan.
Cook 4 minutes or until done.
Remove from pan.
Add onion and bell pepper to pan.
Cook 6 minutes or until browned and softened.
Stir in shrimp, tossing to combine. Spoon mixture into each lettuce leaf. (Or shred the lettuce and fill a clean tortilla for non-paleo)
If you enjoyed this recipe, give eMeals a try today and let me know what you think.
Visit eMeals Now! (Affiliate link)