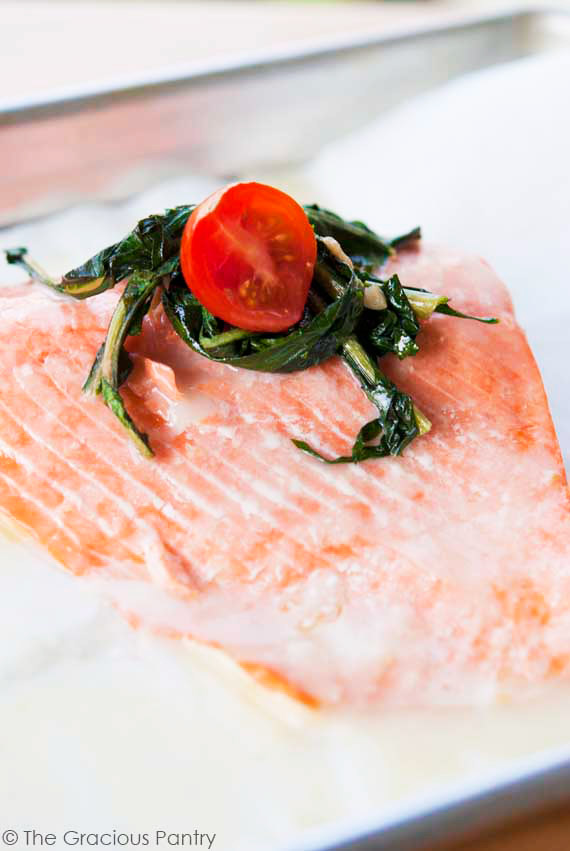 Garlic lovers unite!!! This is one of those delicious recipes where I often ask myself, "why don't I make this more often?"
It's very simple to put together and packs a good deal of flavor as well. Just be sure you don't have to actually speak to anybody the next day. Because with a full head of garlic, this is beyond lethal in the garlic department. At least for most people.
In fact, when I do get around to making this, Mini Chef usually exits the bedroom very early the next morning and avoids getting too close to me for the better part of the day. And I have to say I don't mind much because he had some the night before too.
This recipe ain't for sissies guys. It's absolutely and simply delicious though. So if you love garlic, be brave! Give it a try!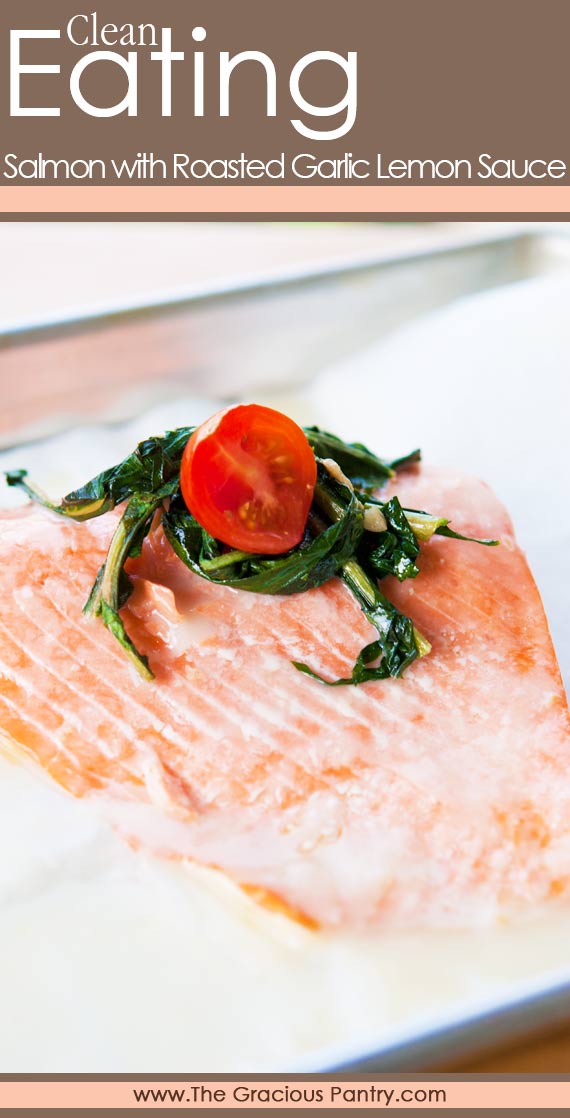 YOU MIGHT ALSO ENJOY:

Recipe from the Gracious Pantry archives, originally posted 9/10/14.
Clean Eating Baked Salmon with Roasted Garlic & Lemon Sauce
Author:
Serves:
Sauce is enough for approximately 1/2 to 1 lb. of salmon.
Ingredients
Salmon fillet, raw (about 1/2 – 1 lb.)
1 head garlic, roasted
1 lemon, juiced
Salt to taste
Small amount of oil for roasting garlic
Instructions
Place the salmon on a parchment lined cookie sheet and bake at 350 F. until done. Baking time will depend on the size of your piece of fish. But typically, times will go between 12-20 minutes. It's done when it easily flakes. Just remember that the fish will continue to cook for a bit after you remove it from the oven. So plan your baking time accordingly.
Cut the top of the garlic head off, brush with a little bit of oil so it doesn't burn, and place it in the oven along with the salmon. Placing it in the corner of the same cookie sheet as the salmon is fine if there is room. The garlic is done roasting when the cloves begin to pop out of the head.
In a blender, blend together the roasted garlic cloves and the lemon juice.
Place the fish on your plate, pour the sauce over the top, add salt to taste and enjoy.