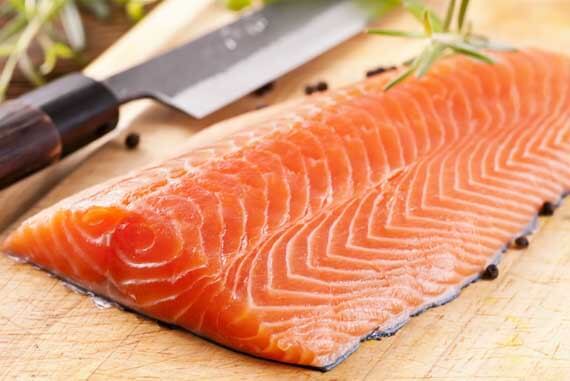 Many of you know that I really struggle with cooking fish. It's never been something that comes very easily to me. That said, I just cooked the BEST fillet of wild salmon I have ever had in my entire life! I swear, this is the only way I will ever cook salmon again.
As some of you who follow me on facebook may know, I recently bought and assembled a new gas grill. Yup, all by my little ol' self. *Girl Power!!*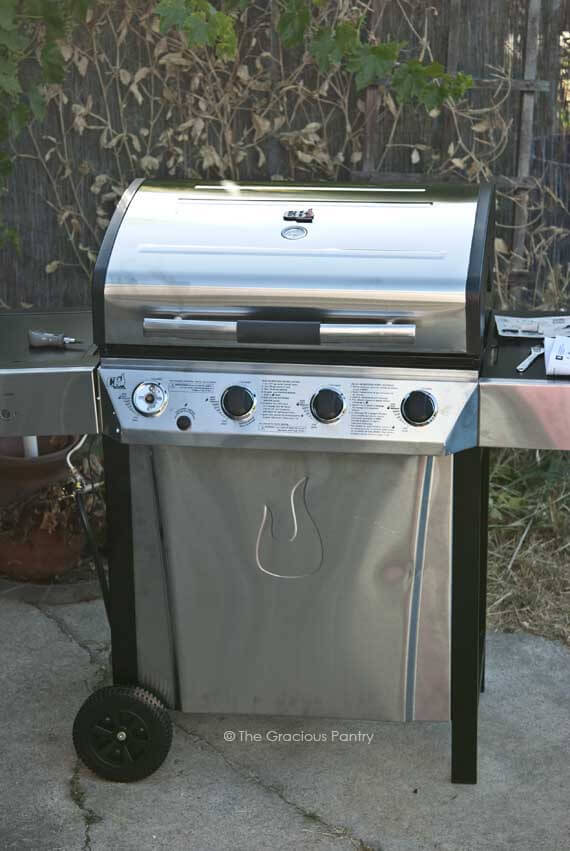 It was a steal of a deal and I knew it would get a ton of use this summer. So when I brought home the salmon fillet, I just new that my new barbecue was how I wanted to cook it.
The problem? I had never barbecued any fish at all before this. Not even once. And here I had this big, beautiful fillet (1/2 a large fish!) and I didn't want to ruin it. Then a reader mentioned cedar planks and it caught my attention. So I ran down to the store to pick up a package and dutifully soaked them overnight and through the next day until 4pm.
I heated up my grill, turned off the middle burner, put the wet planks down and placed the salmon on top.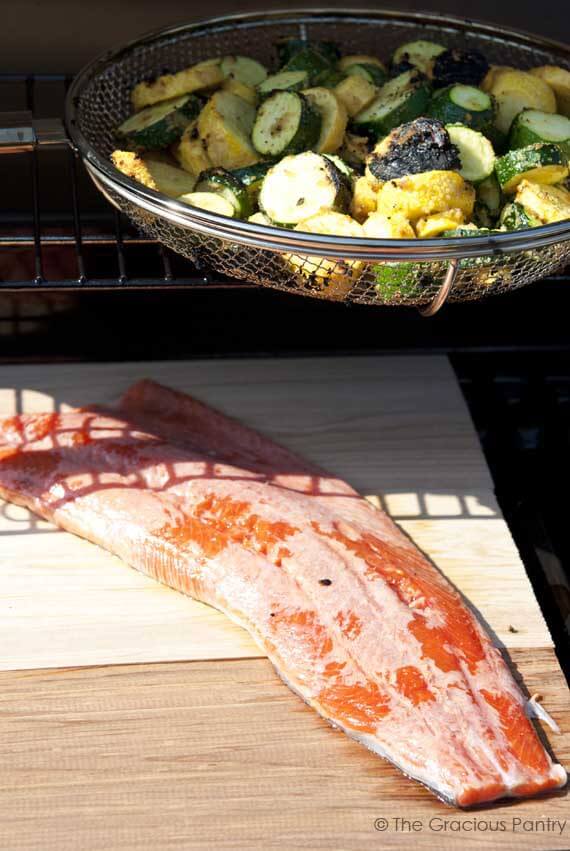 (We'll just ignore that one, poor, very burnt, little slice of zucchini. Mmmm…kay?
Everything was going marvelously! That is, until the cedar planks caught on fire. <Gasp!!!>
So I quickly grabbed a spray bottle filled with water and sprayed the boards down around the edges where the fire was. It did the trick, so I closed the lid and let the fish finish cooking. When I returned, I noticed that the barbecue was smoking just a little more than usual. Imagining the worst, I ran over, threw open the lid and was met with a nice little camp fire surrounding my precious salmon. The spray bottle rescued me a second time, and thankfully, the fish was cooked to perfection. So I transferred it to a tray, and left the planks to cool on their own.
Long story short, I won't be reusing those pieces of cedar charcoal. But the truth is, I'm not sure if you're supposed to! All I know is that for the first time ever in my life…
I. COOKED. THE. PERFECT. PIECE. OF. FISH.
And I don't know about you, but I'm willing to sacrifice a few cedar planks for that.
YOU MIGHT ALSO ENJOY:

Clean Eating Cedar Plank Salmon
Ingredients:
1 fillet of salmon
Lemon juice
Salt
Pepper
Cedar planks – enough for the fish to sit on with a little extra room in case the edge of the planks catch fire.
Directions:
Sprinkle the lemon juice over the fish, and then the salt and pepper. Don't overdo it. A little will go a long way with the salt and pepper. The lemon juice… in my personal opinion, you just can't go wrong with plenty of lemon.
I followed these directions here very closely. I recommend you read them before trying this if it's your first time.
Place the fillet on your soaked cedar planks and cook for about 20 minutes. The fish is done when it reaches 135 F.