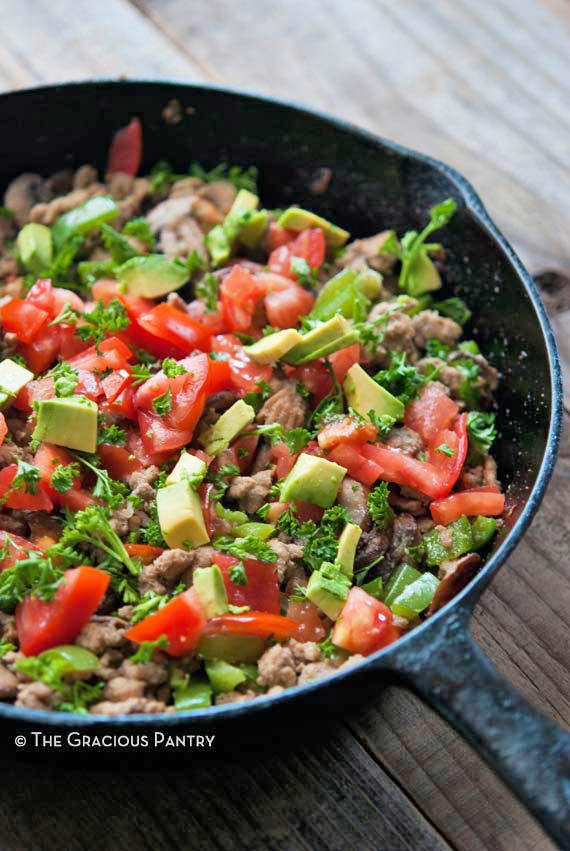 So I had nothing to make for dinner, and then this little humdinger happened. Good grief this was tasty! I had no complaints at the dinner table. Not one. Don't you just love it when that happens?
The truth is, I was totally out of inspiration. I've been working on some big projects lately and because of that, the idea of coming up with something new for dinner was a bit overwhelming on this particular evening. So I reached in the fridge, grabbed some ground turkey and some veggies I thought would go well with it and just did a "scramble" of sorts.
Man it was good! Everything came together nicely and created somewhat of a "comfort food" type of dish. My mom ate hers with a bit of sour cream. I ate mine with some extra avocado and Mini Chef was happy to just dig in!
The nice part about this is that it comes together so quickly. This is truly a great dish for a busy weeknight when you just need to get dinner on the table. And it's totally versatile too. You can add just about any veggies you have on hand and it will turn out well. You'll see!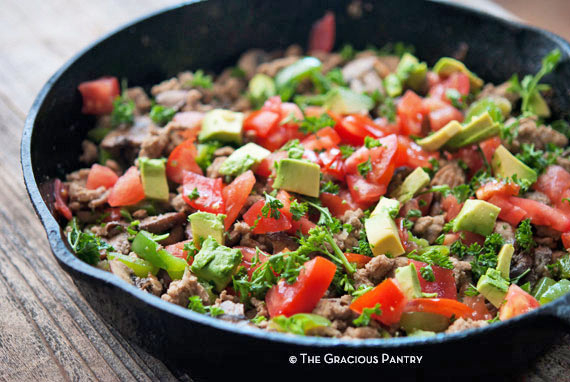 YOU MIGHT ALSO ENJOY:
This recipe from the Gracious Pantry archives, originally posted 8/3/15.

Clean Eating Turkey And Garden Vegetable Skillet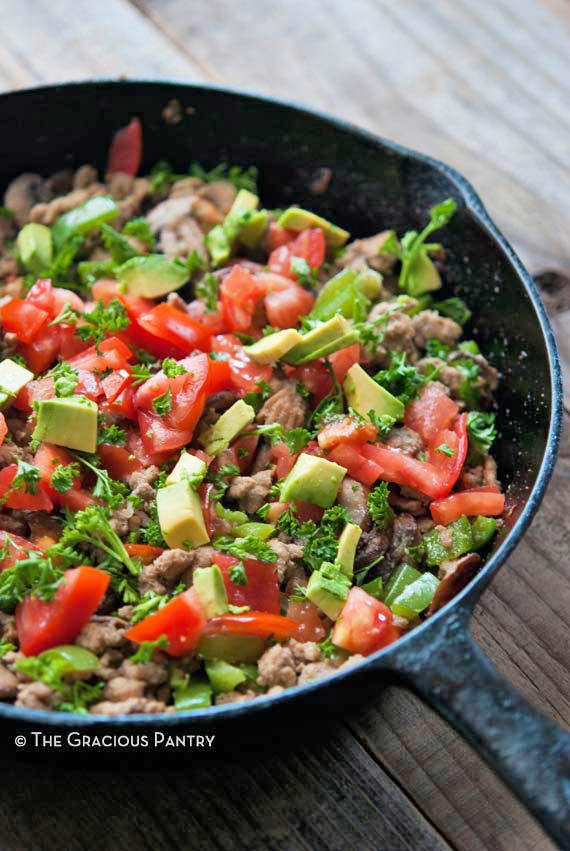 Author:
Tiffany McCauley | The Gracious Pantry.com
Ingredients
2 tbsp. coconut oil
½ medium yellow onion, chopped
1 medium green bell pepper, chopped
½ package sliced brown mushrooms
1 tbsp. garlic powder
1 tbsp. onion powder
1 lb. ground turkey
1 medium tomato, chopped
1 medium avocado, cut into small chunks
¼ cup fresh, chopped parsley
Salt and pepper to taste
Instructions
Heat the oil in a large skillet and saute the onion, bell pepper and mushrooms until wilted.
Add the spices and turkey and continue cooking until the meat is finished and completely cooked through.
Top with fresh tomatoes, avocado and parsley, then season to taste with salt and pepper.