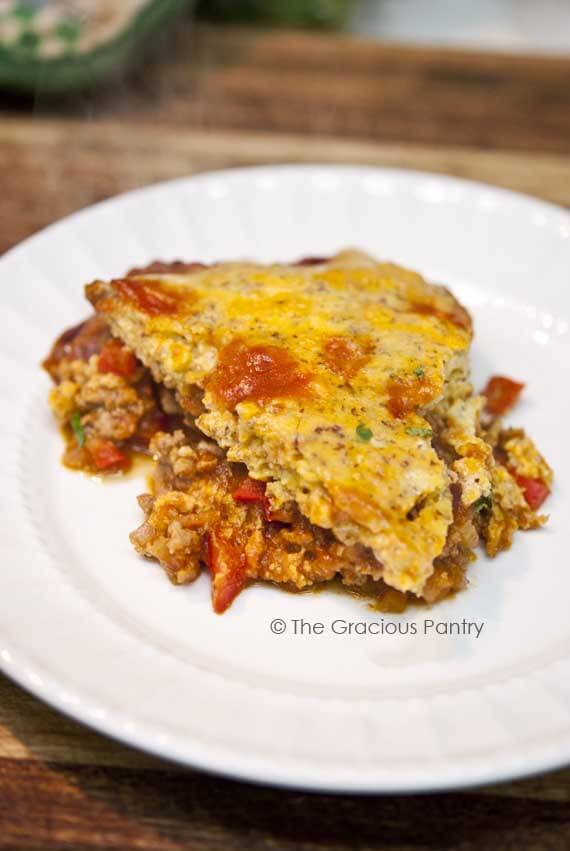 I love versatile recipes. The sort of recipes where you can make a big pot, and then serve it up the way people individually like it so that everyone is happy. I love those "win-win" scenarios. This was definitely one of those dinners!
The concept of a sloppy joe casserole sounded so delicious to me the other night, but every recipe I looked up had lots of not-so-clean ingredients and added some sort of crust that didn't fit my current low carb eating plan. So I used my own sloppy joe recipe as inspiration and came up with this crowd pleaser.
Low carb eaters can enjoy it as is, and those wanting more whole grain goodness can simply enjoy this with a clean, whole grain bun! See, everybody gets what they want. Win-win!
RECIPE NOTES: You will need a large, cast iron (or other oven-friendly) pan for this recipe. This is a "one pot meal".
YOU MIGHT ALSO ENJOY:

Clean Eating Sloppy Joe Skillet Casserole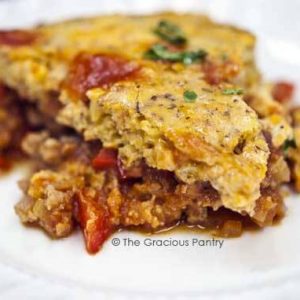 Author:
Tiffany McCauley | The Gracious Pantry.com
Ingredients
½ large, red onion, chopped small
1 large, red bell pepper, chopped small
1 large stalk celery, chopped small
4 cloves garlic, minced
1 lb. ground turkey
15 oz. container clean tomato sauce (homemade works too)
⅔ cup almond meal
3 whole, large eggs
1 cup hand-grated cheddar cheese
Instructions
Pre-heat oven to 350 F.
Put a bit of oil in your skillet and toss in the onions, bell pepper, celery and garlic. Cook until the onions are wilted.
Add the turkey and brown, stirring often.
When the meat is browned, stir in the tomato sauce and allow the meat to cook to the point where it is almost done. (It will continue cooking in the oven.)
While the meat cooks, stir together the almond meal, eggs and cheddar cheese.
Turn the heat off under the meat and let the sauce stop bubbling.
Spread the mixture gently over the top, using the back of a spatula to spread the mixture over the top of the meat. If it doesn't cover everything up to the edge, that's okay. Just work from the center out and cover as much as you can.
Bake this for 20-15 minutes. Then remove from the oven and allow to cool for about 10 minutes.
Cut into 8 slices like you would a pie, and serve.
This pairs well with a salad.