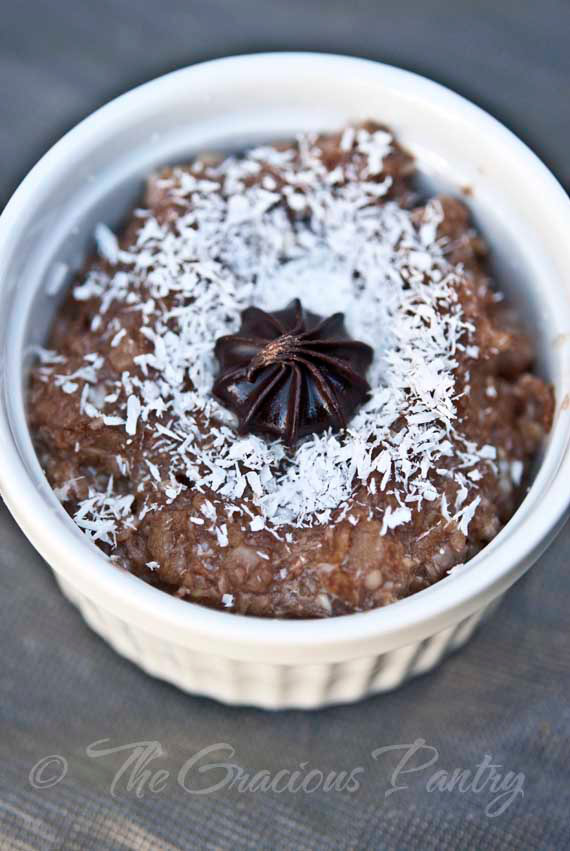 My love of coconut is a relatively new thing. I've only liked it for about a year. Before that, you couldn't get me to stand within ten feet of a coconut. It was like a bad date I couldn't wait to get away from.
Now I'm not sure what changed but I can't seem to get enough of the stuff these days! I think part of it is that I actually worked up the nerve to try some fresh coconut. Once I did that, the real love affair began.
If you read this blog with any regularity at all, you know that I'm a die-hard chocolate fanatic as well. I would put chocolate on my pizza if I could get away with it. (Hmmm…. new dessert recipe??!!!) So it was only logical that I pair my old love affair with my new tryst to see what I could come up with.
The result? A bowl of oatmeal that even my husband would be jealous of!
YOU MIGHT ALSO ENJOY:

Clean Eating German Chocolate Oatmeal
(Makes 2 servings)
Ingredients:
2 servings of dry oats – cooked to package directions (see package for serving size)
1 tablespoon unsweetened cocoa powder
2 tablespoons unsweetened dry coconut flakes
4 egg whites
2 tablespoons honey
Directions:
Cook your oats according to package directions.
Just as the oats are done cooking, stir in the cocoa powder and coconut.
Quickly stir in your egg whites, and continue to stir vigorously until they are cooked (you'll see them turn white).
Divide into bowls and top with agave or honey.