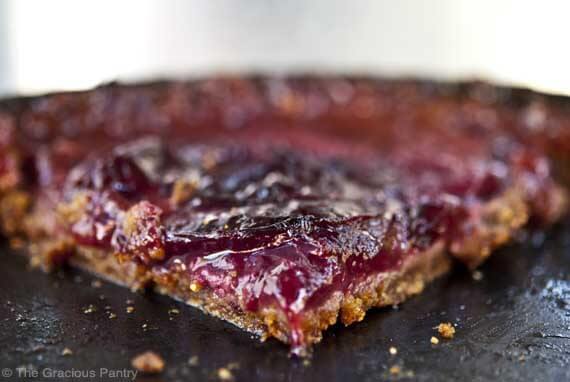 Some desserts, even clean ones, are all about indulgence. During the warmer, plum-friendly months, we tend to enjoy friends, family and good times. Which is exactly as it should be!
But relaxing with friends doesn't mean you have to feed your body any garbage. In fact, I'm going to go out on a limb here and say that the good stuff…. the CLEAN stuff…. actually tastes better than the garbage!
Case and point… today's recipe. Oh ya… today's recipe is one for the books. And the good news is that the fat in this is healthy fat because it comes from nuts, not a processed jar of who-knows-what. I'll be the first to say that this definitely qualifies as a treat, but it also won't sit in your stomach like a ton of bricks.
This has become one of my all time favorite dessert recipes and I hope you'll enjoy it as much as my family and I have.
YOU MIGHT ALSO ENJOY:

Clean Eating Plum Tart
(Makes 8 servings)
Filling Ingredients:
3 cups plums, deseeded and sliced
1 tablespoon molasses
3 tablespoons honey
1 tablespoon organic cornstarch or arrowroot powder
Crust Ingredients:
1 pound raw cashews
10 dates
1/4 cup honey or maple syrup
Directions:
Prep: Using a tart pan with a removable bottom, wrap a piece of parchment around the removable bottom and set it back in the ring. It may bunch a little on the bottom, that's okay as long as it doesn't lift the entire bottom piece up out of the ring. If it does, cut it enough so that it no longer does that.
Preheat oven to 350 degrees F.
Blend the crust ingredients in a food processor until you have a lump of "dough".
Press it into torte pan with your fingers. Work it around the pan until you have even coverage, include up onto the sides.
In a mixing bowl, mix the filing ingredients and then pour into the crust.
Bake for approximately 45 minutes or until everything is cooked through and the crust is somewhat brown.