One Egg Omelet with Cheese
This post may contain affiliate links. Read my
Privacy Policy.
As an Amazon Associate I earn from qualifying purchases.
This one egg omelet makes the perfect, basic omelette recipe for one!
Over my years of blogging, I've had a lot of people mention wanting some easy recipes for 1 or 2 people. It's not something I do a lot of, simply because I usually cook for 3 or more people. So it can be hard for me to downsize.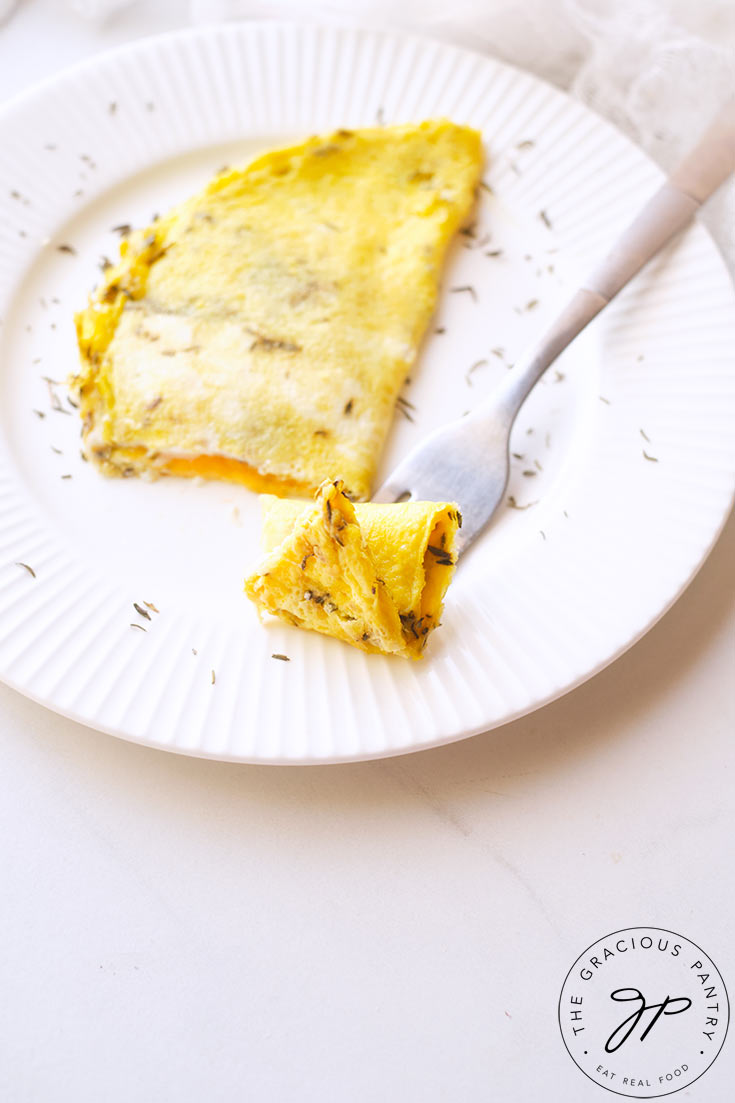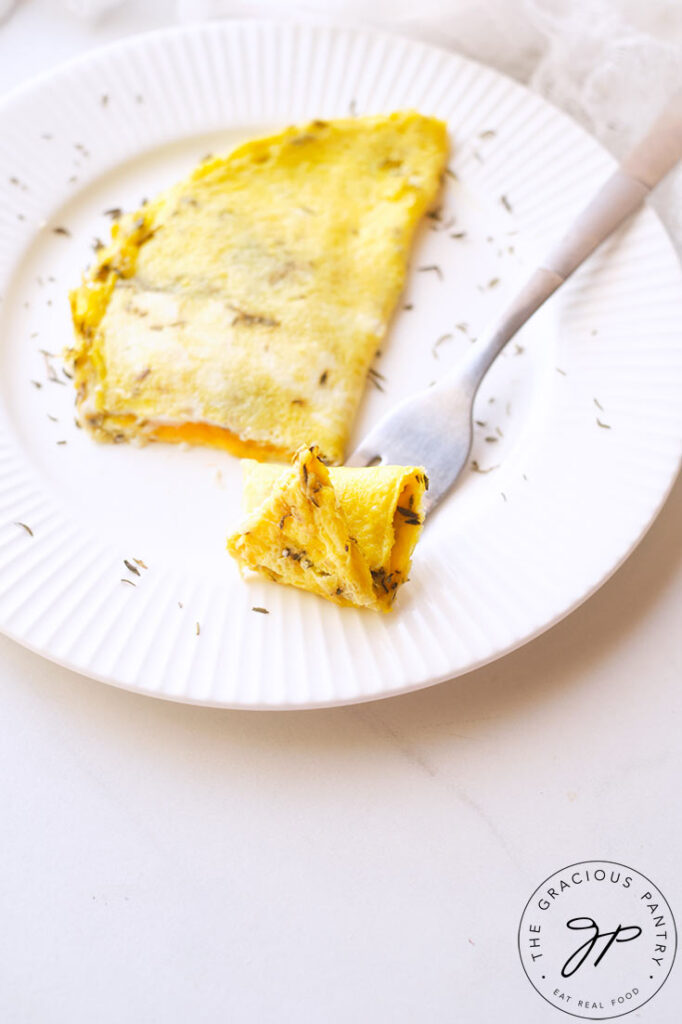 But I recently started making a one-egg omelet for breakfast and they are the perfect, single-serving omelet! Pair your egg omelet with a piece of wholegrain toast or some fresh fruit and you have a lovely breakfast for one.
Plus, it saves on the budget if you are eating 1 egg rather than 2 or 3. Eggs have really gone up in price!
Healthy Omelet Recipe
Eggs are truly a complete and wonderful protein. Mix in a little cheese for flavor and plenty of veggies and you've got a really complete, tasty breakfast. For a one egg omelet, use the following options for adding veggies:
2 tbsp. finely chopped onions
2 tbsp. finely chopped mushrooms
1 tbsp. finely chopped asparagus
1 tbsp. finely chopped peppers
The basic idea here is to use 1 tbsp. of any veggies that have more bulk, and 2 tbsp. of any veggies that tend to cook down and reduce in size by at least half. So feel free to use any veggies you like using that formula. Any meat you might add would also be 1 tbsp, finely chopped.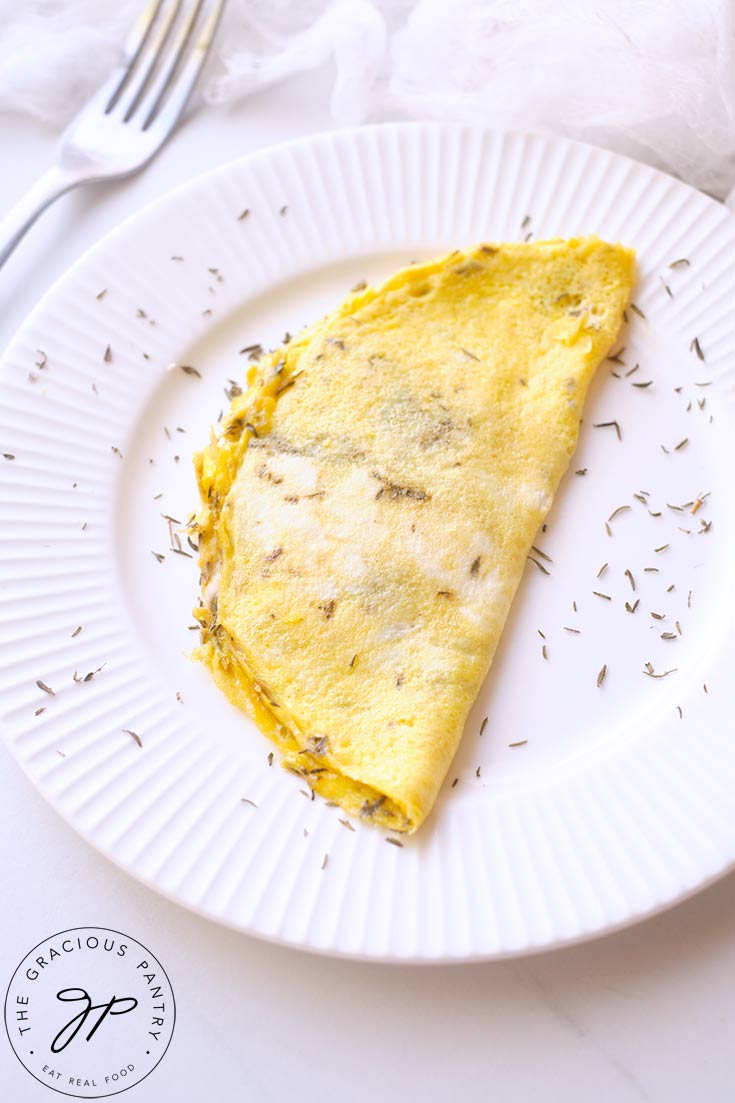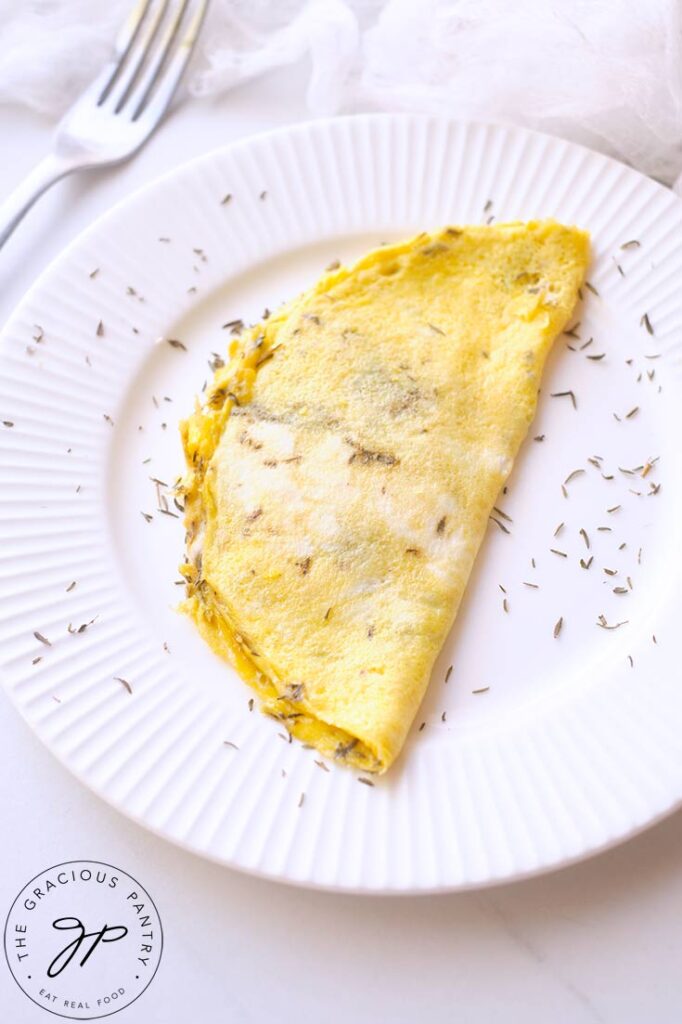 Types Of Omelets
There are four types of classic omelets.
American style – An American Omelette is cooked more to get an often crispy edge and golden color. They are filled with plenty of all sorts of fillings. They are also cooked over higher heat.
French Style – A french omelet is simply eggs cooked in butter. There is no cheese and no additions added. A French omelet is more about the way it's made (technique), than the ingredients themselves. They tend to be softer in texture and are never overcooked or crispy. If any fillings are added, they are very light. They tend to be cooked over lower heat.
Frittata – A frittata is cooked slowly and most often served at room temperature, whereas regular omelets, French or American, are served hot.
Soufflé – This is a very fluffy omelet that is made by separating the eggs and yolk. The yolks and the whites are beaten and then folded back together for making the omelet.
Names Of Omelets
Just a few different names and their fillings:
Western Omelette – ham, onion, and green bell pepper.
Eastern Omelette – ham and onion
Korean Omelette – finely diced vegetables, meats, and seafood
Chinese Omelette – ham or oysters, depending on the region
Spanish Omelette – Potatoes, onions, bell peppers, and ham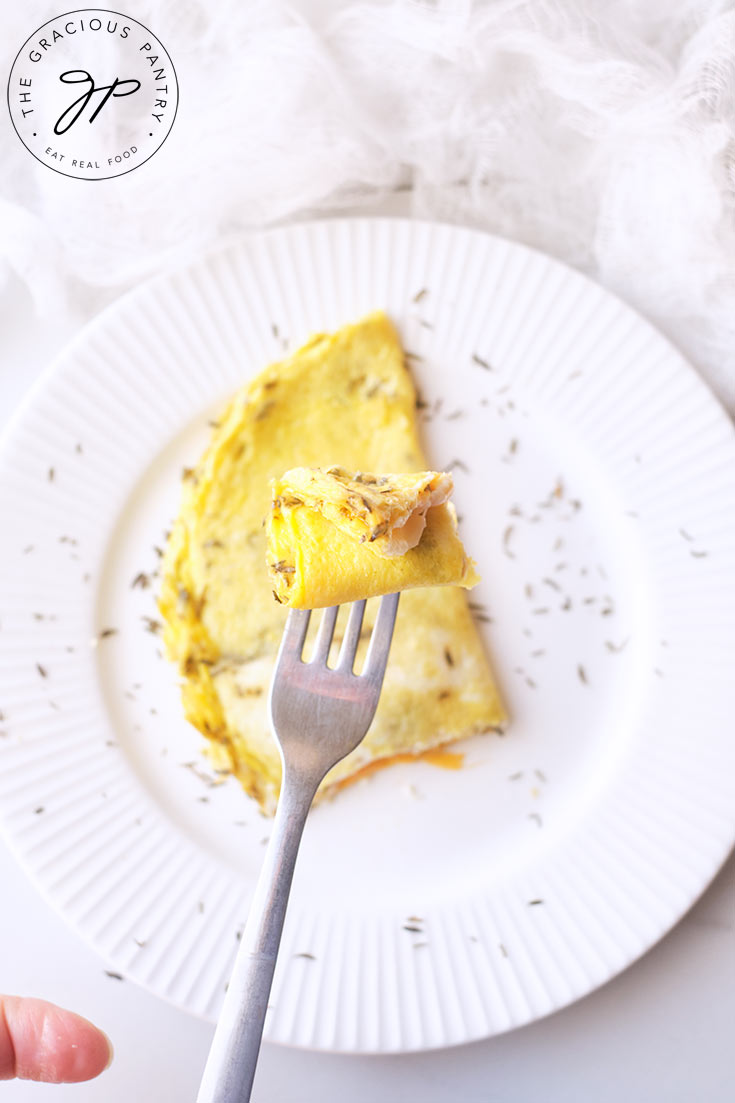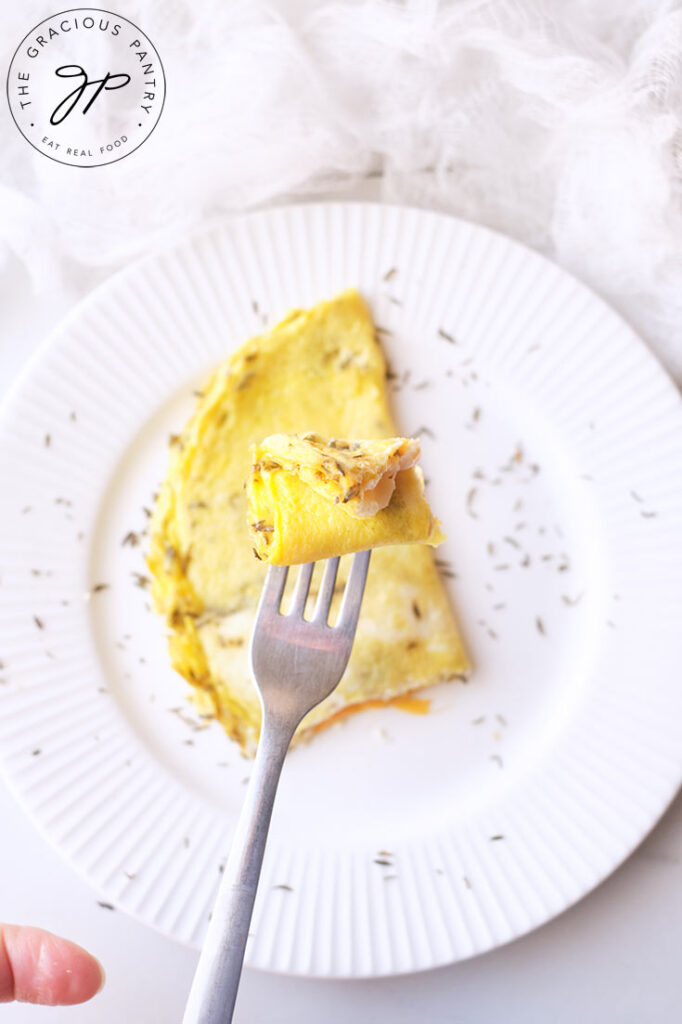 Omelette Fillings:
There are so many omelet recipes out there! Few foods are as versatile. You can put just about any meat, cheese, or veggie into an omelet and it will turn out filling and tasty. Here are some yummy combinations you might like to try.
Cheddar + Mushrooms
Mushrooms + Onions + Smoked Gouda
Crab + Spinach + Provolone
Plantain + Tomato + Green Onions + Gruyère (A Columbian combination, though they usually add sausage)
Potatoes + Red Onion + Cheddar
Corn + Beans + Cheddar + Tomatoes
Kale + Avocado
Smoked Salmon + Cream Cheese + Green Onions
Mozzarella + Spinach + Tomatoes
Avocado + Salsa + Lime
Onions + Tomatoes + Sweet Peppers
Peppers + Hummus (Yes! You can put hummus in an omelet!)
Pizza Fixings – Top your omelet like you would your pizza before folding it in half!
Cheddar + Fresh Herbs
Shredded Chicken + Cheddar
Feta Cheese + Kalamata Olives + Diced Tomatoes
Omelet Or Omelette?
If you've ever wondered which way is the correct way to spell this word, rest assured that either one will work! The spelling of "omelet" is simply the American version. The British and French spelling is "omelette". Either way, people will know what you mean.
More Omelet Recipes:
Breakfast Ideas With Eggs:
If an omelet seems like too much work, here are other egg dishes you can enjoy for breakfast.
The main thing to remember with a one egg omelet is to keep your fillings down to 1 or 2 tbsp. measures. Follow the formula above and feel free to season with herbs and spices.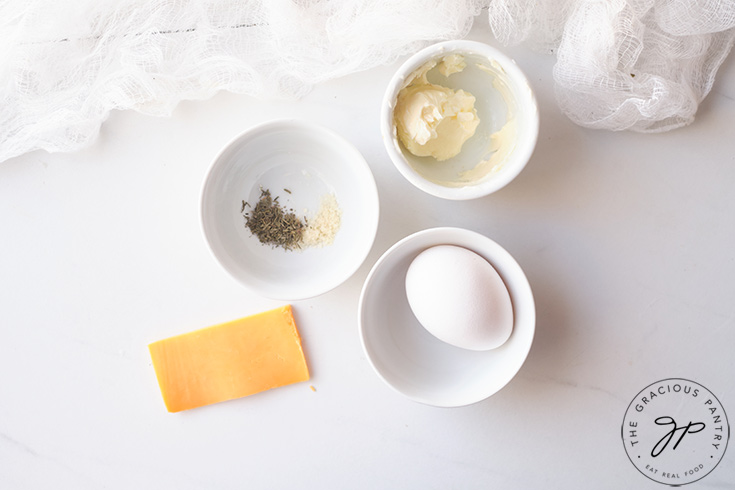 About The Ingredients
(Print the recipe from the recipe card below)
Large egg – If you want to make an egg white omelet, you'll have to use 2 eggs to get enough of the egg whites for one person. The egg yolks can be saved for something else.
Onion powder – Onion granules work well too.
Dried thyme – You can use dried leaves or ground thyme.
Ground black pepper – White pepper is good too. Use what you have.
Butter – You can also use oil such as olive oil, grapeseed oil or coconut oil.
Cheese – 1 slice if using pre-sliced cheese.
Optional Additions & Toppings
Fresh herbs
A little cheese over the top for extra cheesiness
1 tbsp. milk for a more fluffy omelet
How To Make A One Egg Omelet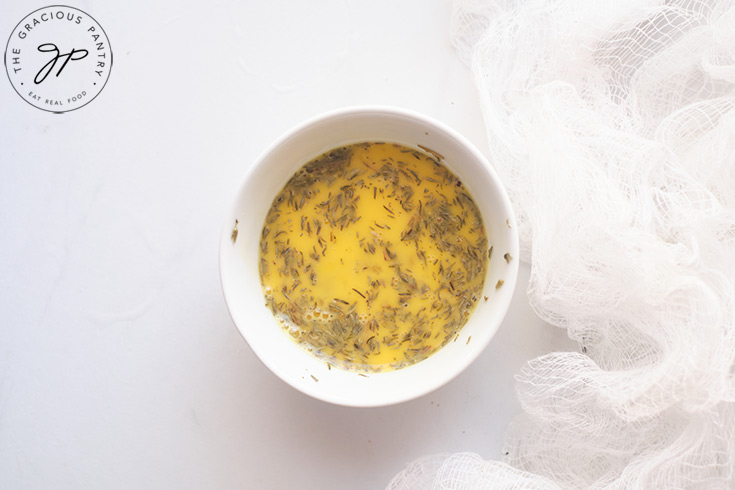 In a small bowl, use a fork to whisk together the egg, onion powder, pepper and dried thyme.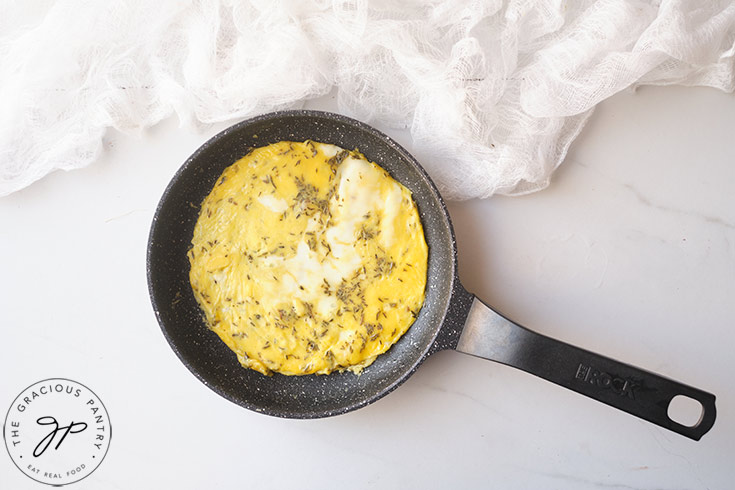 Melt butter or warm the oil in a small, nonstick skillet and pour egg mixture into the nonstick pan, ensuring it reaches all the edges of the pan. If you end up with some uncooked eggs (wet) on top, simply tip the pan a bit while lifting the edge of your omelet with a rubber spatula so that the raw egg can run underneath at the sides of the pan.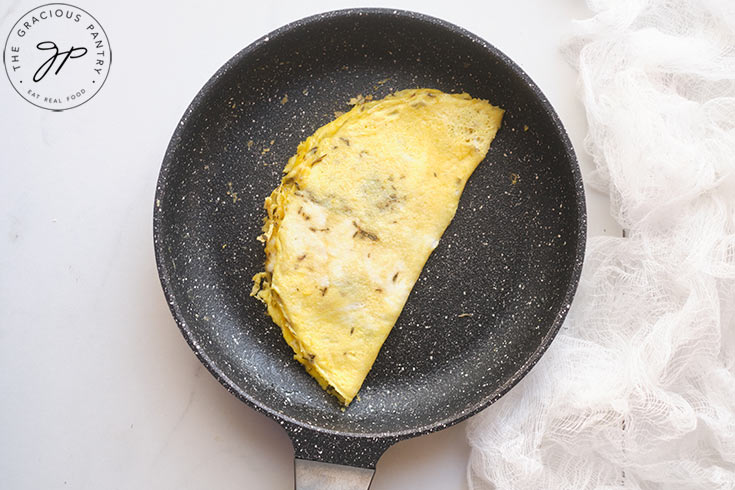 Flip the omelet and add cheese. Let it cook for just just long enough to warm the cheese, fold in half and transfer to your plate.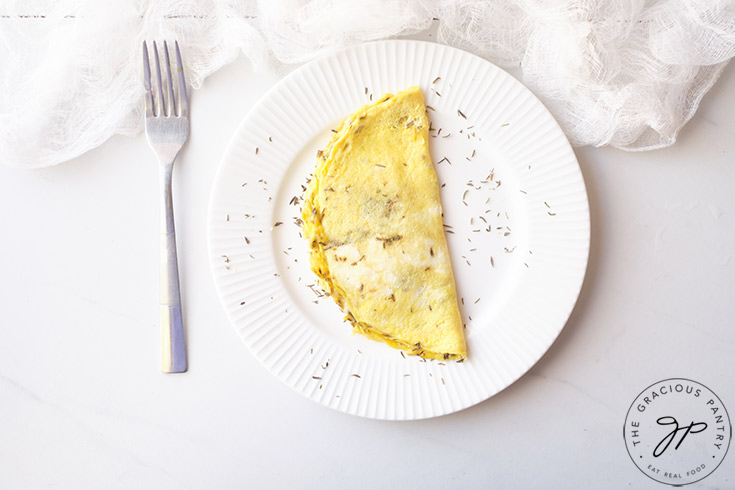 Heat Levels
The heat under your pan is important when making an omelet. It's easy to say "medium heat" and leave it at the medium setting on your stove. But it's important to note that your omelet may need to cook at a medium-low heat, or even a medium-high heat, depending on how your stove cooks.
Watch the heat carefully. You don't want this to cook too fast because you'll end up with overcooked edges and an undercooked center. The perfect omelette will be evenly cooked all the way across.
This will be true for individual omelettes, a 2-egg omelette, or an omelet made with 6 eggs.
Once done, slide omelet from the skillet onto a plate.
One Egg Omelet Recipe Card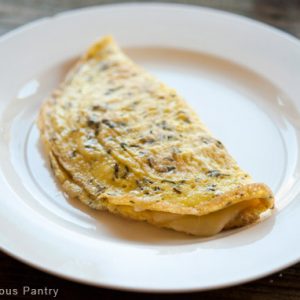 Healthy One Egg Omelet with Cheese
A one egg omelet makes the perfect breakfast for one! This clean eating breakfast recipe is easy to make and the cheese omelet tastes delicious!
Print
Pin
Rate
Add to Collection
Go to Collections
Ingredients
1

large

egg

⅛

tsp.

onion powder

⅛

tsp.

dried thyme

⅛

tsp.

ground black pepper

2

tsp.

butter

(or oil)

1

oz.

cheese

(1 slice if sliced)
Instructions
In a small bowl, use a fork to whisk together the egg, onion powder and dried thyme.

Warm the oil in a small pan and pour the whisked egg into the pan, ensuring it reaches all the edges. If you end up with some raw egg on top, simply tip the pan a bit while lifting the edge or your omelet so that the raw egg can run underneath at the edge.

Flip the omelet and add cheese. Let it cook for just just long enough to warm the cheese, and fold in half.

Slide onto a plate and serve.
Notes
Please note that the nutrition data is a ballpark figure. Exact data is not possible.
Nutrition
Serving:
1
entire recipe
|
Calories:
259
kcal
|
Carbohydrates:
1
g
|
Protein:
14
g
|
Fat:
22
g
|
Saturated Fat:
13
g
|
Polyunsaturated Fat:
2
g
|
Monounsaturated Fat:
7
g
|
Trans Fat:
1
g
|
Cholesterol:
237
mg
|
Sodium:
319
mg
|
Potassium:
106
mg
|
Fiber:
1
g
|
Sugar:
1
g
|
Vitamin A:
810
IU
|
Vitamin C:
1
mg
|
Calcium:
239
mg
|
Iron:
1
mg
Recipe from the Gracious Pantry® archives, originally posted 11/23/15.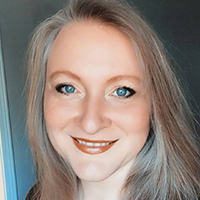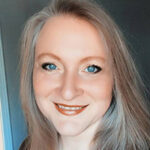 I'm Tiffany, a writer for MSN and the AP Newswire, a cookbook author, digital publisher, food lover, and mom. I create healthy, clean eating recipes for everyday living.