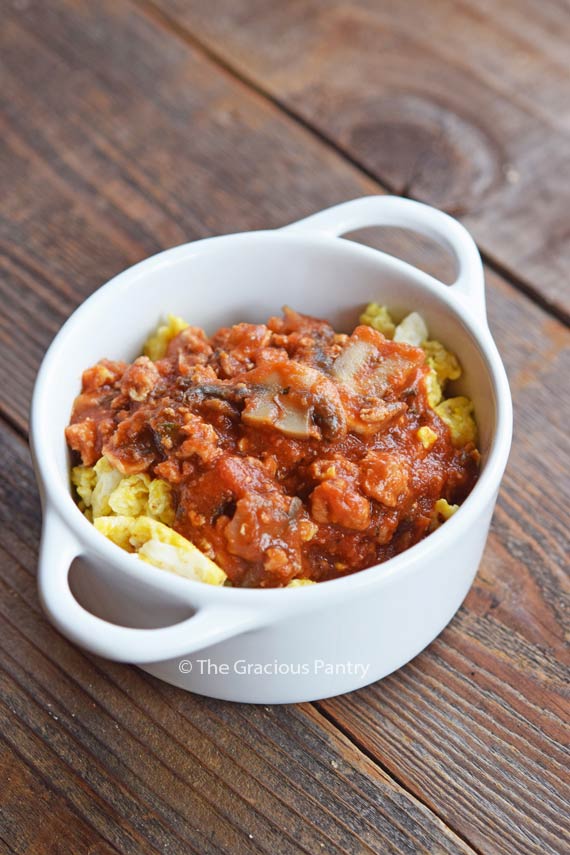 Okay, so admittedly, this isn't really a recipe (It's actually part of my "Simple Meals" series for meal ideas that don't require recipes). But it is a quick and easy idea for getting a hot breakfast on the table in a hurry. And if you have to get out the door, this isn't too hard to eat in the car either. Believe me, I've done it. Of course in my case, a bib would have been a good idea. But that's just me. Live and learn.
When I make spaghetti, I never mix the pasta with the sauce. I keep them separate and just combine everything in bowls as I serve it. That way, my leftover noodles can be used for other things, and the leftover sauce can be used for this! In fact, I love this so much that I always make a double batch of spaghetti sauce so I'll have some left over for eggs in the morning.
I know it sounds like sort of an odd combination, but if you think about the ingredients that often go into an omelet, you realize pretty quickly it's not that strange. And I promise, it's really delicious!! And fast… did I mention fast?
And if you're curious about a good spaghetti sauce, I will have that recipe coming up soon. But chances are you already have a sauce you like. So use it here! Bonus points for having veggies in the sauce!
YOU MIGHT ALSO ENJOY:

Clean Eating Spaghetti Eggs Recipe
Author:
Ingredients
Scrambled eggs (however many you'd like to have)
Leftover spaghetti sauce
Instructions
Scramble your eggs as usual.
At the end, stir in your left over spaghetti sauce.
Stir until warmed through and enjoy.