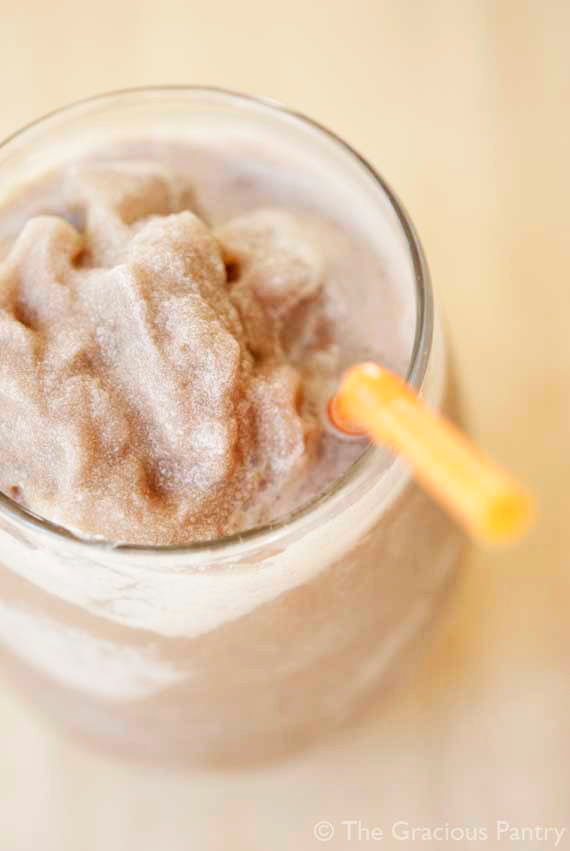 I love Starbucks. I truly do. But what I don't love is what Starbucks does to my eating plan. I mean, let's face it, unless you order just coffee, most of their drinks are far from clean. So when a reader asked me to try this one, I had to give it a shot.
The truth is, I've gotten a lot of requests for cleaned up versions of various Starbucks drinks. And while I fully intend to give more of them a try, this one seemed doable to me from the get-go. While it may not be an exact match, I think you'll find this version equally enjoyable. In fact, it's kinda like drinking a creamy slushy! Who wouldn't love that on a hot summer day?
YOU MIGHT ALSO ENJOY:

Clean Eating Mocha Coconut Frappuccino®
(Makes 2 servings)
Ingredients:
1 cup strongly-brewed coffee, chilled
2 teaspoons unsweetened cocoa powder
1/2 cup light coconut milk
3 tablespoons honey
3 cups ice cubes (or enough to make it the icy consistency you enjoy most)
Directions:
Place all ingredients in a blender and blend until you have an icy slush.
Note: If you want to get really fancy, try topping it with this Clean Eating Coconut Whipped Cream!