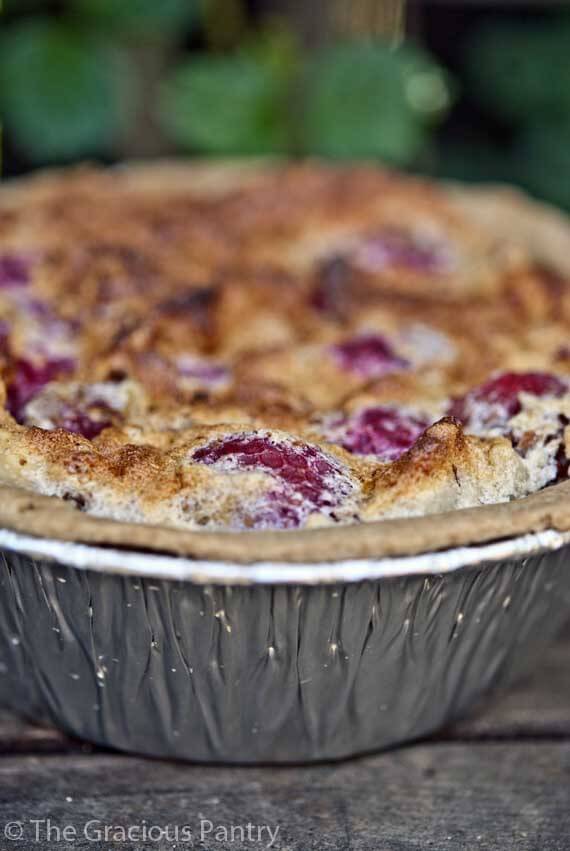 This was a recipe I learned while I lived in Germany. While I never got the chance to actually make it, I wrote down the recipe as it was recited to me by the mother of the family I was staying with.
I will love her forever for giving me this recipe.
I should mention that I have used the word "pie" sort of loosely here. This is not a pie in the traditional, American sense. It's not filled with oozing fruit jellies as we've come to expect here in America.
This pie is very light, fluffy and low on the sweet scale. In fact, it's just sweet enough to be fall into the dessert category, but not sweet enough to feel like you've done something really bad to your diet.
It's simply light and refreshing and won't sit in your stomach like a ton of bricks.
YOU MIGHT ALSO ENJOY:
Clean Eating Raspberry Pie
(Makes 3 small pies)
Note: I used pot pie tins for these pies. They came 3 to a package and are 5 inches diameter x 1-3/4 inches (127 cm diameter X 4.4 cm).
Pie Crust Ingredients:
1-1/4 cups whole wheat pastry flour
1 pinch salt
1/4 cup safflower oil
1/4 cup water
1 teaspoon vanilla extract
1/4 teaspoon cinnamon
Filling Ingredients:
12 ounces fresh raspberries
1/4 cup honey
5 egg whites
1 tablespoon lemon zest
1 cup finely chopped almonds
Pie Crust Directions:
Preheat oven to 350 degrees F.
Put all ingredients in a mixing bowl and mix by hand until you have a firm ball of dough.
Roll dough between two large sheets of parchment paper until it is very thin (about 1/8 inch)
Cut to size and mold into pot pie tins.
Filling Directions:

Whip your egg whites until they form stiff peaks. Set aside.
In a large mixing bowl, combine all other ingredients. Mix gently.
Combine both bowls by gently folding the egg whites into the raspberry mixture.
Gently scoop mixture into pot pie tins.
Bake for approximately 20-30 minutes. A cake tester or toothpick should come out clean when poked into the middle of the pie.
Nutritional Content:
(Data is for 1/16 of the recipe)
NOTE: This data is based on using all of the pie dough. I did not use it all when I made this.
Calories: 173
Total Fat: 10 gm
Cholesterol: 0 mg
Sodium: 1 mg
Carbohydrates: 20 gm
Sugars: 3 gm
Protein: 6 gm
Please Note: Nutritional information estimated at MyFitnessPal.com. Data may not be accurate and is subject to the availability of specific foods in their database. Where one ingredient is not listed, substitutions must be used. Therefore, you should not refer to this data as being exact. It's more of a ballpark figure. The Gracious Pantry does not take responsibility for the inadequacies of the nutrition calculator used. This data is provided as a courtesy and general reference only. It is not exact.