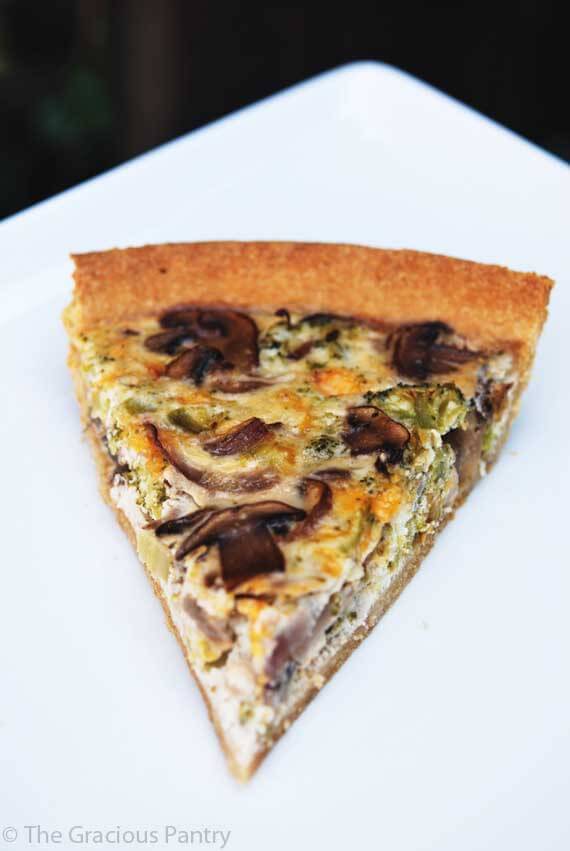 This recipe came about because I had a huge bunch of broccoli left over from another recipe. I bought way more than I needed and really needed a way to use it up. (I hate throwing away food!)
YOU MIGHT ALSO ENJOY:
Clean Eating Broccoli Mushroom Quiche
(Makes 16 servings)
Ingredients:
1 pie crust (I used this recipe)
1 (16 ounce) carton egg whites
2 cups cooked, chopped broccoli
1/2 cup shredded sharp cheddar cheese
1/4 cup parmesan cheese
1/2 pound sliced crimini mushrooms
1 small red onion
1/2 teaspoon garlic powder
Directions:
Preheat oven to 350 degrees F.
Prepare pie crust and set aside.
Place all other ingredients in a large mixing bowl and mix well with a spoon.
Pour the mixture into the pie crust and place in the oven for approximately 45-60 minutes. Basically, you want to bake it until there is no liquid when you cut into the center.
Nutritional Content:
(Data is for 1/16 of the quiche)
Calories: 172
Total Fat: 8 gm
Saturated Fats: 1 gm
Trans Fats: 0 gm
Cholesterol: 1 mg
Sodium: 229 mg
Carbohydrates: 19 gm
Dietary fiber: 4 gm
Sugars: 2 gm
Protein: 8 gm
Estimated Glycemic Load: 9
Please Note: Nutritional information estimated at Nutritiondata.com. Data may not be accurate and is subject to the availability of specific foods in their database. Where one ingredient is not listed, substitutions must be used. Therefore, you should not refer to this data as being exact. It's more of a ballpark figure. The Gracious Pantry does not take responsibility for the inadequacies of the nutrition calculator used. This data is provided as a courtesy and general reference only. It is not exact.