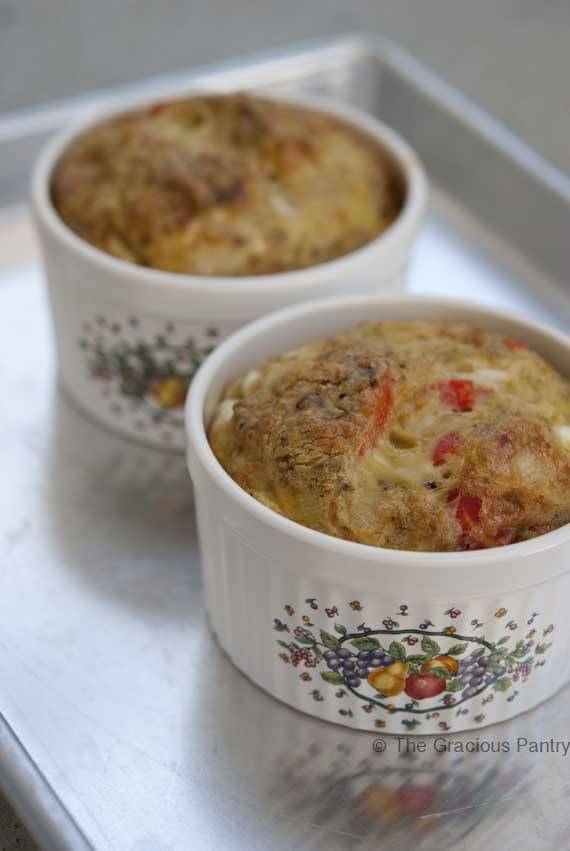 I've always been a little leery of crustless quiches. I mean, lets face it, half the flavor is the crust! At least in my humble opinion. But I found an eMeals recipe that just looked too good to pass up, so I gave it a try.
I loved that these were so quick and easy to make! They were tasty, but I wouldn't bake them in ramikens if your idea is to have more of a "grab-n-go" meal. If you want that, try making these in a non-stick muffin tin. They are packed with protein and help you include veggies in your breakfast. What more could you ask from a quiche???
Recipe Notes: I cut the salt down to 1/8 teaspoon as I don't much like adding salt during cooking. You can leave it out completely if you wish and season with salt after the baking is done if you wish. I also set the ramekins on a cookie sheet to make it easy to put in and remove from the oven. Lastly, I let the onions and peppers cool a bit before mixing them in with the eggs.
Disclosure: I receive a portion of all sales on eMeals subscriptions if you purchase a subscription via the link in this post. This money pays for keeping this blog running as well as for buying food to create the recipes you find here.
YOU MIGHT ALSO ENJOY:

Clean Eating Southwestern Crustless Quiche
(Makes 2 servings)
Ingredients:
2 teaspoons olive oil, divided
1/2 cup thinly sliced white onion
1/2 cup thinly sliced red bell pepper
4 large eggs, lightly beaten
1 teaspoon minced garlic
1/2 teaspoon ground cumin
1/2 teaspoon kosher salt
1/2 teaspoon black pepper
Directions:
Preheat oven to 400 degrees F.
Heat 1 teaspoon oil in a small skillet over medium-high heat.
Add onion and pepper to pan.
Cook 10 minutes, or until tender.
Combine onion mixture, eggs, garlic, cumin, salt and black pepper in a small bowl.
Divide evenly between 2 (8 ounce) ramekins coated with remaining 1 teaspoon oil.
Bake for 20 minutes or until set in center.
If you enjoyed this recipe, give eMeals a try today and let me know what you think.
Visit eMeals Now!