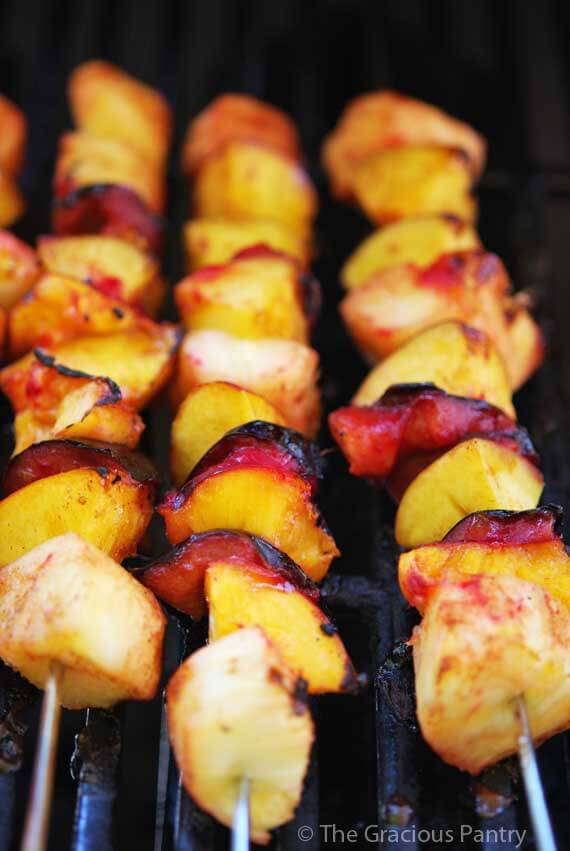 I have been wanting to try fruit kebobs for a very long time now. All those little caramelized bits of fruitiness have always sounded like little bits of heaven to me. And now I can honestly tell you….. they are!!!
The wonderful thing about these is that you can really switch it up with a recipe like this. Don't run down to the store for a fruit you don't have, use fruits you have on hand. This recipes is very versatile in that way.

Clean Eating Cinnamon Fruit Kebobs
Ingredients:
1 fresh, ripe pineapple
6 white nectarines
6 plums
Juice from the fruit
1 tablespoon honey
1 teaspoon cinnamon
Directions:
Cut all your fruits into bite-sized chunks. Be sure to cut them over a large bowl (the bowl that holds the fruit before you skewer it). You want to save as much of the juice as possible for the basting sauce.
Add the honey and cinnamon to the juice and mix well. This is your basting sauce.
Put the fruit chunks on skewers.
Put the kebobs on the BBQ and, using a basting brush, baste the kebobs with the basting sauce.
The kebobs are done when they have a nice golden brown color. I BBQ'd mine for approximately 30 minutes. But use your judgment. The fruit should be nice and caramelized.