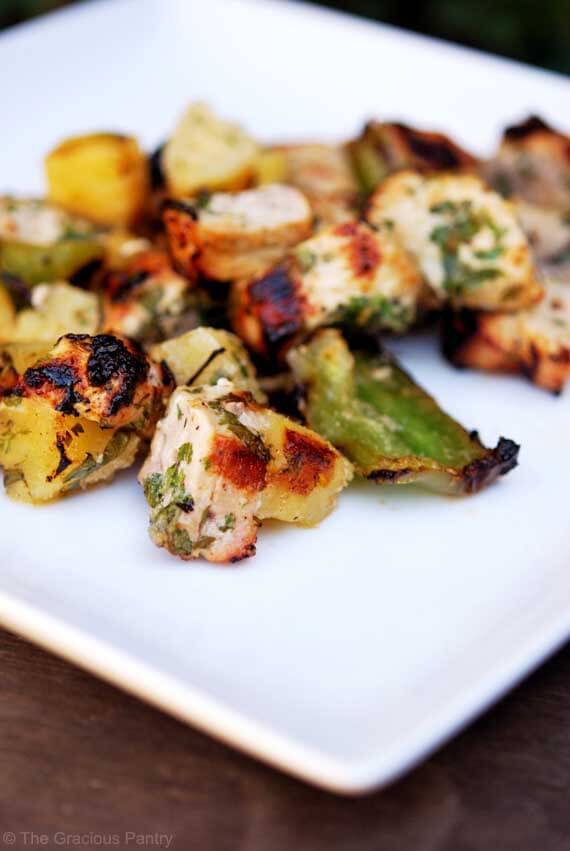 Yes. This tastes as good as it looks.
Tender pieces of pork, drenched in cilantro and pineapple juice, and grilled to perfection. Throw in some pineapple chunks and a few bell peppers and you've got one fantastic meal!
This was the feast our new BBQ got christened with. W.O.W. was it good! I've made pork a lot in the past, but it's never been this tasty. Something about a BBQ. Those nifty little contraptions always get the job done right. It really is amazing.
YOU MIGHT ALSO ENJOY:
Clean Eating BBQ Pineapple Pork Kebobs
Ingredients:
2 1/2 pounds of pork loin chops (approximate amount) – cut into chunks
2 large cans of pineapple chunks + juice (or 1 ripe, fresh pineapple)
4 large green bell peppers (red works well too) – cut into large chunks
10 large crimini mushrooms (optional) – quartered
1 cup chopped, fresh cilantro
2 tablespoons onion powder
2 tablespoons garlic powder
2 tablespoons black pepper
Directions:
Heat up your BBQ!
Combine all ingredients in a large mixing bowl, mix and let stand for 20-30 minutes to marinate.
Skewer the kebobs. (Metal skewers are best.)
BBQ for approximately 30 minutes (at about 350 degrees F. if you have a thermometer on your BBQ), or until the meat is completely cooked through.
Please note: Nutrition data is not available for this recipe.