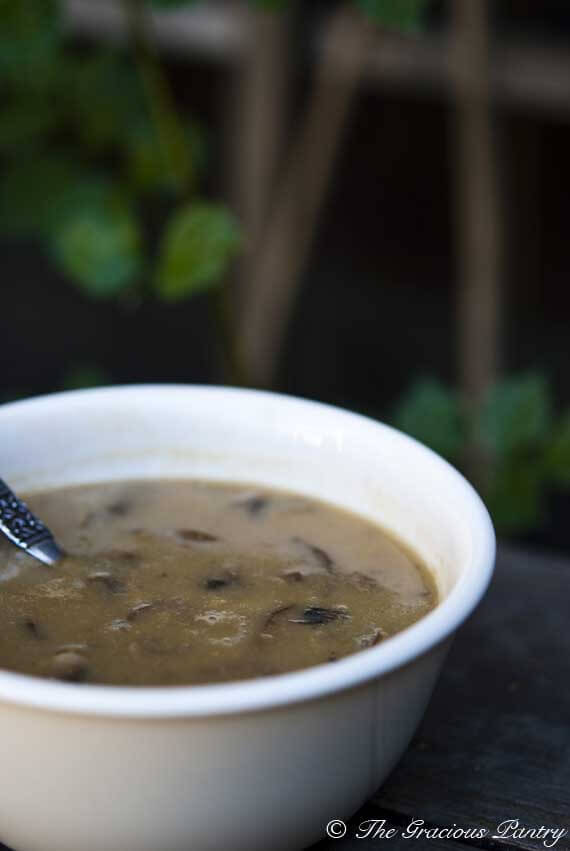 A while back, a reader emailed me and asked if I knew of a substitute for cream of mushroom soup. She wanted to make a recipe that called for it, but didn't know of any clean eating substitutions. The only substitution I could think of was simply a clean eating version of the soup. So I tried several times on my own before converting an old family recipe. There's something to be said for not reinventing the wheel!
The reason I'm so excited to share this recipe with you is because cream of mushroom soup has so many culinary uses!
In fact, I'm going to demonstrate one of those uses in the next recipe. I'll show you how to make Clean Eating Chicken Pot Pies!
But until then, I strongly suggest making a batch of this ahead of time. (Pot Pies are so much easier when you simply combine a bunch of ingredients that are already ready to go!) Having a batch of this in the freezer, especially with fall and winter coming at us fast is simply a very smart idea!
YOU MIGHT ALSO ENJOY:

Clean Eating Cream Of Mushroom
Soup
(Makes 6 servings)
Ingredients:
1 pound mushrooms, sliced
4 cups chicken broth (no sugar added, low sodium is good. Home made is best)
2 teaspoons olive oil
1/4 cup whole wheat pastry flour
1 tablespoons balsamic vinegar
2 cups milk or unsweetened organic soy milk
Directions:
Saute the mushrooms in the oil. This is a very small amount of oil for one pound of mushrooms. But if you keep the heat low, the mushrooms will release their own moisture and before you know it you'll have a bunch of water in the pan that won't allow them to burn. Just get the pan hot over high heat and then immediately turn to low heat. Stir frequently.
When the liquid comes out of the mushrooms, add the balsamic vinegar. Then, the flour, which will soak up all the liquid pretty quickly.
Put the chicken broth into your soup pot. Transfer the mushrooms to the same pot and combine with the broth.
Add milk.
Bring to a boil. Reduce heat and simmer for approximately 10 minutes.
Allow to cool in the pot. If you will be eating this, season to taste with salt and pepper. If you will be using this soup for other recipes, do not add salt at this time.
Nutritional Content:
(Data is for 1 cup)
Calories: 97
Total Fat: 2 gm
Saturated Fats: 0 gm
Trans Fats: 0 gm
Cholesterol: 2 mg
Sodium: 429 mg – This can be lowered with low or no sodium broth
Carbohydrates: 13 gm
Dietary fiber: 1 gm
Sugars: 7 gm
Protein: 6 gm
Estimated Glycemic Load: 7
Please Note: Nutritional information estimated at Nutritiondata.com. Data may not be accurate and is subject to the availability of specific foods in their database. Where one ingredient is not listed, substitutions must be used. Therefore, you should not refer to this data as being exact. It's more of a ballpark figure. The Gracious Pantry does not take responsibility for the inadequacies of the nutrition calculator used. This data is provided as a courtesy and general reference only. It is not exact.