Clean Eating Chicken Pot Pies Recipe
This post may contain affiliate links. Read my
Privacy Policy.
As an Amazon Associate I earn from qualifying purchases.
This clean eating chicken pot pie recipe is perfect for repurposing leftovers!
I have a secret to tell you.
I worked for Marie Callenders for several years. First as a waitress and then as a manager. This restaurant was well known for their pot pies. You can even still find these pot pies in most conventional grocery stores. But until I made the following recipe, I had NEVER had a pot pie before in my life.
Shocking? Well, I guess that's debatable. But nobody around here could believe I had never had one. In fact, it became somewhat of a joke. So I finally gave in and made some.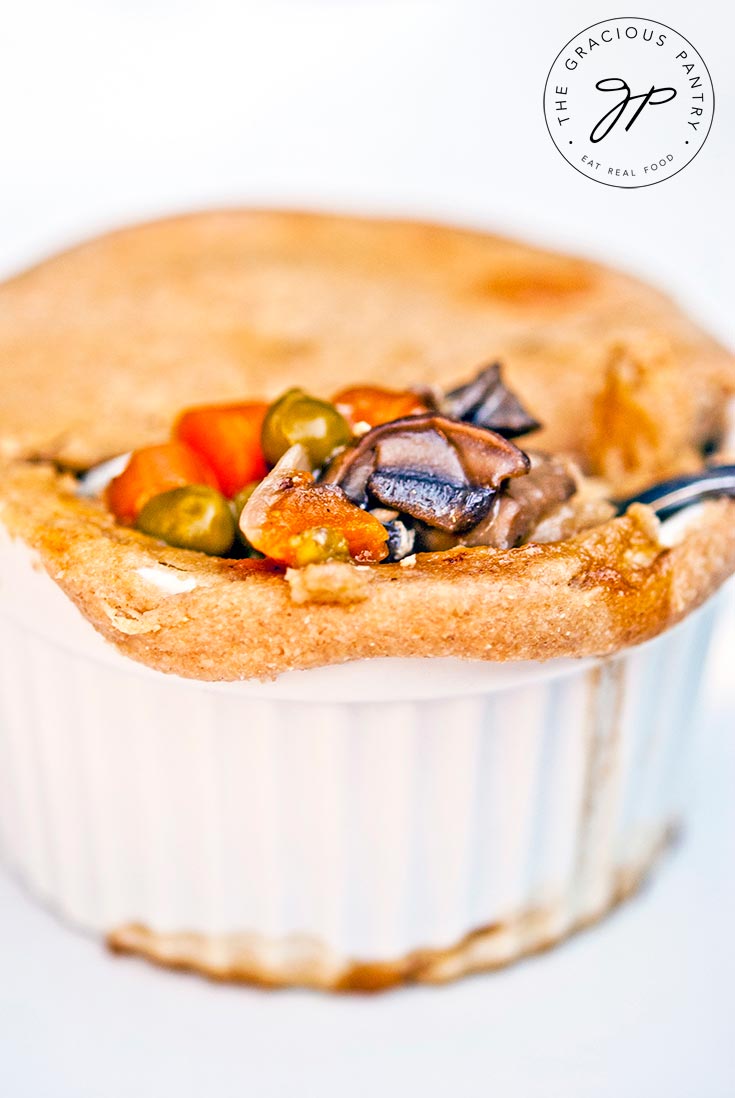 From scratch.
Now, unless you've made pot pies from scratch before, you probably have little comprehension of the impact that statement should make on you. You see, making pot pies from scratch can very easily take up a good chunk of your day. Making pot pies from scratch is not for sissies. Making pot pies from scratch is not for those who have back problems or knee problems or foot problems, simply because you will be on those feet for so many hours!
So now that I've probably talked you into NOT making them, let me show you a much easier way to make these deliciously clean pot pies.
You see, pot pies are essentially (in my mind) meant to be a "left-over" dish. In other words, you take a bunch of your left overs, toss them together with some Cream Of Mushroom Soup, top with some pie crust and pop them in the oven. Pot pies (in my mind) should NEVER be made from scratch.
So the next time you make chicken or turkey, make some extra, chop it up and stick it in the freezer. The next time you make some quiche, double the crust recipe and freeze the dough (roll it out and place it in a pie tin first. It'll save you a lot of work if it's already rolled out).
Then, all you have to do is steam some veggies, mix everything together and pop it in the oven. At that point, a tedious recipe becomes very, very easy and quick to make. Perfect for a cool fall evening or chilly winter night around the fire place.
I repeat, if you value your back, knees and feet, DO NOT attempt to make this from scratch. Trust me. My feet are still aching!
RECIPES USED:
YOU MIGHT ALSO ENJOY THESE CLEAN EATING RECIPES:
Enjoy!

CLEAN EATING CHICKEN POT PIES RECIPE: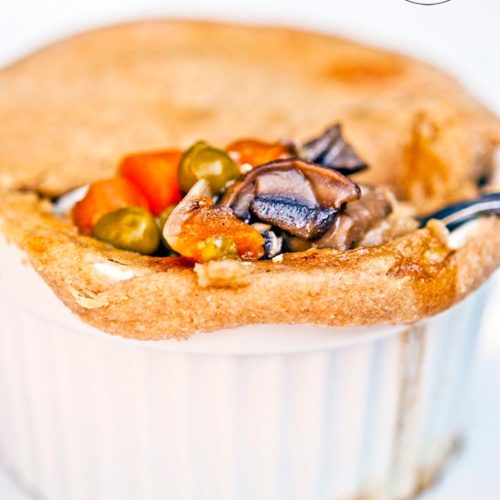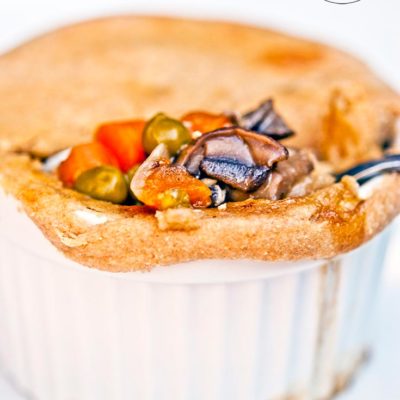 Clean Eating Chicken Pot Pie
While this will take a good long while to make from scratch, make the mushroom soup ahead of time and store in the freezer until you are ready to make these. Using frozen veggies makes the job a lot easier. Just remember the thaw the soup completely before you make the pot pies.
Print
Pin
Rate
Ingredients
2.5

lb.

boneless, skinless chicken breasts

1

lb.

frozen peas

1

lb.

frozen carrots

(fresh works too - sliced and chopped)

5

cups

cream of mushroom soup

(see link above)

2

tbsp.

cornstarch

(or tapioca starch)

1

batch

pie crust

(2 crusts - see link above)

¼

cup

milk
Instructions
Preheat oven to 350 degrees F.


Note: roll your pie crust flat and cut just slightly bigger than the dish(s) you will bake your pot pies in.

If your chicken is not pre-cooked, then slice it into small, bite-sized pieces and cook in a pan with 1 tbsp. of olive oil, 1 teaspoon garlic powder, 1 teaspoon black pepper and 1/2 teaspoon salt. If your chicken is already cooked, simply chop it into small pieces and put it in a large mixing bowl.

If you don't already have some pot pie-worthy veggies, steam some. Then add them to the big bowl with the chicken.

Stir in your mushroom soup and cornstarch. Mix everything together really well.

Cut the pie crust using a bowl or cup that is just slightly bigger than the bowls you will be baking the pot pies in.

Fill your baking bowls and top with pie crust, being sure to press your pie crust down around the edges of the bowls a bit. This will keep everything in as the mixture starts to bubble.

Place your pot pies on a cookie sheet and brush the tops of the pot pies using that 1/4 cup of milk. You may not need it all. It's easiest to do with a basting brush, but you can also use a paper towel.

Place cookie sheet with pot pies in the oven.

Bake for approximately 45 minutes, or until the mixture inside is well warmed and the pie crust is nicely browned.

These will most likely be very hot. So allow for some cooling time before serving.

Notes
Please note that the nutrition data is not available for this recipe and will depend on your final yield (the size you make your pies).
Recipe from the Gracious Pantry archives, originally posted 9/16/10.