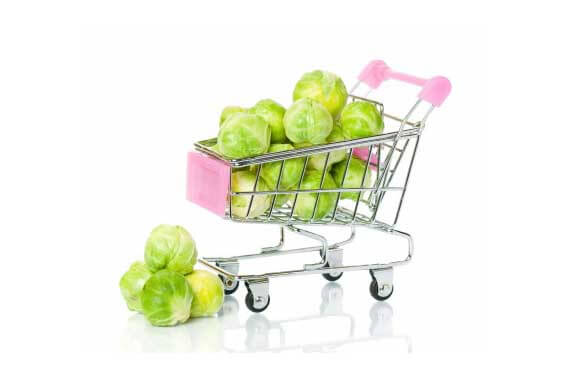 Believe it or not, not everything at Whole Foods qualifies as clean. In fact, like any grocery store, their aisles are filled with many products that fall far outside the parameters of clean eating. But don't worry, here's a clean eating grocery list of the foods I've found at Whole Foods that are clean and healthy.
Please Note: These prices and product availability can vary greatly depending on your location. This list and prices are current for my area (Sonoma County) on the date of this blog post.
OTHER CLEAN EATING SHOPPING LISTS
PRODUCE
While there is a vast array of fresh produce, both organic and conventional, it's fair to say that it costs a bit more here. For that reason, I usually buy organics that I can't get anywhere else, and save the majority of my produce shopping for either Trader Joe's or the farmer's market. But any way you look at it, Whole Foods has a pretty impressive and vibrant selection. All fresh produce is clean, so enjoy it!
FROZEN PRODUCE
FRUITS – Various types, no sugar added ($2.40 – $4.39)
DAIRY
Tip: Dairy is always better purchased organic, but buy the best you can afford.
MILK: Conventional ($3.19 per gallon)
MILK: Organic ($5.99 – $6.99 per gallon)
POULTRY
Tip: Again, organic is best. But if you can't afford it, buy the best quality meat you can.
CHICKEN – raw from the meat counter ($3.25 – $6.99 depending on cut)
BEEF – raw from the meat counter, opt for lean cuts ($3.49 – $14.99 depending on cut)
HOT DOGS – Applegate Organic Uncured Hot Dogs ($8.69 per package – While these are obviously processed to some degree, they are the cleanest you'll find.)
CHICKEN BROTH – Imagine brand, regular or low sodium ($3.39 – 32 oz.)
SEAFOOD
Some stores have a fresh fish counter. Opt for fish high in good oils like salmon, but any fresh fish will work.
GRAINS
OATS – Various brands and types, plain ($3.39 – $7.39 depending on size and type)
CEREALS – Puffed grain cereals, Nature's path brand ($1.99 – 6 oz. package)
FLOUR – Bob's RedMill brand ($1.99 – $11.49 per pound, depending on type)
FLOUR – Bulk section (most affordable)
BREADS
SLICED BREAD – Alvarado Street Bakery brand ($4.20 per loaf)
HOT DOG BUNS – Alvarado Street Bakery brand ($2.99 per package of 6 buns)
HAMBURGER BUNS – Alvarado Street Bakery brand ($2.99 per package of 6 buns)
BAGLES – Alvarado Street Bakery brand ($4.20 per package – NOT the sweetened variety)
TORTILLAS – 365 brand, whole wheat ($1.99 – 10.5 oz.)
TORTILLAS – Ezekiel brand, sprouted grain ($2.99 – 12 oz.)
TORTILLAS – Mi Rancho, organic corn ($2.99 – 9.33 oz.)
BEANS
BEANS – Canned, 365 brand, no sugar added ($1.49 – $2.49 depending on type)
BEANS – Dry, all types and varieties. Packages are available, but bulk is cheaper.
PANTRY ITEMS
Please note: I know that many people are working hard to avoid BPA in canned food items, and some of you feel very strongly about that. I know it's an important issue. But I also know that some people can't afford the BPA-Free canned goods or simply don't have access to them. So my criteria here is simply based on the ingredient list alone.
NUT MILKS: Unsweetened ($1.99 – $3.89 depending on type)
APPLE JUICE: North Coast brand, organic ($1.69 – 10 oz. / $8.99 – per gallon jug)
JUICES: Any that are 100% juice.
PASTA SAUCE – 365 brand, organic ($2.69 – 25 oz.) – NOTE: Does contain soybean oil, but it is organic
PIZZA SAUCE – Muir Glen brand, canned ($2.39 – 15 oz.)
PASTA – Brown rice variety ($3.39 – $3.79  – 1 pound, depending on type)
PASTA – Whole wheat variety ($3.69  – 1 pound)
CRACKERS – Back To Nature brand, Harvest Whole Wheat Crackers ($3.69 – 8.5 oz)
CRACKERS – Wasa brand, Light Rye ($3.39 – 9.5 oz.)
CRACKERS – Lundberg brand ($3.39 – 8.5 oz.) – Labeled Non- GMO!
SALSA – 365 brand ($3.99 – 32 oz.)
JAM/JELLY – Bionaturae brand, organic fruit spreads ($3.99 – 9 oz.)
PEANUT BUTTER – 365 brand, conventional ($2.79 – 18 oz. / $5.49 – 36 oz.)
PUMPKIN – Canned ($1.59 – 15 oz.)
APPLE SAUCE – North Coast brand, various sizes
COCONUT SUGAR – Madhava brand ($4.39 – 1 pound)
SUCANAT – Organic ($7.99 – 2 pound bag)
XYLITOL – Non-corn source ($7.99 – 16 oz.)
HONEY CRYSTALS – Aunt Patty's brand ($6.69 – 12 oz.)
DATE SUGAR – Aunt Patty's brand ($7.39 – 10.5 oz.)
MAPLE SUGAR – Aunt Patty's brand ($16.99 – 13 oz.)
SALT – Real Salt brand ($6.69 – 26 oz.)
CRANBERRIES – Dried, fruit juice sweetened ($7.69 – 13 oz.)
LARA BARS – Various flavors except the chocolate chip variety which has sugar ($1.29 – 1 bar)