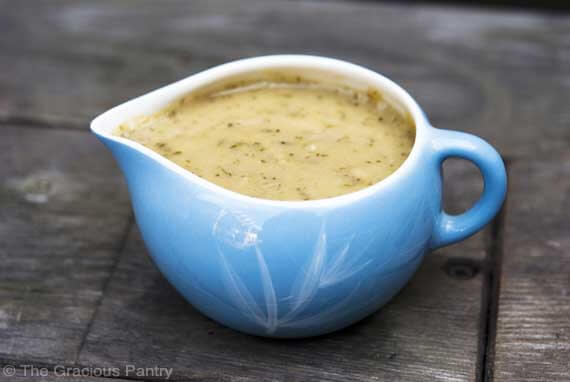 Yep, you can have your gravy and eat it too. Here's how! 
I admit it. Gravy is my favorite part of Thanksgiving dinner. Dressing comes in a close second. Do you feel the same?
I realize that for many people, gravy on any dinner is avoided like the plague. But I'm here to show you that it doesn't have to be!
I've said it before and I'll say it again. I strongly believe that 80-95% of your favorite recipes can be converted to clean and healthy eating. Here's one more recipe that proves this belief.
YOU MIGHT ALSO ENJOY:

Clean Eating Gravy
(Makes approximately 2 cups)
Ingredients:
4 cups chicken or turkey stock/broth
1/4 teaspoons sage
1/4 teaspoons marjoram
1/4 teaspoons thyme
1/4 teaspoons black pepper
1/2 teaspoons garlic powder
2 teaspoons onion powder
1 teaspoons cornstarch or tapioca starch
4 tablespoon whole wheat pastry flour
Directions:
In a large pot, combine the flour, cornstarch and stock/broth using a whisk.
Add all other ingredients (spices), and whisk well to combine.
Turn on the heat and bring the gravy to a boil, whisking often.
Once the gravy boils, reduce the heat just enough to keep it at a low boil. Not a simmer.
Boil the liquid down until it's about half gone. (This can take about 20-30 minutes or more). Whisk frequently. Adjust spices to taste.
Remove from heat and allow to cool slightly.