Whole Roasted Chicken Recipe
This post may contain affiliate links. Read my
Privacy Policy.
As an Amazon Associate I earn from qualifying purchases.
This whole roasted chicken is both delicious and budget friendly!
Can you believe I've never cooked a whole chicken before? My entire life, I've only bought and cooked chicken breasts. I don't really care for any other part of the chicken. So I figured, what's the point?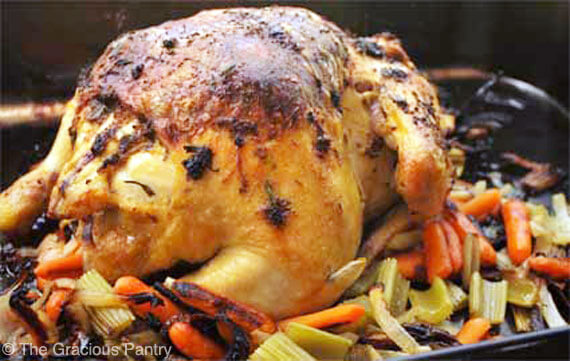 Then I married a man who will eat just about anything I set in front of him, including a whole chicken.
Thankfully, he's more than happy to leave me the parts I like while he dives into the rest of the poor bird. The scene that ensues is a carnivorous feast unlike anything I've seen before. It's a good thing the poor creature is dead. And that's all I'm gonna say about that!
I've been purchasing whole chickens at Whole Foods for a while, and finally decided I'd try cooking one myself to save a few dollars. And if you don't mind me saying so, I think I did better than Whole Foods! This chicken was down right delicious!
(Vegetarians beware, this gets a little graphic for those with overly sensitive stomachs. It involves innards… and that's all I'm gonna say about that.)

WHOLE ROASTED CHICKEN RECIPE: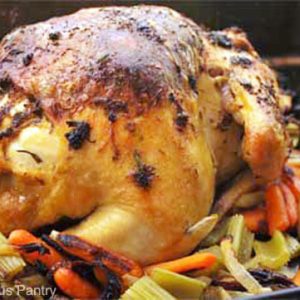 Whole Roasted Chicken
A budget friendly recipe for making a whole roasted chicken!
Print
Pin
Rate
Add to Collection
Go to Collections
Servings:
8
servings (approximate)
Ingredients
6

lb.

chicken

(the size can vary a bit)

1

large

yellow onion

1

lb.

baby carrots

1

medium

bunch celery

2

tbsp.

dried tarragon

2

tbsp.

lemon zest

1

tsp.

garlic powder

1

tsp.

onion powder

½

tsp.

ground black pepper

2

tbsp.

olive oil
Instructions
Preheat oven to 450 degrees F.

Place your birdie on a stable work surface.

Reach in through the larger of the two cavities and pull out the stuff wrapped in paper.

Prepare your veggies to your liking. They will cook down considerably, so don't worry too much about slicing them properly. Just chop them up roughly.

Place your veggies in a roasting pan or large baking dish. (Mine was to large. You want something that is just a bit larger than the chicken).

In a small mixing bowl, mix your tarragon, lemon zest, garlic powder, onion powder, pepper and olive oil.

Separate the skin from the meat by moving your fingers around under the skin. You're not removing the skin, just separating it from the meat so you can get the spices under there.

With your hand, rub the majority of your spice mix under the skin, covering as much of the bird as possible. Rub the remaining spice mix all over the rest of the outside of the bird.

Place your birdie on top of your veggies and put the whole pan into the preheated oven. Bake for approximately 20-25 minutes. Your birdie should have a nice golden glow at this point. (I would sell my knife set for a tan like that!)

Loosely, lay a large piece of foil over the top to prevent any further browning (burning) and continue cooking until the internal temperature of the meat reaches 180 degrees F. (About 50-60 minutes in total – This will vary from oven to oven).

Allow to cool, remove skin, carve and serve.

Note: The veggies will soak up a lot of the fat from the chicken. I didn't actually serve these with the meat. I saved them to put into soup which I will cool after cooking so I can skim the fat off. That way my soup gets all the flavor without the added fat!

And one more note: If you find blood or juices (when you cut into the meat) that indicates your bird is not cooked all the way, please… pretty please… put it back in the oven for a while and recheck the temperature. Raw chicken can give you an awfully upset tummy!
Notes
Please note that the nutrition data below is not available for this recipe.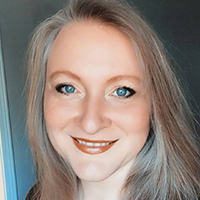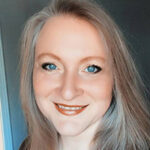 I'm Tiffany, a writer for MSN and the AP Newswire, a cookbook author, digital publisher, food lover, and mom. I create healthy, clean eating recipes for everyday living.