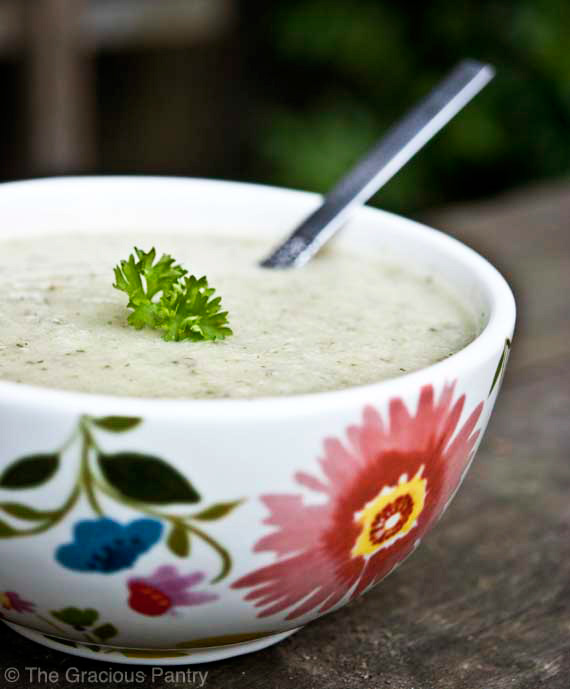 Cauliflower is one of those mysterious vegetables for me. I love to buy it, but once I get it home, I can never figure out what to do with it. I mean, I know I could eat it plain, but that gets old pretty quick. So needless to say, I've never really "branched out" in the cauliflower department.
Until now…
I was determined to come up with some way to prepare this veggie that would not only give me something new to eat, but convince Mini Chef that cauliflower does indeed taste good.
While he was never completely thrilled with it, he did actually eat his bowl of soup. And that's saying a lot! Everyone else seemed to love it, so I'm guessing this is one of those recipes that adults will like and kids… well…. it could go either way.
But ya, this soup made me happy. It's the perfect spring/summer soup. It's very light and easy on the tummy. Can't wait to make it again!
YOU MIGHT ALSO ENJOY:

Clean Eating Cauliflower Soup
(Makes approximately 12 servings)
Ingredients:
4 cups leeks, sliced
2 large shallots
2 heads cauliflower
8 cups chicken broth, low sodium, no sugar added
2 tablespoons onion powder
2 tablespoons garlic powder
2 tablespoons herbs de provence (with lavender is best)
2 tablespoons parsley
1 tablespoon olive oil
Salt and pepper to taste
Directions:
Sauté the shallots and leeks in a large soup pan with the oil.
Add all other ingredients and cook until cauliflower is tender.
Using a hand blender, blend until smooth.