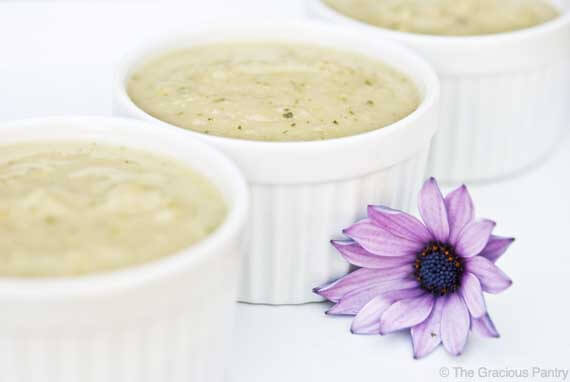 I cannot even begin to tell you just how long I've been trying to come up with a good "zucchini soup" recipe. It's been several years and countless attempts at the very least. But I finally created a recipe that I adore! It's a good thing to because my husband was getting kind of tired of having to eat all that not-so-tasty soup. (Yes, I made him eat it.)
This recipe came about after a nice walk to the corner produce market with Mini Chef. I love to go there and just mill around the small but overflowing isles of produce getting different ideas for what to make for dinner. A zucchini here, a yellow squash there, and before you know it, I had the makings for roasted vegetable soup!
I'd like to add that the flower in the photo was one that Mini Chef picked for me as we were walking home. My little guy picks the prettiest flowers for me! (Yep, I'm teaching him young…)
YOU MIGHT ALSO ENJOY:

Clean Eating Roasted Vegetable Soup
(Makes approximately 3 quarts)
Ingredients:
2 pounds yellow squash, sliced in chunks
1 pound zucchini, sliced in chunks
1 large red onion, cut into chunks
1 large head garlic, top cut off to expose the garlic for roasting
2 shallots, peeled
2 tablespoons olive oil (approximate)
4 cups low-sodium chicken stock or broth, no sugar added
Directions:
Preheat over to 350 degrees F.
Note: if you do not have a hand blender, you will need to transfer your veggies to a blender or food processor at the end instead of a soup pot.
Spray 2 cookie sheets with olive oil using an oil sprayer. Just a light mist.
Place your veggies on the sheets and spray their tops with another light mist of olive oil. Be sure to give that head of garlic a little extra oil so it can seep down into the head.
Bake for about 40 minutes or until all the vegetables are very soft and your garlic is a nice, light brown with a few of the cloves popping out (The photo above was a bit overdone, but you get the idea).
Transfer all veggies to a large soup pot and add 4 cups of low-sodium chicken stock/broth.
Using a hand blender, blend the veggies in the pot until you have the smoothness you like best.
Add salt and pepper to taste.
Storage: This will keep in the refrigerator for up to 3 days. You can freeze it for up to 6 months. It's best to freeze it in individual servings instead of one big brick.