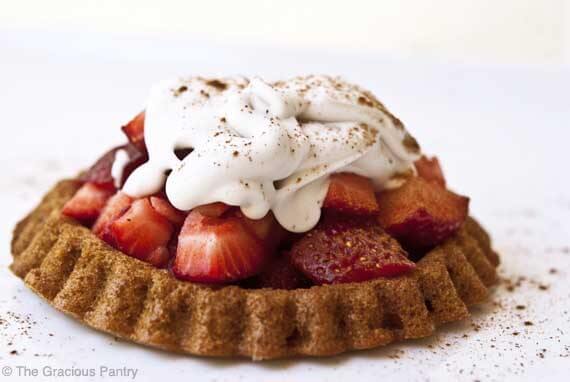 When I was little, I had a serious obsession with strawberries. My mother worked for a grocery store and would bring home crates of strawberries in the summer. Those big crates that the strawberries get transported in in trucks on their way to grocery stores around the country.
I don't know if it was a girl thing, or if I had some sort of vitamin deficiency, but I could go through almost an entire crate of strawberries in one sitting. In fact, I ate so many that I would break out in hives. And now, Mini Chef seems to be following in my footsteps. Minus the hives, thank goodness! Not a morning goes by in summer when he doesn't ask for strawberries with his breakfast. Blueberries are a close second (and would work great with this recipe too!).
While I am trying to stick with fruit based desserts this summer, I just could not resist adding a little cake and whip cream to these berries. I mean, who doesn't love strawberry shortcake??
YOU MIGHT ALSO ENJOY: 

Clean Eating Strawberry Shortcake
Directions:
Be sure to refrigerate your cans of coconut milk at least a full 24 hours before making this.
Make the cake portion of this recipe first. You can use pretty much any type of cake pan, tartlet pan or ramekin. I tried it in all three. I liked the tartlet pan for its shape, but I liked the ramekins for ease in assembly and serving. I also tried it with a small, regular cake pan, but did not like the outcome much just because of the resulting flat shape. Makes it tough to assemble your strawberries for presentation. But effective in a pinch.
Please note that regardless of which tin/pan you decide to use, it will take a bit of convincing (even if you sprayed and/or floured the pans) to get the baked shortcake out of the pan once it's baked. Just take your time and remove them slowly. They do come out. Promise.
Chop your strawberries and whip together your whip cream.
Assemble the shortcakes by layering as in the photo at the top.