This easy french onion soup is perfect for chilly evenings!
I can recount the exact moment I had French Onion Soup for the first time. I was sitting in a local restaurant with my then-husband. We were still newlyweds. I had never had this soup before simply because I can't stand the flavor of beef, so I just never saw the point in even trying it, much less ordering a whole bowl. I will also preface this story by telling you that my ex-husband is a die-hard beef fan, making us polar opposites in the beef-loving department.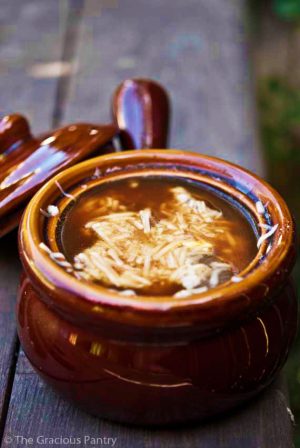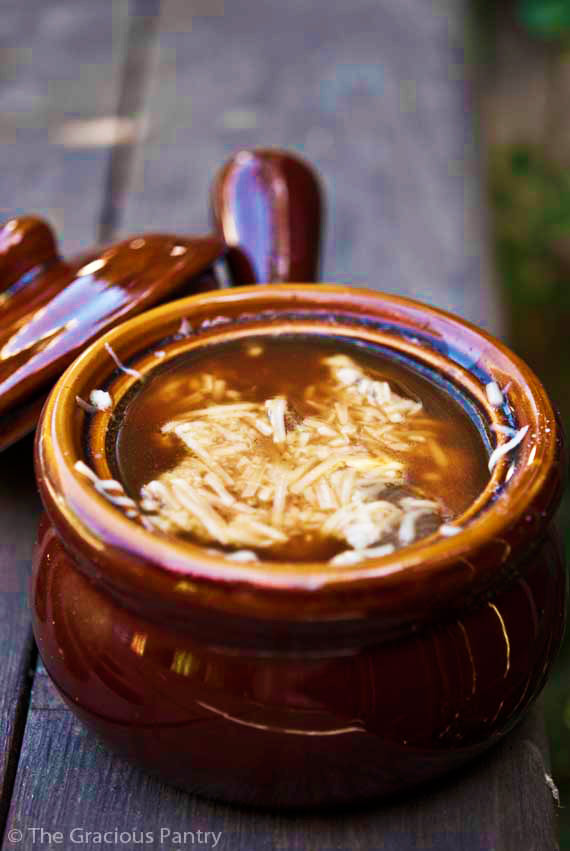 So we were sitting there, he with his soup, and I with my salad.  Chalk it up to being in love, but somehow, he got me to take a single bite of that soup.
A single bite.
Suddenly, he had a salad, and I was eating the last few spoonfuls of that luscious soup.
To say I put our new marriage to the test that evening is an understatement. In fact, I'd go so far as to say that if we hadn't been head-over-heels-in-love-newlyweds, taking that bowl of soup from him may have been grounds for immediate divorce.
But I eventually made up for my major transgression by making him plenty of this soup. Only I made this much healthier version and I've never looked back!
WHAT ARE THE BEST ONIONS TO USE FOR FRENCH ONION SOUP?
The best onions to use for french onions soup are yellow onions. Caramelize them well in some butter until they are a deep caramel brown. Then proceed with making your soup.
HOW DO YOU CUT ONIONS FOR FRENCH ONION SOUP?
Cut the onion in half, from root end to end. Take off the top skin layer. Lay flat on your cutting board, and slice it in the other direction, across the half of the onion. (See video link below)
WHY IS IT CALLED FRENCH ONION SOUP?
This soup originated in Paris in the 18th century. It is traditionally made of beef broth, caramelized onions, herbs and often some sort of wine.
HOW LONG DOES HOMEMADE FRENCH ONION SOUP LAST?
It will keep in the fridge for up to 4 days. If you don't put the cheese or croutons in it, you can freeze it for up to 6 months.
To see how to slice the onions properly, check out this video on youtube.
HEALTHY SOUP RECIPES
RECIPES USED

EASTY FRENCH ONION SOUP RECIPE: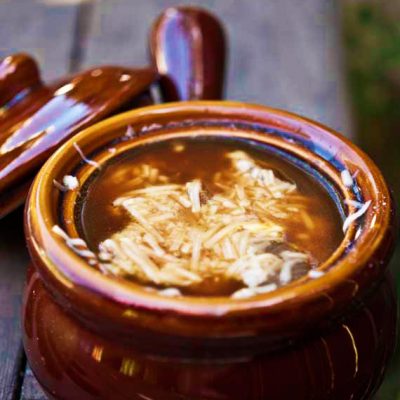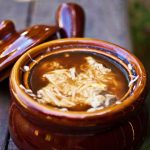 Easy French Onion Soup
Note: Slice your onions thin. It makes the texture of the soup far more enjoyable.
Ingredients
4

cups

beef broth

2

medium

onions

1

tsp.

balsamic vinegar

1

tbsp.

olive oil

parmesan cheese (optional for topping)
Instructions
Clean and slice your onions.

In a soup pot, sauté your onions in the olive oil until they are soft and dark brown with caramelization.

Add beef broth and vinegar to the pot and boil until the liquid has cooked down by approximately half.

Serve sprinkled with approximately 2 tbsp. parmesan cheese sprinkled over the top.


If you want croutons, you can make a few whole grain croutons at home. See link above.
Recipe Notes
Please note that the nutrition data below is a ballpark figure. Exact data is not possible. Data does not include optional ingredients.
Nutrition Facts
Easy French Onion Soup
Amount Per Serving (1 cup)
Calories 58
Calories from Fat 27
% Daily Value*
Fat 3g5%
Sodium 716mg31%
Potassium 167mg5%
Carbohydrates 4g1%
Protein 2g4%
Vitamin C 3.2mg4%
Calcium 22mg2%
Iron 0.4mg2%
* Percent Daily Values are based on a 2000 calorie diet.
Recipe from the Gracious Pantry archives, originally posted 11/1/10.