This miso soup recipe is quick, easy to make in minutes, and tastes wonderful any time of year!
I hate being sick. Colds and flus are the worst. It's bad enough that it's still somewhat hot outside, but then you have to be inside sweltering from a fever on top of it.
Such was the case for Mini Chef recently. He's was finally on a school break and of course, he comes down with a cold. Poor lil' fella…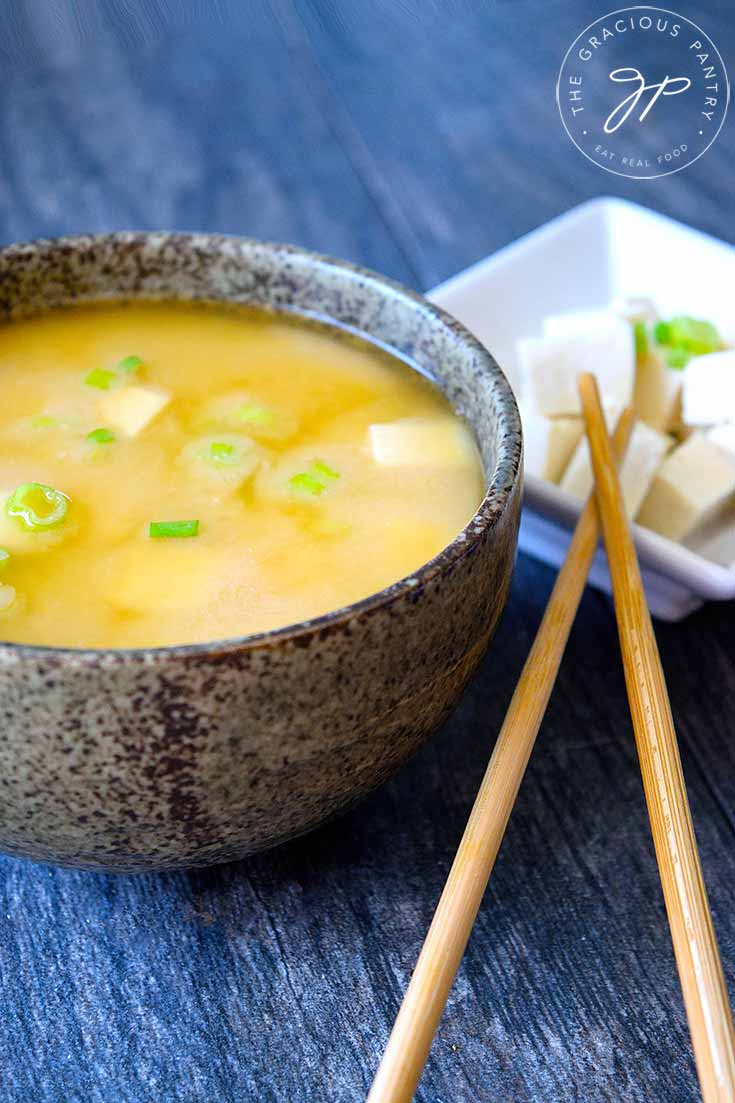 He had a really bad sore throat and was having a devil of a time swallowing anything. So I had to get creative. I had no chicken in the house to make chicken soup with and couldn't leave the house to go to the store because I don't leave him home by himself yet. So I had to get creative with what I had in the house.
I found some vegan white miso paste that I like to use to make peanut sauce, and figured it would be great to toss in some tofu and green onions and just make a simple soup.
This soup comes together in under 15 minutes and we both enjoyed it. It felt good on his throat and great in my tummy.
Note that miso soup is always high in sodium. So if you are watching that, make sure you use low sodium tamari and keep your portion sizes smaller. There really is no way around the higher sodium content of miso paste. At least not that I have found. But we both enjoyed this immensely!
(Nutrition data below does NOT reflect the use of low sodium ingredients)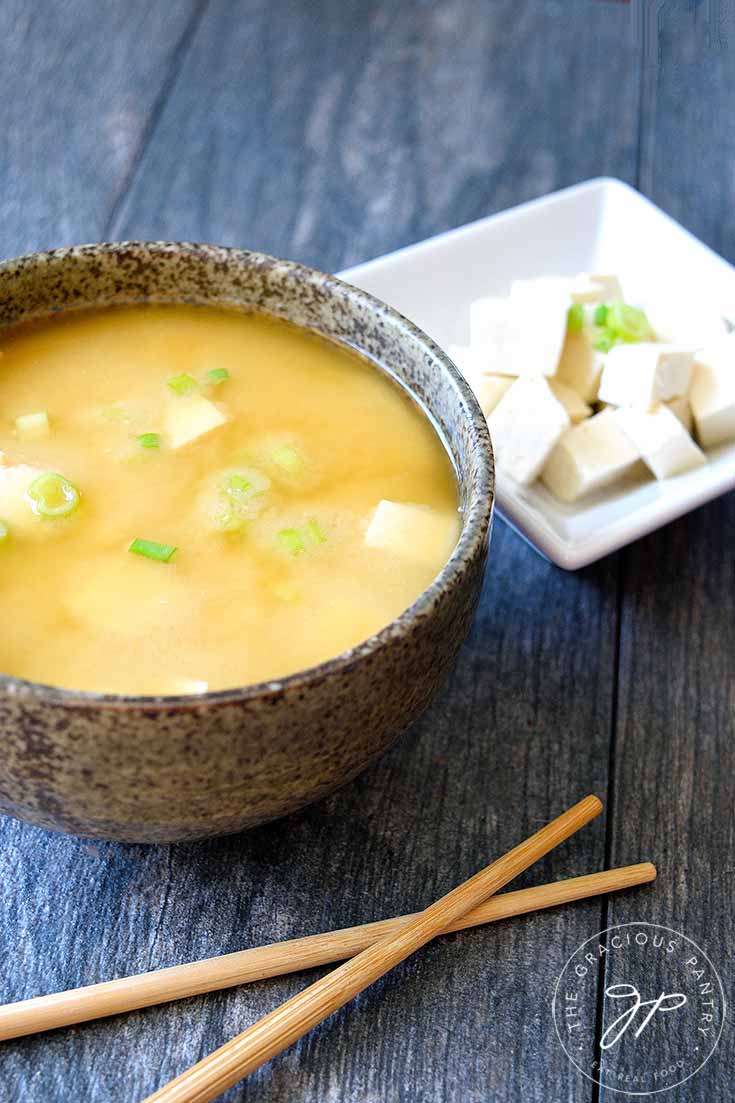 WHAT IS MISO?
Miso is a traditional Japanese seasoning produced by fermenting soybeans with salt and kōji and sometimes rice, barley, seaweed or other ingredients. (source)
On it's own, it's incredibly salty and pungent. But mixed in with some water and other ingredients, you'll have a wonderful, savory soup that is perfect for everything from a nice dinner to when you're under the weather.
WHAT'S IN MISO SOUP?
That actually has two answers! The miso itself, as stated above, is fermented soy, which has been shown to have many, many health benefits. But what you put into the soup once it's been mixed with water is all together different. Traditional miso soup recipes typically have some cut tofu and green onions. But you could add other things to this too like shredded carrots or even some small broccoli florets. It's pretty versatile!
HEALTHY SOUP RECIPES

MISO SOUP RECIPE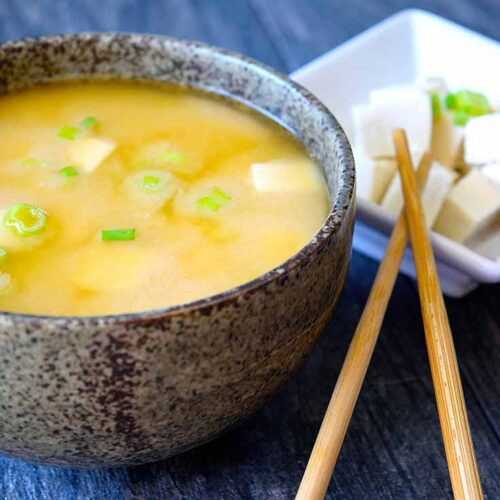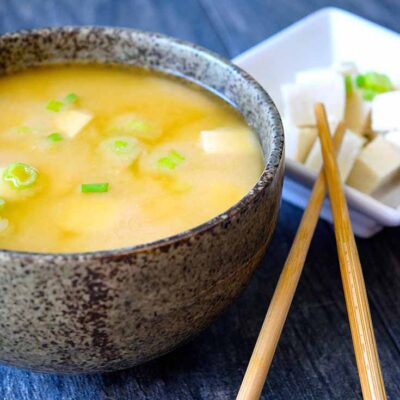 Miso Soup
This delicious soup is perfect any time of year. It's quick to make (about fifteen minutes from start to finish!) and can be either a first course or a lighter main course.
Print
Pin
Rate
Ingredients
4

cups

water

4

tbsp.

white miso paste

2

tbsp.

tamari

(or more to taste - low sodium is best)

7

oz.

firm tofu

(1/2 a block cut into 1/2 inch cubes)

1

large

green onion

(sliced thin)
Instructions
In a medium pot, combine the water and miso. Over high heat, whisk until the miso is completely dissolved in the water.

Add in the tofu and the white part of the green onion and bring to a gentle boil.

When the tofu is warmed through, Stir in the tamari and server with a garnish of the green parts of the green onion.
Notes
Please note that the nutrition data below is a ballpark figure. Exact data is not possible. The data here does NOT reflect the use of low sodium ingredients.
Nutrition
Serving:
1
cup
|
Calories:
78
kcal
|
Carbohydrates:
6
g
|
Protein:
7
g
|
Fat:
3
g
|
Saturated Fat:
1
g
|
Sodium:
979
mg
|
Potassium:
64
mg
|
Fiber:
1
g
|
Sugar:
1
g
|
Vitamin A:
75
IU
|
Vitamin C:
1
mg
|
Calcium:
82
mg
|
Iron:
1
mg