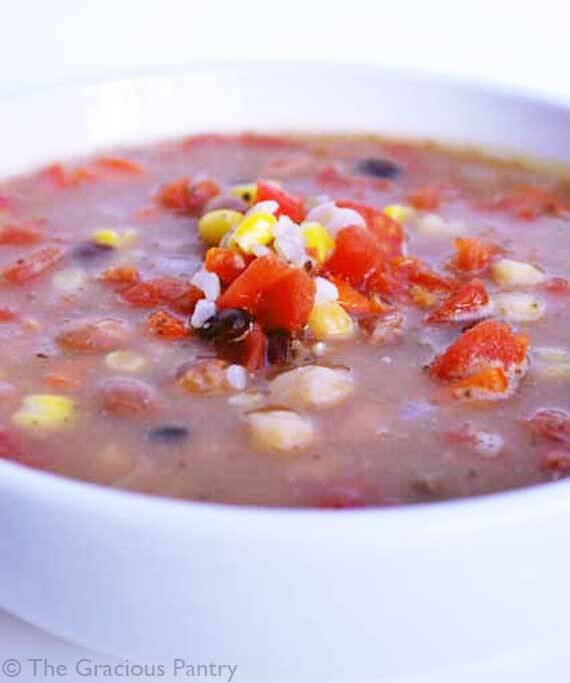 Okay, I admit it. This could have just as easily been a 2 or 4 bean soup. But 3 is what I had in the pantry, so 3 is what we'll go with.
You see, I have this "method". I take a can of everything I have in the pantry, check the fridge for leftovers, and combine anything that will go together in a big pot of either chicken broth or veggie broth. I usually end up with something pretty tasty. Then I call it a recipe. Just cause it's good.
A professional chef, I am not. But I am a Mom. And don't Mom's usually make the best soups? Or is that Grandmas? Oh dear. I'm not ready for that yet!
But regardless of what you think of my approach, I still came up with some pretty tasty soup. So don't over think it. Just enjoy the soup.
YOU MIGHT ALSO ENJOY:

Clean Eating Three Bean Soup
Ingredients:
1/2 large red onion, chopped
2 teaspoons olive oil
2 pounds organic sweet corn
1 medium red bell pepper, chopped
1 (10 ounce) package cherry tomatoes
1 (15 ounce) can pinto beans
1 (15 ounce) can black beans
1 (15 ounce) can garbanzo beans
1 (32 ounce) can stewed tomatoes
1 tablespoon celery seed
1 tablespoon garlic powder
1 tablespoon onion powder
2 vegetable bouillon cubes
8 cups vegetable broth
2 cups cooked brown rice
Celery salt and pepper to taste
Directions:
In a large soup pot, sauté the onion in the olive oil over low heat until the onion is wilted and translucent.
Add in all other ingredients and bring to a gentle boil.
The soup is done cooking when the vegetables are properly cooked to your liking.
Cool slightly and serve.