This post may contain affiliate links. Read my
Privacy Policy.
As an Amazon Associate I earn from qualifying purchases.
A good chickpea salad is great for either a vegetarian/vegan main meal or a side dish to a meat-based main course. This particular chickpea salad recipe uses summer fresh ingredients you'll enjoy on a hot day, regardless of whether you use canned chickpeas or cook them from dry yourself.
This dish is super quick and easy to put together (It took me about 10 minutes with prep included!) and will pair nicely with almost any main course you serve it with. The flavor profile here leans towards Italian, but that doesn't mean you have to serve it with other Italian dishes.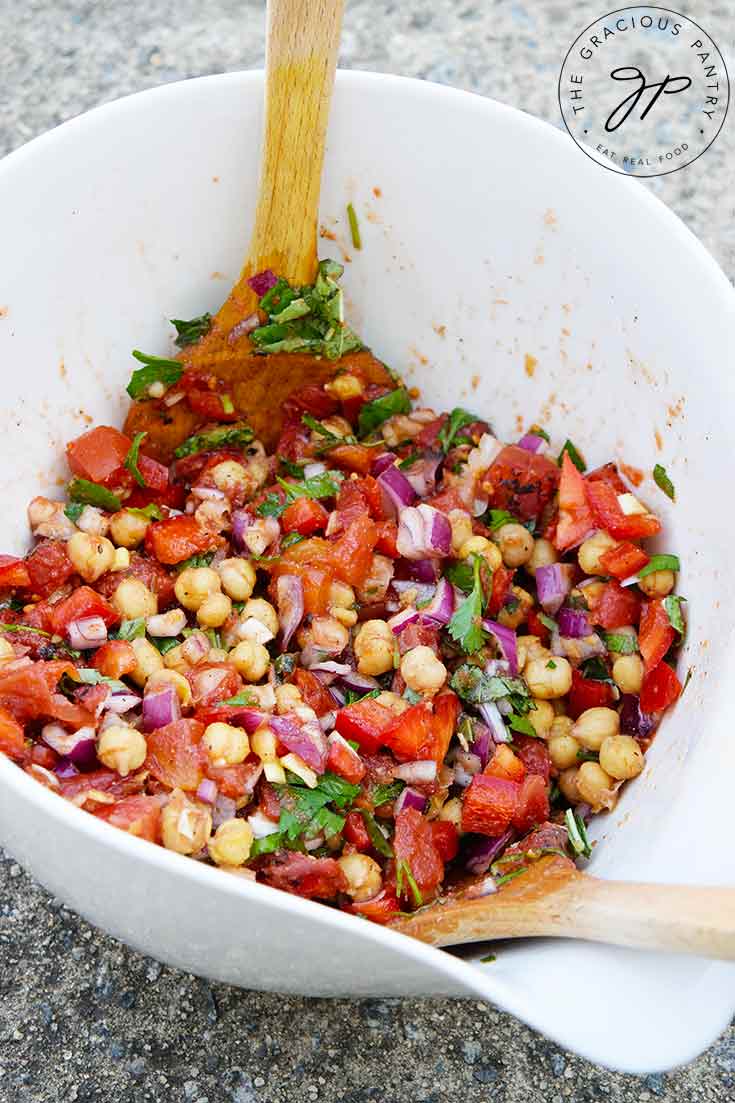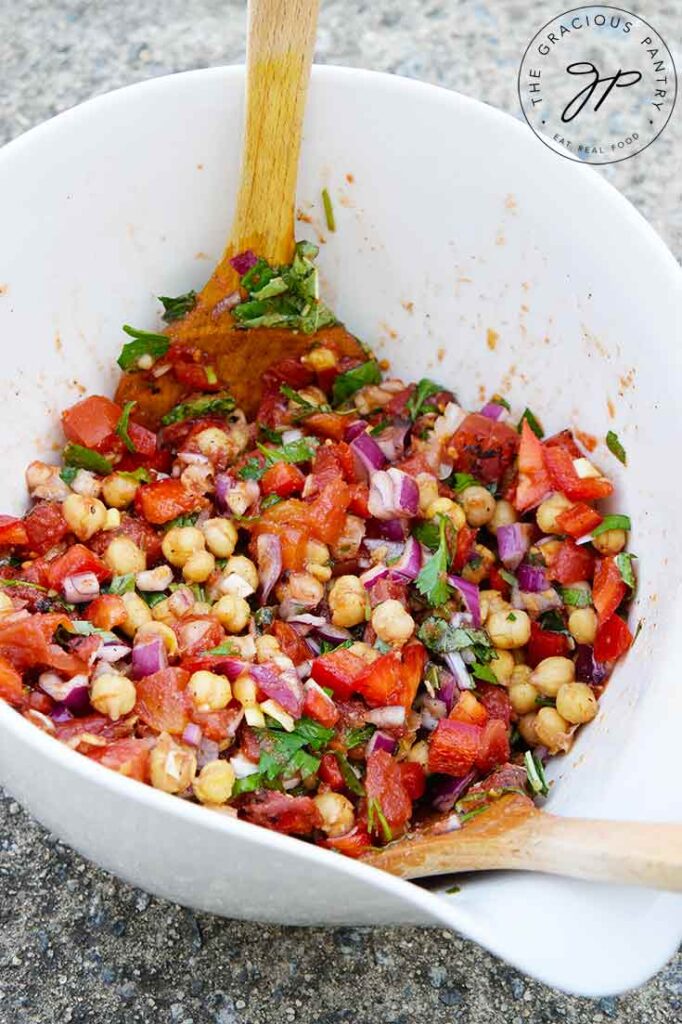 Questions About Chickpeas
Over the last eleven years of food blogging, I've gotten many questions about chickpeas in general. And if you google chickpeas, you'll see that many folks have the same questions that have been asked here of me. So I'll address some of them here.
Are Chickpeas Good For Weight Loss?
Yes, they are! The fiber in chickpeas keeps you full for longer, and with fewer calories than some other foods we might turn to when hungry.
Is It OK To Eat Chickpeas Every Day?
Yes and no…. and it all depends. It will depend on how much you eat every day.
What Happens If You Eat Too Many Chickpeas?
Chickpeas are high in potassium. At first glance, you might think that's a great thing. And for the average person, it is. However, too much potassium can lead to kidney failure. So if you love chickpeas, by all means, include them in your diet on a regular basis. But don't overdo it.
Are Canned Chickpeas Already Cooked?
Yes, they are! You can eat them right out of the can, or add them to soups and stews or other dishes where they will simply warm up during the remainder of the cooking process of whatever dish you are adding them to.
Do Chickpeas Make You Fart?
Here again, the answer is, it depends. When my gut was very unhealthy, beans were truly a musical fruit. But once my gut health began to improve, I was far better at digesting beans in general. These days, they have no effect on me at all
Pro tip: Chew your beans! Don't inhale them because you're hungry. Beans need and require a lot of chewing in order to get their maximum nutritional benefits.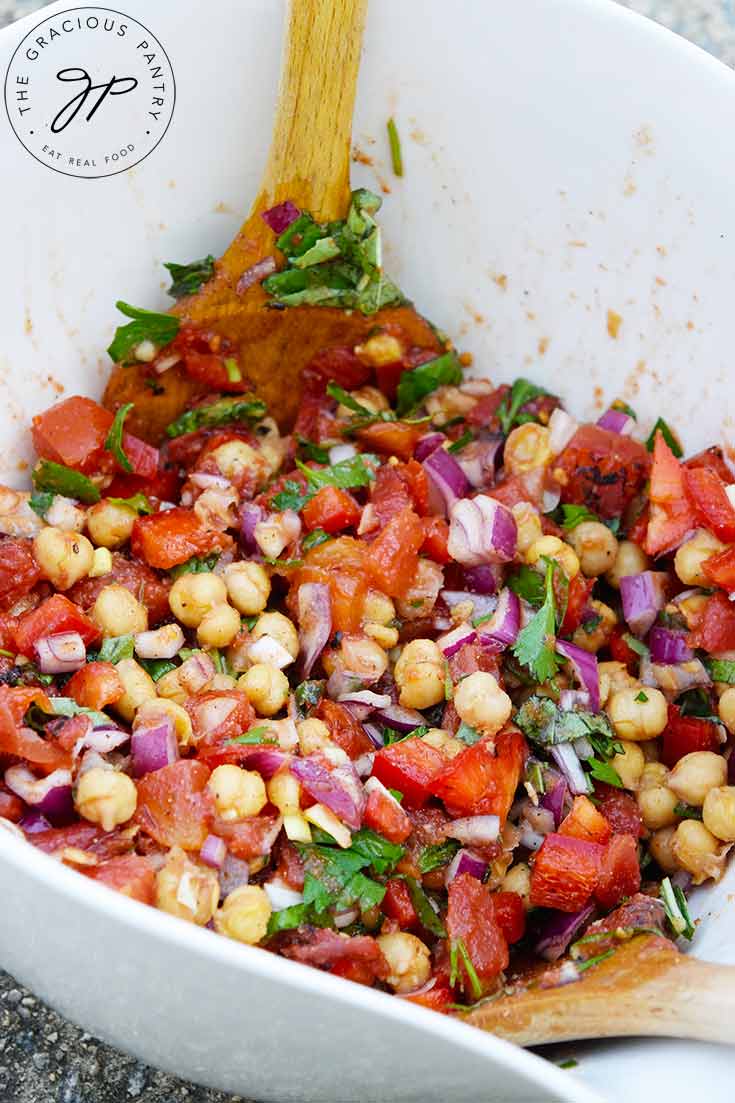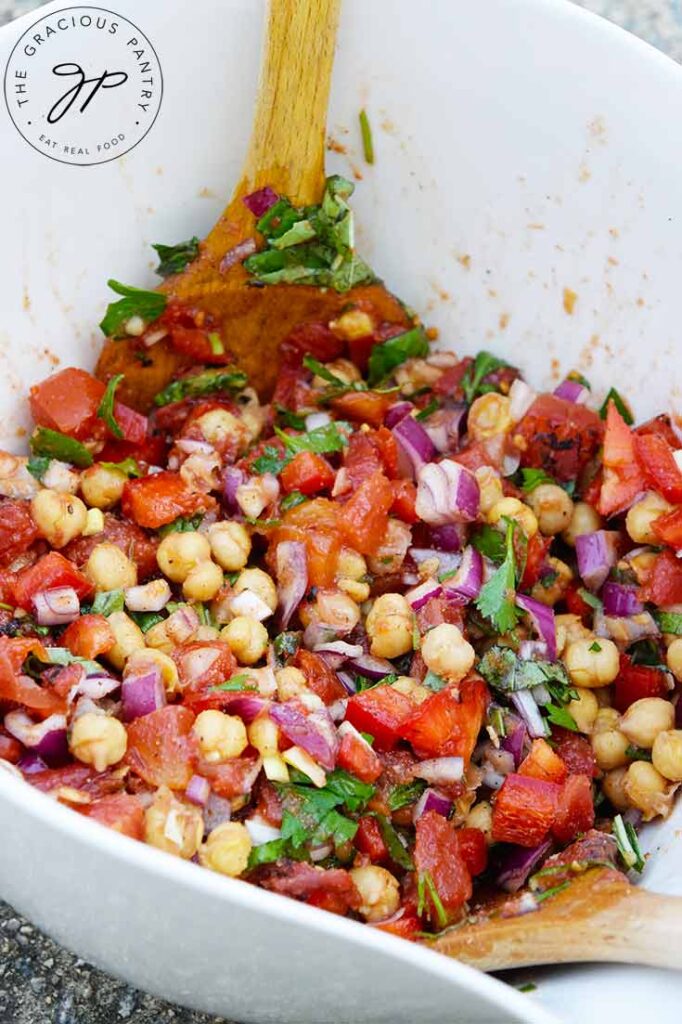 Are Canned Chickpeas Healthy?
I'm sure you'd love a straight answer here, but again… it depends. It used to be that you could not find a single can of beans on store shelves without sugar added. But thankfully, times have changed and manufacturers have caught on. So as long as you find a can without added sugar and other preservatives, your canned beans are perfectly healthy.
Are Chickpeas High In Carbs?
Technically, yes. A single cup of cooked chickpeas has 121 grams of carbs in it. Thankfully, a cup of chickpeas also has 35 grams of fiber to mitigate how our bodies process those carbs.
Do I Need To Wash Canned Chickpeas?
You can, but you don't have to. Most recipes will tell you whether you should drain and rinse your canned beans or not.
The liquid inside is actually a fantastic ingredient all on it's own. It's called Aquafaba, and people actually spend a pretty penny to buy it on it's own.
Most often used in vegan cooking or baking, Aquafaba whips up just like egg white would in a beater. Add a little cream of tartar to stabilize it, and you've got yourself the perfect replacement for whipped egg whites. So you can make things like meringue cookies without ever cracking an egg. And all you have to do is save the liquid in your can of chickpeas!
Note that this only works well with the liquid from chickpeas. Liquid from other beans will work, but nowhere near as well as from a can of chickpeas. The difference is noteworthy.
How Do I Cook Canned Chickpeas?
Technically, you don't! Or at least, you don't have to. Canned beans of any variety are already cooked, so all you have to do is warm them up in whatever else you are cooking. I often just eat them out of the can for a healthy snack.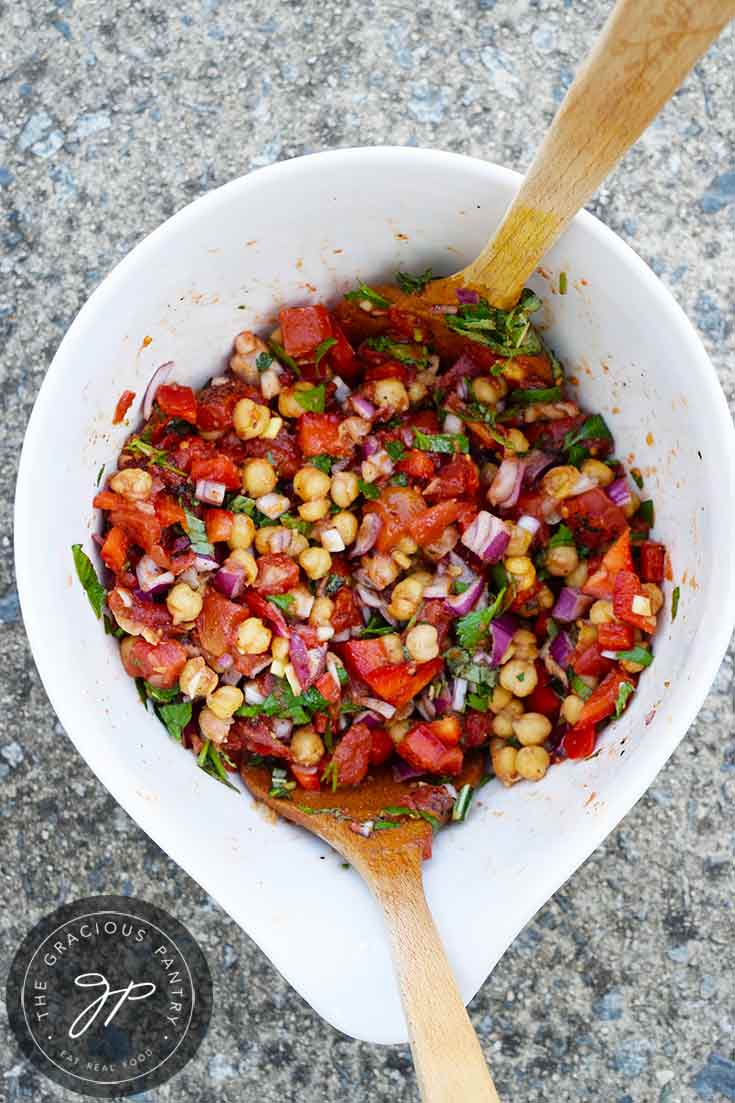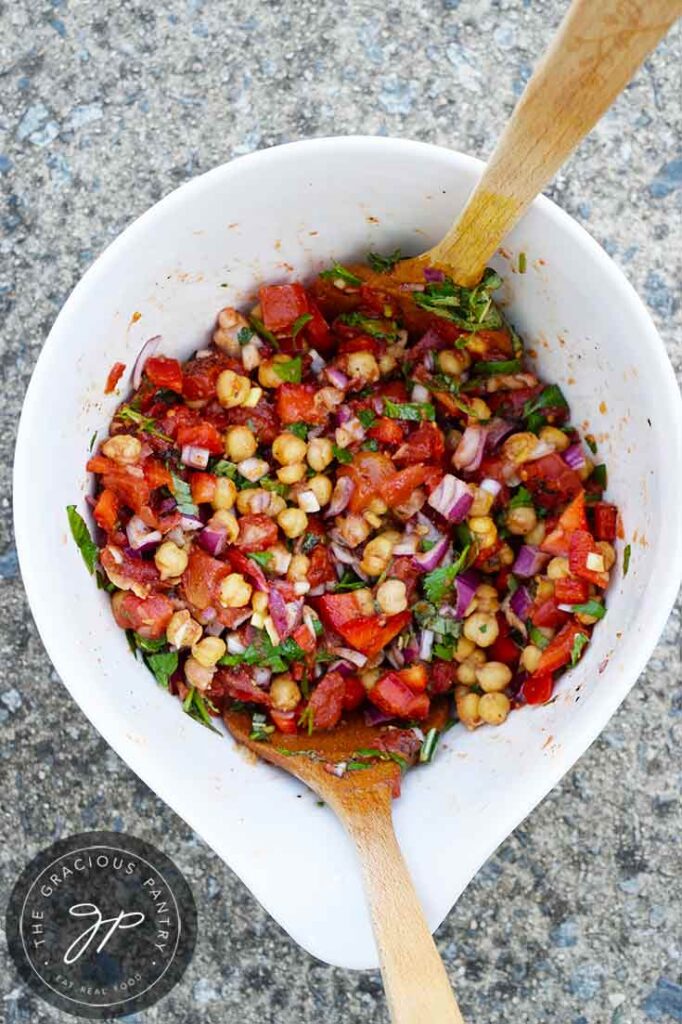 Are Chickpeas Keto?
Sadly, no. They are not. They have too many carbs without enough fiber to create a good net carb number. So Keto eaters will have to pass.
Chickpea Salad Recipe Ingredients
Chickpeas – Measure cooked beans, not dry. Use either canned beans with no added sugar, or cook dry beans at home for a lower sodium content.
Canned fire-roasted diced tomatoes – You can use plain diced tomatoes as well, but fire roasted add a nice depth of flavor to the finished salad.
Fresh basil – Chop this as fine or as chunky as you like, keeping your desired texture in mind for the finished salad. I personally enjoy a medium chop.
Fresh Italian parsley – Chop this the same size as you chop the basil.
Garlic powder – Garlic granules work too. If you prefer fresh garlic (which is wonderful here, but does need to sit for a while in the mixed salad before you eat it to impart its flavor evenly), use approximately 1 tablespoon of freshly minced or mashed garlic. Given the choice, I would opt for mashed garlic.
Red bell pepper – Again, keep texture in mind here. I don't like to let the pieces be any bigger than the beans. I prefer a smaller chop for the peppers. But again, if you like big, chunky salads, feel free to use a bigger chop.
Purple onion – For texture as well as flavor, you'll want to chop this more on the fine side unless you enjoy biting into large chunks of onion. If you do, I won't judge. You do you.
Balsamic vinegar – This can be white or red balsamic, but I find that red balsamic is best for a good depth of flavor.
Olive oil – A good, heart-healthy olive oil is perfect here since there will be no cooking involved. Olive oil, virgin or otherwise, is best consumed cold/uncooked.
Ground black pepper – White pepper will work well here too. Whatever you have on hand.
Salt – I used a pink Himalayan salt, but use whatever salt you normally salt your food with. You can adjust the amount up or down here, to taste.
How To Make Chickpea Salad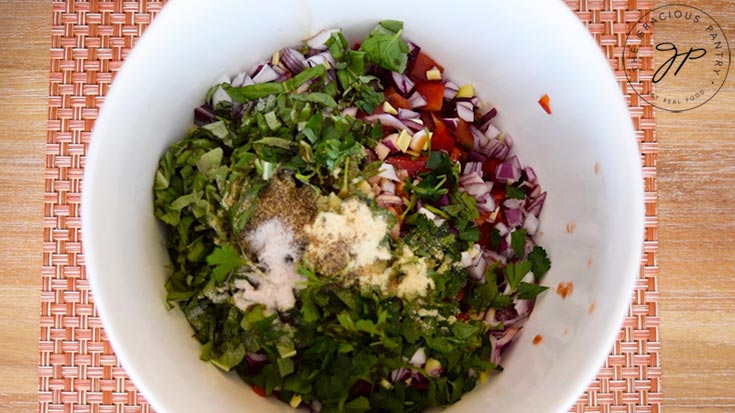 Put everything in a mixing bowl and mix well to combine.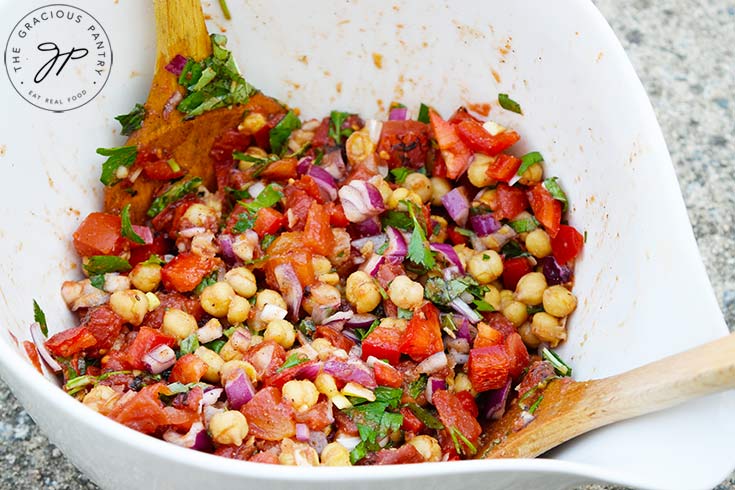 Serve as a side dish or main meal.
Need Supplies For Making This Chickpea Salad Recipe?
More Chickpea Salad Recipes
SUBSCRIBE
Remember to subscribe to my free newsletter to receive all my latest recipes in your inbox. Click here to sign up!
Chickpea Salad Recipe Card + Video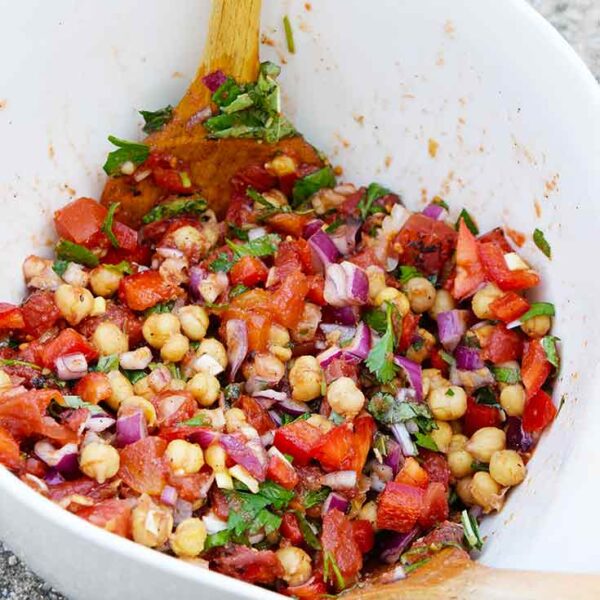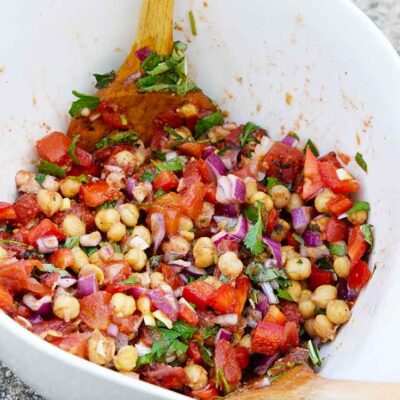 Chickpea Salad Recipe
A delicious bean salad you can enjoy as a side dish or a vegan main meal.
Print
Pin
Rate
Add to Collection
Go to Collections
CLICK TO WATCH THIS RECIPE IN ACTION!
Ingredients
2

cups

chickpeas

(cooked or canned with no sugar added)

8

oz.

canned fire roasted diced tomatoes

½

cup

chopped fresh basil

¼

cup

chopped fresh Italian parsley

2

tsp.

garlic powder

1

cup

chopped red bell pepper

½

cup

chopped purple onion

2

tbsp.

balsamic vinegar

2

tbsp.

olive oil

½

tsp.

ground black pepper

½

tsp.

salt
Instructions
Put everything in a mixing bowl and mix well to combine.

Serve as a side dish or main meal.
Notes
Please note that the nutrition data given here is a ballpark figure. Exact data is not possible.
Nutrition
Serving:
1
cup
|
Calories:
195
kcal
|
Carbohydrates:
26
g
|
Protein:
7
g
|
Fat:
7
g
|
Saturated Fat:
1
g
|
Sodium:
313
mg
|
Potassium:
325
mg
|
Fiber:
7
g
|
Sugar:
7
g
|
Vitamin A:
1513
IU
|
Vitamin C:
45
mg
|
Calcium:
64
mg
|
Iron:
3
mg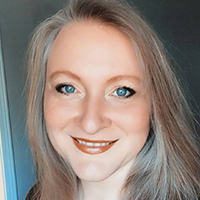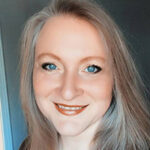 I'm Tiffany, a writer for MSN and the AP Newswire, a cookbook author, digital publisher, food lover, and mom. I create healthy, clean eating recipes for everyday living.