Chickpea Black Bean Salad Recipe
This post may contain affiliate links. Read my
Privacy Policy.
As an Amazon Associate I earn from qualifying purchases.
This chickpea black bean salad recipe is one of the simplest meat-free meals you can make!
As I type this, I'm sitting in a tiny house in Oakland, California, at a small desk pictured below. I found it on Air BnB and thought it would be a great way to test out tiny living before I move forward with actually having a tiny house built. It's something I've been considering for a long time as the cost of living here in the Bay Area gets more and more difficult to navigate.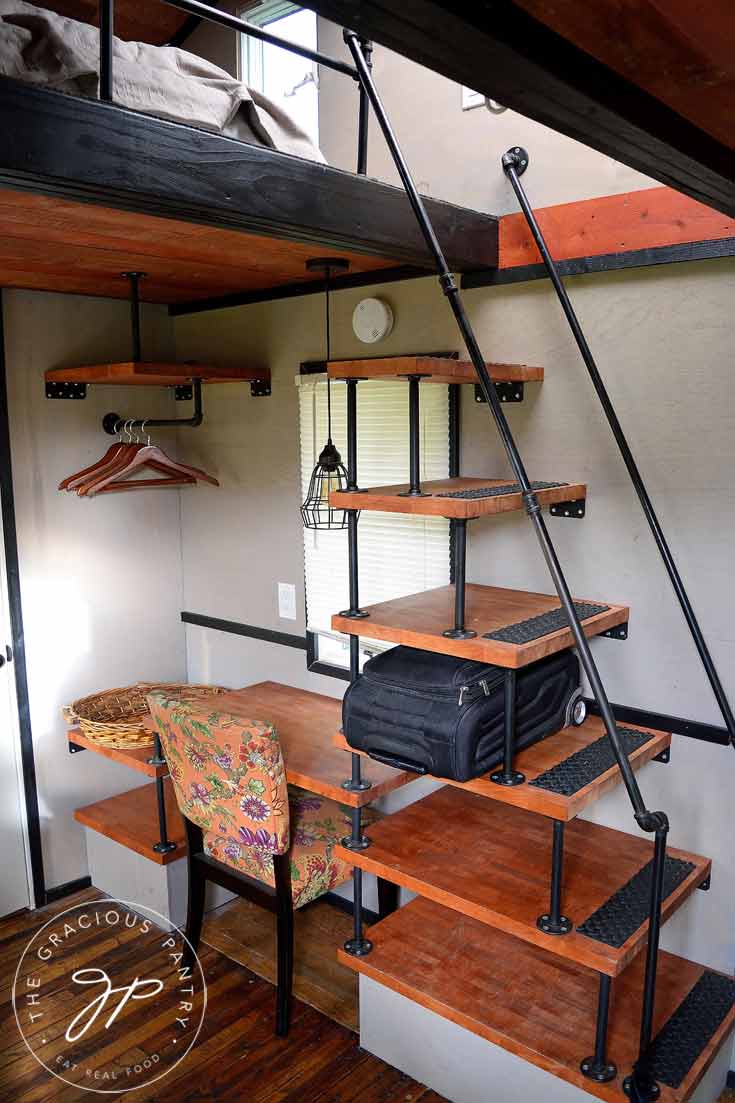 I have to say, I never thought I'd enjoy living in a closet, but this is the coziest house I've ever been in. I love how small it is. How easy it is to navigate.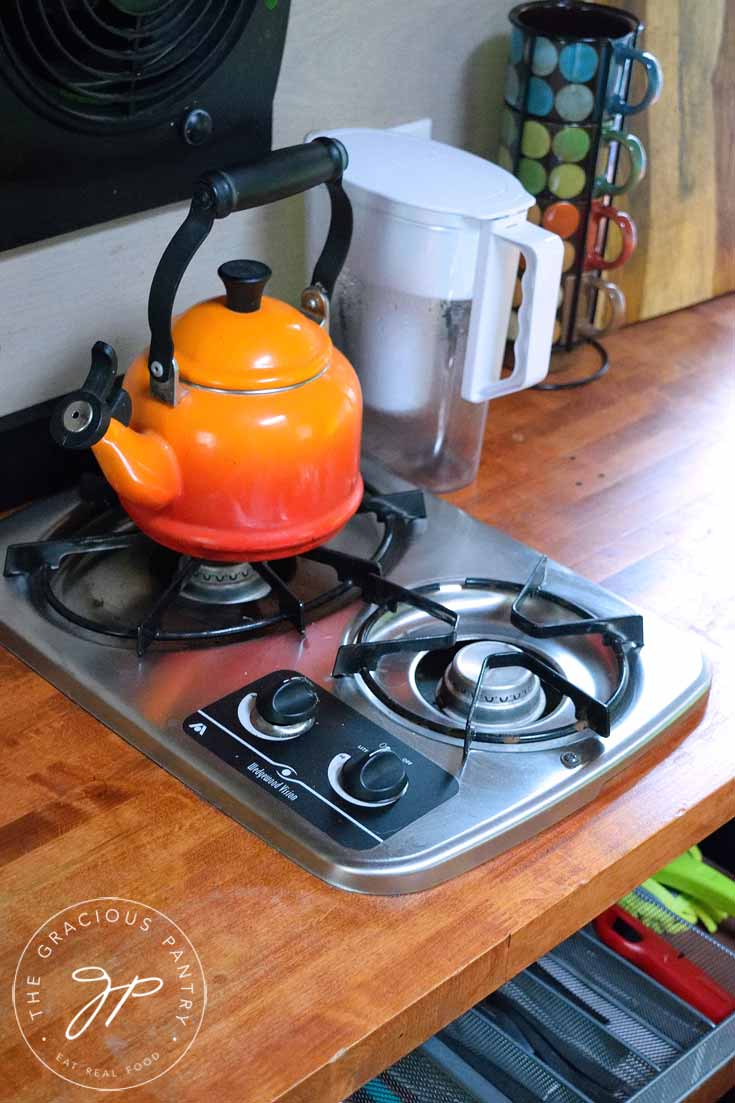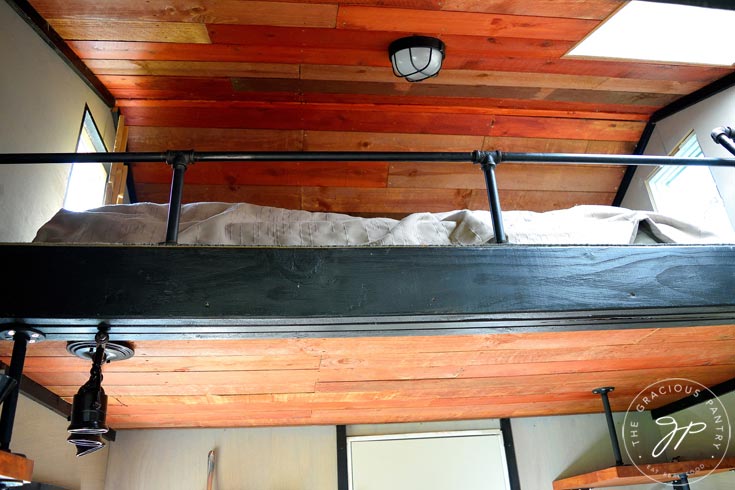 Grant it, I don't have all my worldly possessions crammed inside so it's easy to move around without tripping over things (Except the dog. She takes up a good portion of the entire house!)
The only issue I ran into with cooking in this house is that the fridge was broken when I got here. So it was super difficult to cook because there would be no way to store ingredients or leftovers. So the first night, I had to run to Trader Joe's for dry goods like bread, peanut butter, nuts and the like.
I did manage to make a little something for Mini Chef's dinner in the itty-bitty microwave here, but it's hardly worth mentioning because I don't consider that cooking! lol!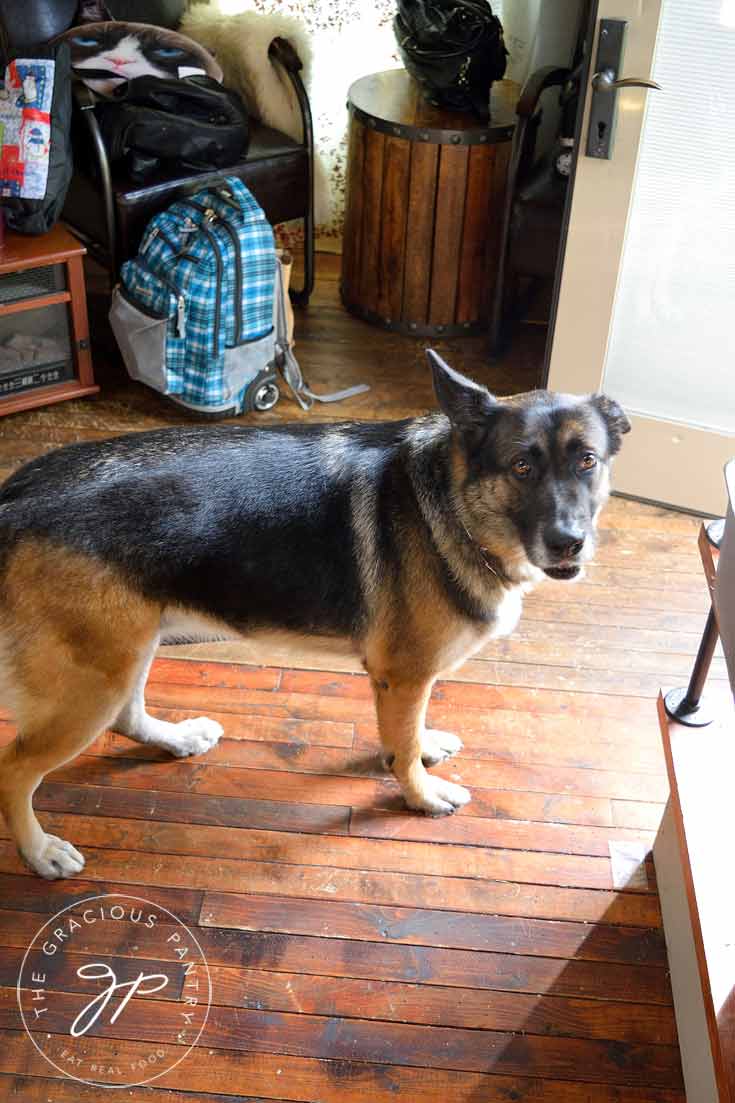 When we got here, Mini Chef and Shasta went into the house first while I did a quick video for Facebook (See Tiny House Tour video below) so I could show everybody the house. He came running out when I was done and informed me that we had an injured butterfly in the house. Apparently, Shasta tried to nip the poor thing and Mini Chef just about lost it. The thought of her hurting a butterfly really upset him.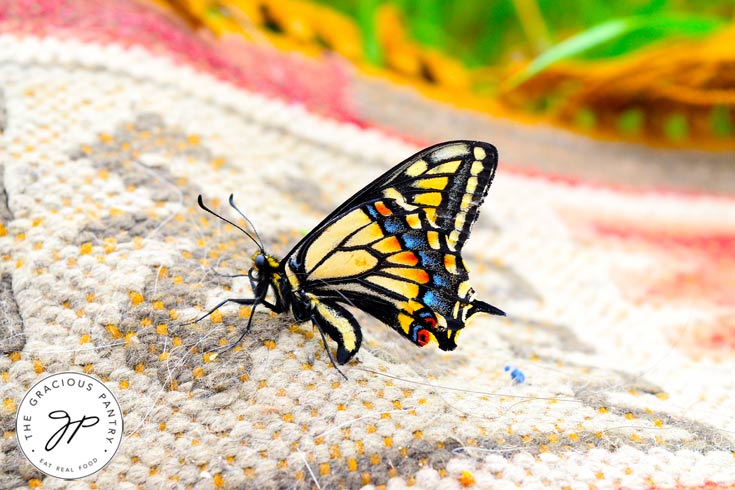 The butterfly was sitting on the small area rug that spans both the living room area and the kitchen. So I simply moved the rug outside so the poor little creature could get over it's shock and escape.
Thankfully, it eventually did. It gave itself a very thorough bath and then climbed onto some grass just next to the rug. Crisis averted!
THE TINY HOUSE:
I have to say, this tiny house completely opened my eyes to the joys of living tiny. It's totally something I'm going to work towards going forward.
That being said, this poor little house came with a list of issues. No hot water, no working fridge, door handles and window handles that came off in our hands, no dish soap, no sponge, no wash clothes, no garbage can, it looked like it hadn't been properly cleaned in years, a bathmat I wouldn't let my dog set foot on (so gross!!), broken window locks and even a leaking sky light during the rain. And I won't even get into the ongoing sirens and helicopters that went for a good portion of the night. We are right on the border of a not-so-nice area of Oakland, so it was pretty constant the first night. And the list went on and on.
CLICK TO TAKE A VIDEO TOUR OF THE TINY HOUSE!
Had I been in a different frame of mind, I would have demanded my money back. But the truth is, I was there for the experience of living tiny and I found the place quite cozy despite it's issues. So we stayed and I chose to view the whole thing as if we were going "glamping". I mean, it was really no different from camping other than the fact that we had a few more luxuries like a somewhat comfy bed to sleep in and a few sirens to content with. Beats sleeping on the hard ground any day! It was definitely an adventure and we had a great time. I definitely learned what I DON'T want in my tiny house in the future! Ha!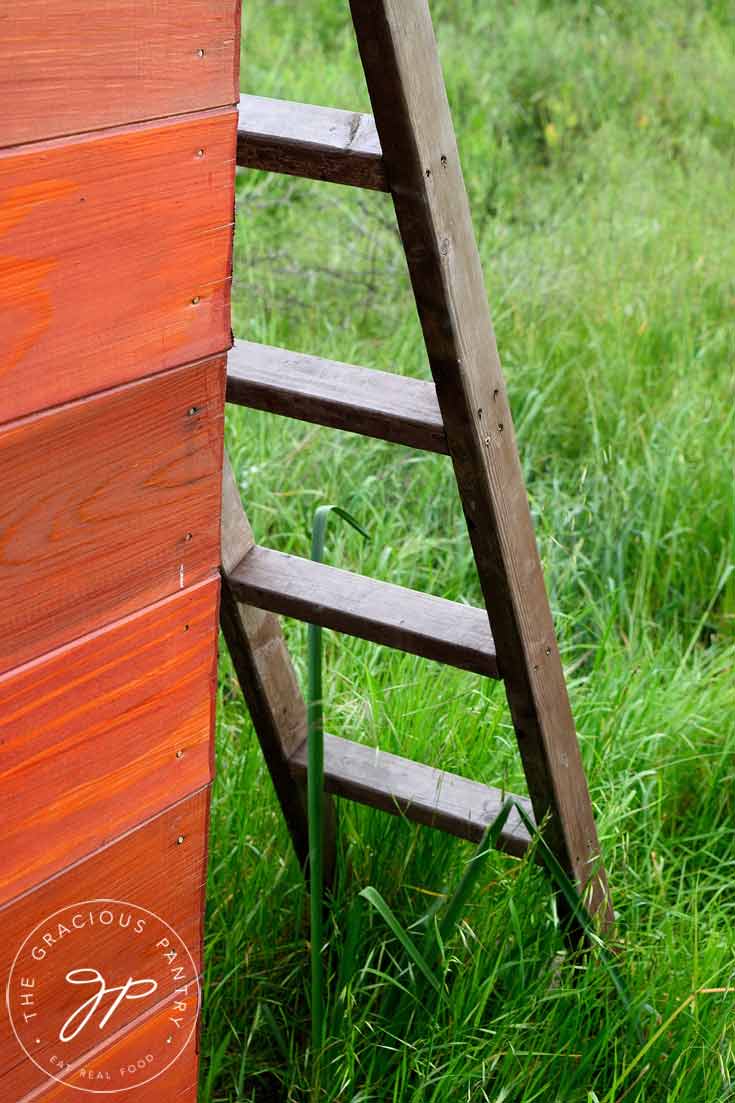 THE RECIPE:
At any rate, without a fridge, I had to get a little creative. I needed to make a small amount of food that would be filling and leave no leftovers.
So after another trip to Trader Joe's, this Clean Eating Chickpea Black Bean Salad recipe became our lunch and dinner the next day. Both of us love beans, so it was an easy meal we both enjoyed.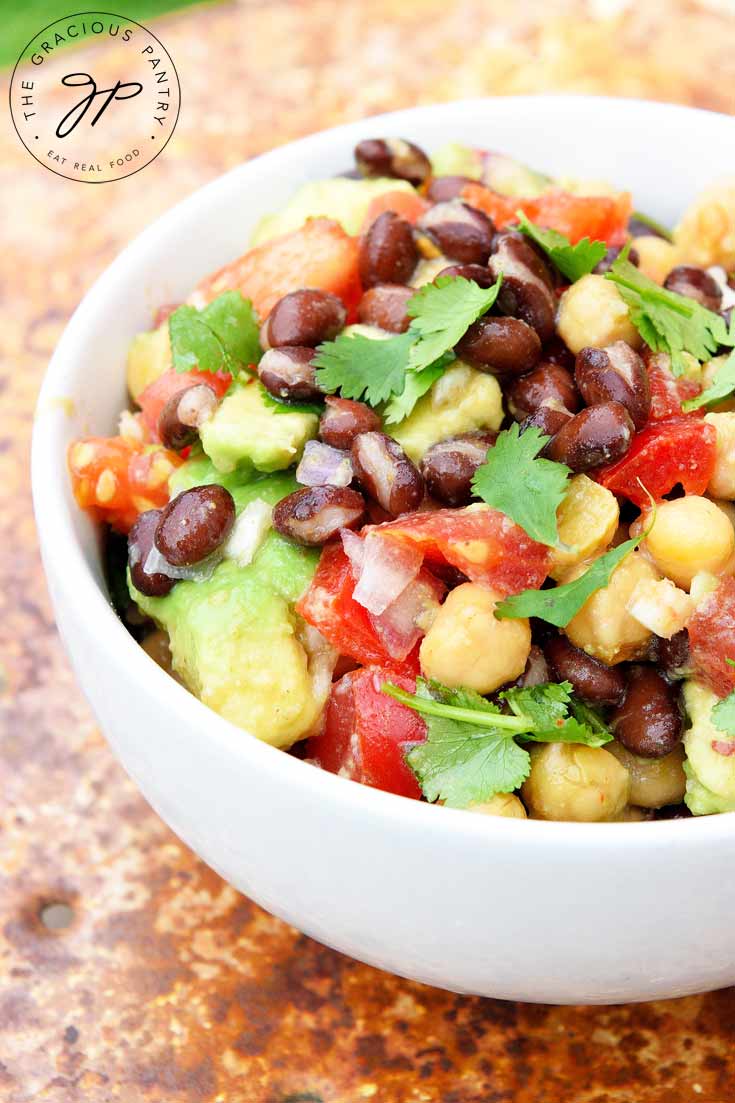 In the end, I did make a bit more than we could eat, but I managed to find a container to put the food in and stored it outside overnight. It was cold enough to get the job done.
MORE BEAN SALAD RECIPES: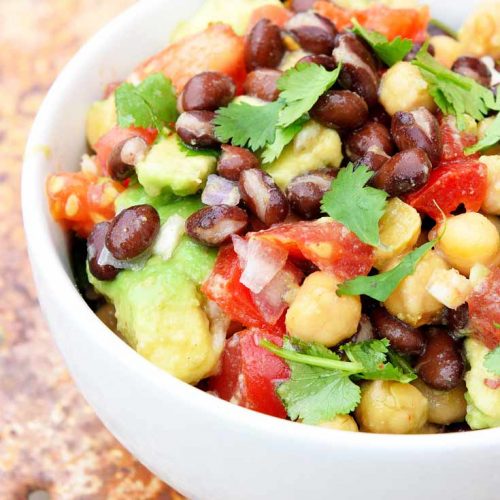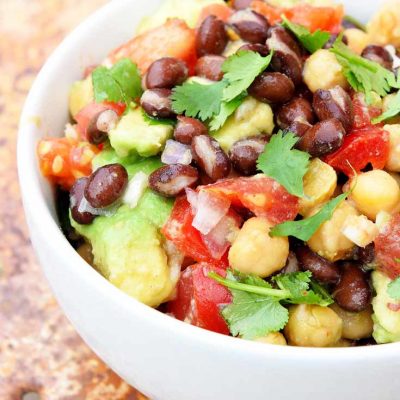 Chickpea Black Bean Salad
A simple, tasty side dish or meatless main course, it's both affordable and quick to make.
Print
Pin
Rate
Add to Collection
Go to Collections
CLICK TO WATCH THIS RECIPE IN ACTION!
Ingredients
15

oz.

can black beans

(rinsed and drained – no sugar added)

15

oz.

can chickpeas

(rinsed and drained – no sugar added)

1 ½

cups

chopped red bell pepper

(chopped small)

2

cups

chopped tomato

(chopped small)

½

cup

chopped red onion

(about a ¼ of an onions)

1

medium

avocado

(cut into chunks)

2

large

garlic cloves

(minced)

½

cup

fresh, cilantro leaves

(you can use parsley too if you prefer it to cilantro, or just leave it out.)

1

tsp.

ground cumin

1

tbsp.

olive oil

1

medium

lime

(juice only)

salt and pepper

(to taste)
Instructions
Once all your veggies are chopped to your liking, simply combine everything together in a mixing bowl and toss.

Season with salt and pepper to your liking and serve.
Notes
Please note that the nutrition data below is a ballpark figure. Exact data is not possible.
Nutrition
Serving:
1
serving
|
Calories:
238
kcal
|
Carbohydrates:
33
g
|
Protein:
10
g
|
Fat:
9
g
|
Saturated Fat:
1
g
|
Sodium:
590
mg
|
Potassium:
760
mg
|
Fiber:
12
g
|
Sugar:
4
g
|
Vitamin A:
1422
IU
|
Vitamin C:
65
mg
|
Calcium:
94
mg
|
Iron:
4
mg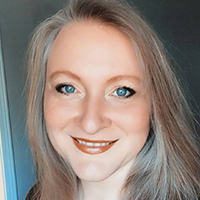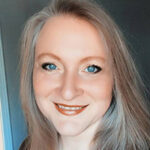 I'm Tiffany, a writer for MSN and the AP Newswire, a cookbook author, digital publisher, food lover, and mom. I create healthy, clean eating recipes for everyday living.