This post may contain affiliate links. Read my
Privacy Policy.
As an Amazon Associate I earn from qualifying purchases.
If meal prep snacks are a hangup for you, I'm here to tell you it's the easiest type of "meal" you could ever prep.
Some folks get hung up on the snacking side of meal prep because they are looking to either balance macros, or struggle with the desire to snack but not blow their eating plan.
The good news is, snacking is not a sin and absolutely SHOULD be part of a healthy diet.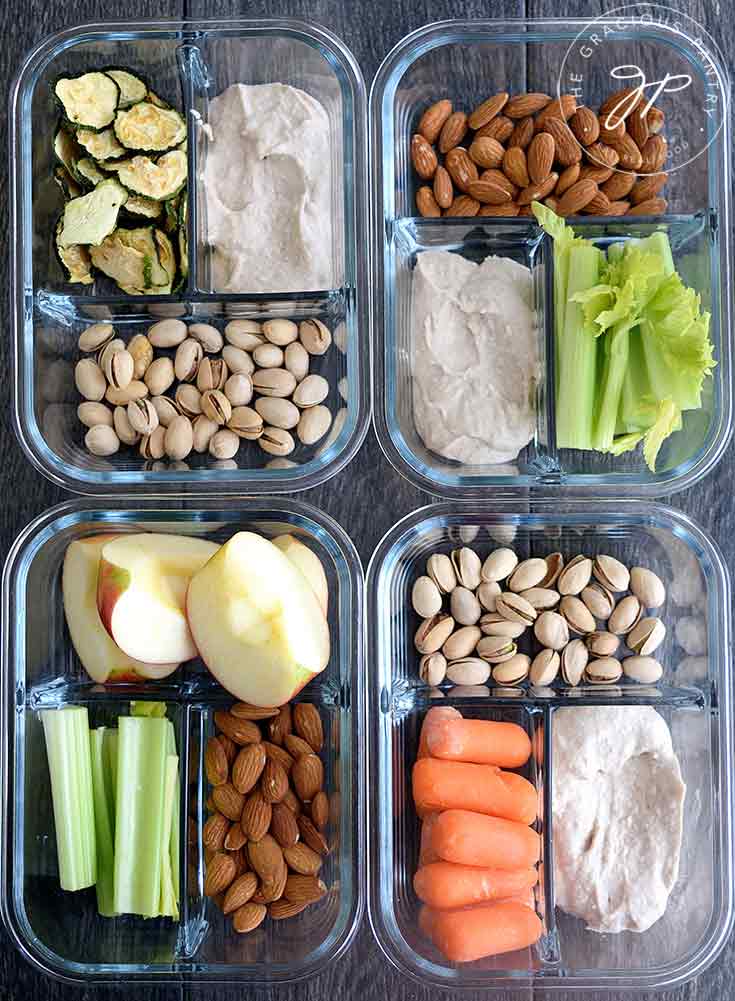 We tend to look at snacks as unhealthy things. But get it clear in your mind that a snack is not the same as a treat. While you could certainly have a treat as a snack, a snack should not always be a treat.
Think of snacking as just a small meal to keep you going between larger meals. Just a little something to keep the tummy grumbles at bay. Because we all know that it's far easier to stick to an eating plan when you aren't starving for your next meal.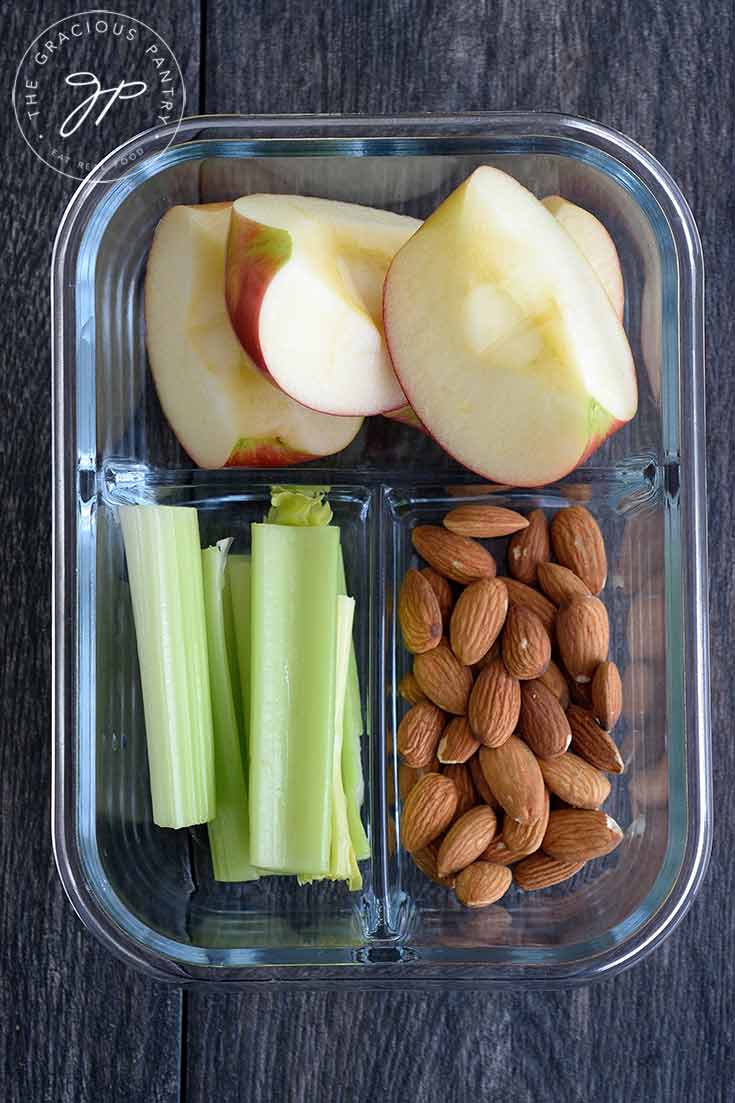 TYPES OF MEAL PREP SNACKS
So the trick then becomes, what type of snacks should you be prepping?
Snacks, if properly planned, should enhance your overall eating plan. These days, I track every bite I eat in My Fitness Pal so that I can carefully watch my macros. I focus heavily on fiber and protein intake, and thankfully, it's really been working for me. I try to make sure that I'm getting both meats and plant based proteins because I really believe the body needs both. And fiber… well, we all need that! But that's my personal approach. I will adjust my snacks to fit what I am already planning on eating for the rest of the day.
If you are not that big into planning out what you eat, that's fine too. Just stick to snacks like some of the following:
Hard boiled eggs
Raw almonds
Veggie sticks (carrots, celery, etc.)
Apples
Oranges
Bananas
Walnuts
Sunflower seeds
Small smoothies or protein shakes (although those are usually better as meal replacers, but that's up to you)
Clean, homemade protein bars or Lara bars
Homemade, dehydrated veggie chips (I love dehydrating plain zucchini slices and using them as chips with hummus! Yum!)
Small chunks of block cheese or string cheese
Homemade, healthy crackers or even homemade gold fish crackers if you're a big kid like me
Trail mix (so easy to make in minutes!)
Popcorn with different flavorings and seasonings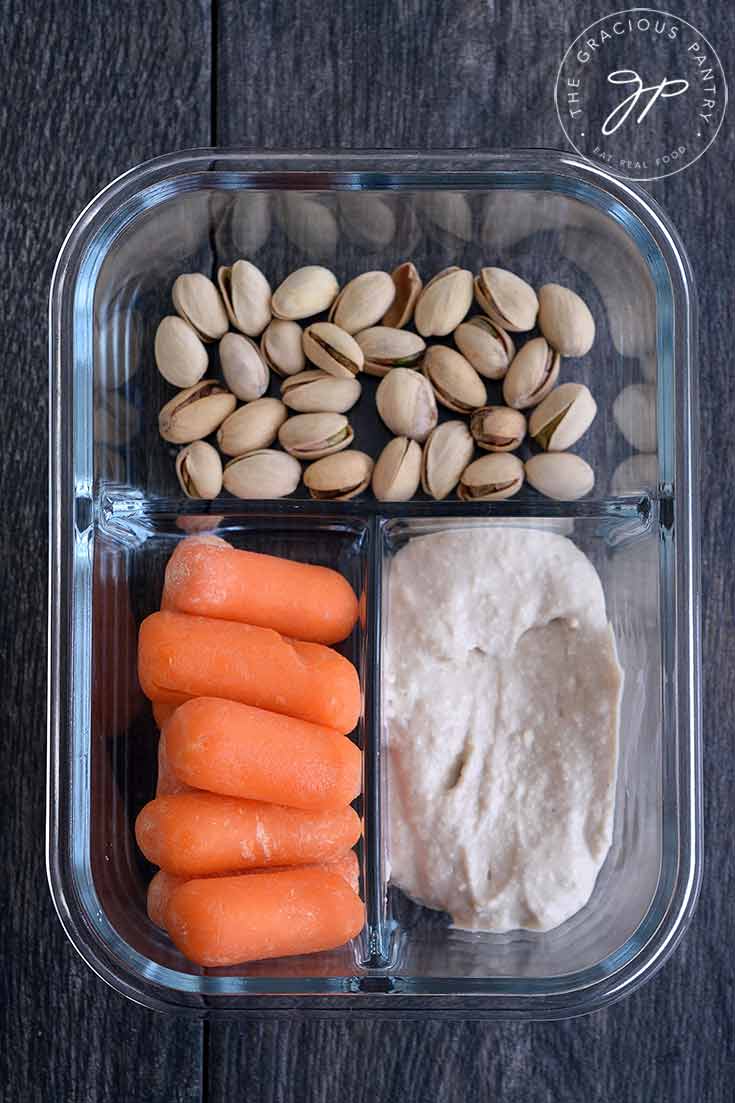 The thing with prepping snacks is that most of them are so basic that all you have to do is portion them out and put them in your snack containers. It's much easier to have a small container of the prescribed amount of nuts than it is to sit there measuring them out each and every time. So do the measuring, counting, chopping, washing and all of that at one time and get them into containers. Snacking will go so much more smoothly if you do.
SUBSCRIBE:
Remember to subscribe to my free, Gracious Pantry Newsletter to receive all my latest recipes in your inbox! Click here to sign up!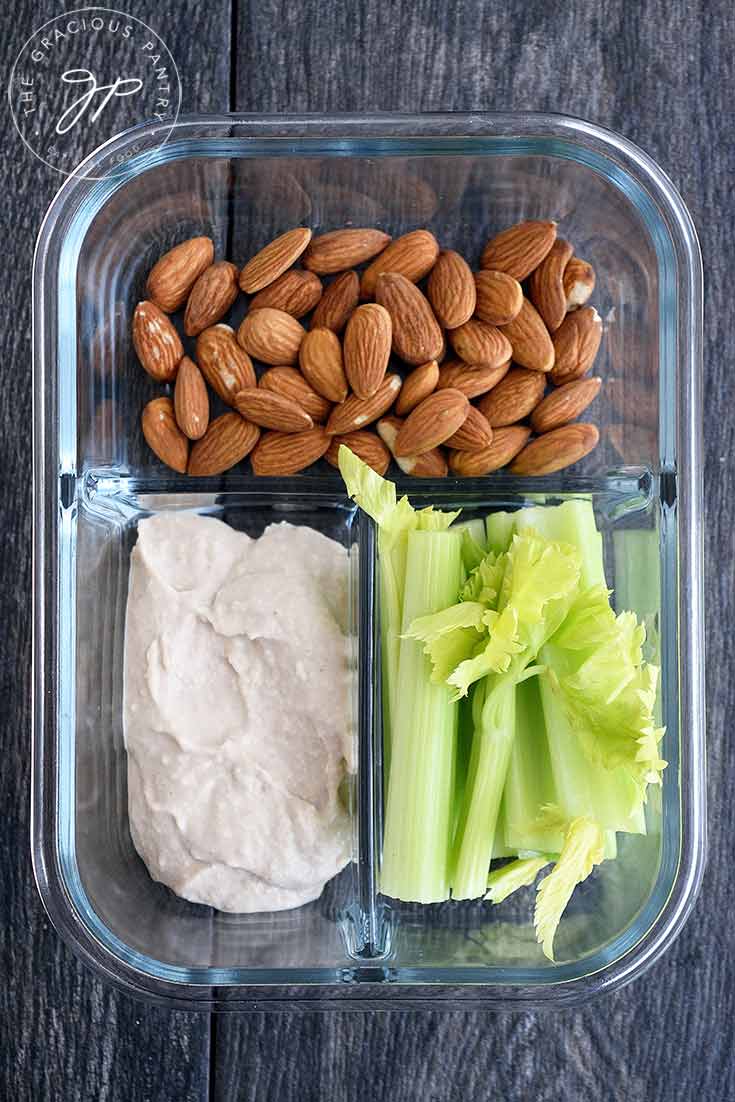 MEAL PREP SNACKS PLAN
So I'll get you started with three simple, easy snacks for the week. It's a short shopping list and involves minimal prep time. This is very basic, but will at least get you started with having some healthy snacks on hand for the week. Hummus tends to last a full 5 days, so you should be set for the week. But if you find that you just won't eat that much hummus during in five days (I don't either!), simply portion it out into small containers and freeze it for up to 4 months. It will need a little bit of stirring after it's thawed out, but freezing hummus is a great way to make sure you always have a healthy snack on hand. Just don't freeze it in large portions. It's a pain to thaw.
Also note that this plan will have you eating hummus every day. I do this to get my fiber. But if you don't want that much, simply switch out the hummus with some of the other leftover ingredients from this plan. Easy!
For this prep plan, we'll be using the following:
Baby carrots
Celery
Apples
Raw almonds
GET THE PRINTABLE SNACK PREP PLAN HERE
Simple One Recipe Snack Prep Plan – Printable
NEED CONTAINERS? CHECK OUT YOUR DIFFERENT OPTION HERE!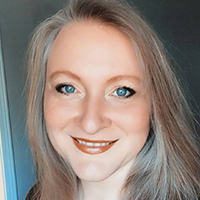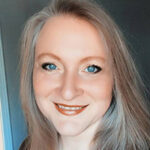 I'm Tiffany, a writer for MSN and the AP Newswire, a cookbook author, digital publisher, food lover, and mom. I create healthy, clean eating recipes for everyday living.