Need a Meal Prep 101 source you can refer to again and again? You found it! Bookmark this page so you can refer back to it easily!
I'm going to help you learn how to meal prep without stress or breaking your budget.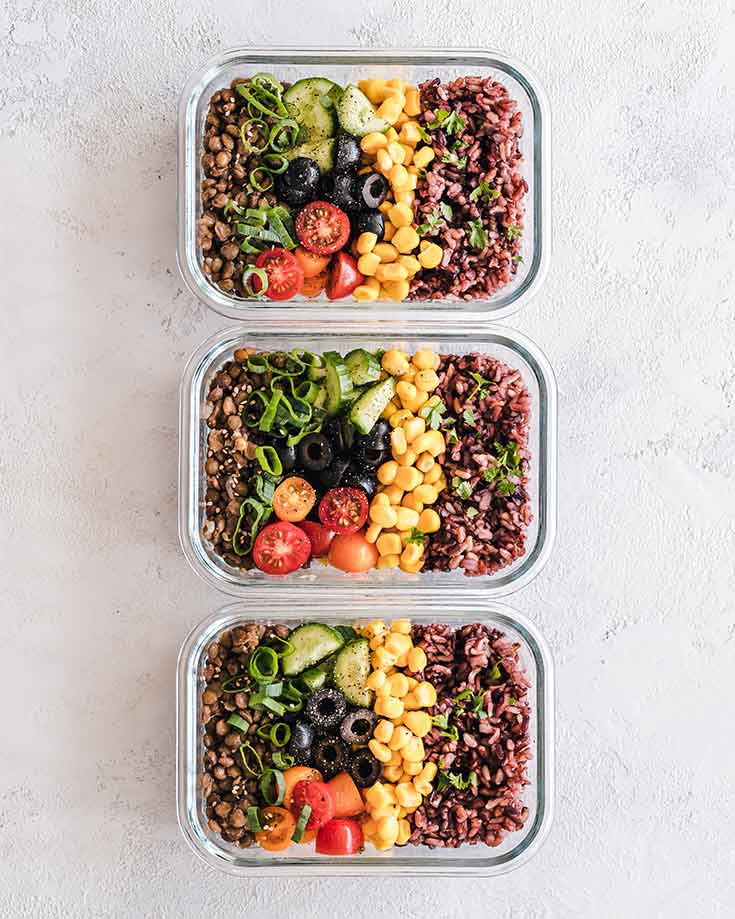 If you've never done meal prep before, I know it can feel super overwhelming and like you really have zero idea where to start. And heck, even if you've done it a few times, it can still feel that way! But I promise, with a few tips, tricks and helpful resources, this Meal Prep 101 section will make life and meal prep much easier for you.
Benefits Of Meal Prepping
Saves Time – It may feel like asking a lot to give up a couple hours every weekend for food prep. But the time you'll save not cooking meals during your busy week far outdoes any time you could save during your weekend. I promise, it's worth it!
Saves Money – When you shop for real food once a week and then actually use it, you are far less likely to lose money on wasted, rotten food as well as being far less likely to eat out for convenience. All those meals out add up fast!
Saves Stress – You don't have to worry during busy days about what you'll make for any given meal. Can you imagine? No more, "What's For Dinner, Mom!?". Just tell them to grab something out of the fridge! Same goes for lunches. How much easier would it be to just grab a pre-made lunch out of the fridge instead of trying to figure out what to pack that morning when you're running late?
Eat Better Food – There's no way around it. If you prep healthy meals, you'll eat healthy meals. You have to make eating healthy easier and more convenient than eating fast food or crappy, processed foods. You'll never make a trip to the drive-thru if you have a bunch of perfectly good, ready-to-eat meals in the fridge that you can just grab and heat in the microwave like a tv dinner. (Psst… I'll even be giving you some no-cook meal prep plans for those hot summer days when cooking isn't an option or those busy weekends when cooking just isn't an option. Stay tuned for those!)
Healthy Meal Prep 101
Prepping meals allows you to plan, shop for and prepare healthy meals that you'll actually enjoy eating. The trick is to find recipes you actually like. Nobody will eat something they don't particularly care for, no matter how many servings of it are waiting or you in the fridge. So the trick is to really make sure that whatever meals are waiting for you in that fridge or freezer are actually meals you'll look forward to eating. That doesn't mean stocking your fridge or freezer with garbage food either. It just means you should find recipes you enjoy. Plain and simple. These meals don't have to be the next best thing to cheesecake or that expensive dish you had ten years ago and that very expensive restaurant. Keep things simple, affordable and low stress with good flavor and you'll strike the perfect balance for healthy meal prep.
How To Plan A Menu For Meal Prep
There are several approaches to planning what you want to eat for any given week.
You can use a downloadable, free meal planner like this one that you print and fill out and take to the store with you.
You can use an app like Pinterest or any number of apps out there. You can create a meal plan board and then within that, create a section for each meal prep plan each week for easy reference. Then just pin what you like for that week to the section inside your meal plan board.To do that, follow these steps:
Create a board for your meal plans, then click into that blank board.
Now click the plus, and click on "Add Section". Title this with whatever you want to call this week's meal prep plan.

When you are done, you should have a blank board for collecting the recipes you want to use for that particular week. While it won't make you a shopping list, it will collect recipes into possible combinations you'll enjoy!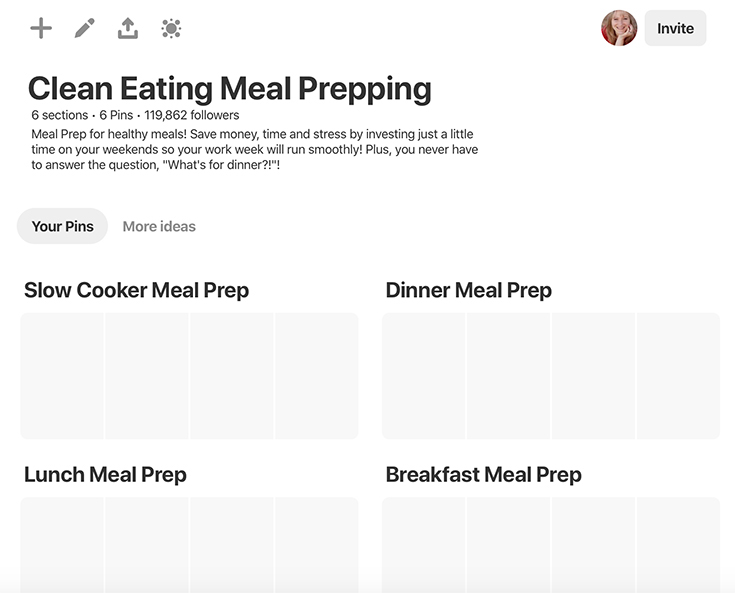 And if you'd like to follow my meal prep board on Pinterest for more ideas, you can do so here!
Which Foods Are Best For Meal Prepping?
Truth be told, there aren't any foods that can't be prepped to some degree. So it really all depends on how much time you want to invest. I'm all for keeping things simple, so here is a list of some basic foods that have prepped well for me.
The magic number is 4. To keep prepped, cooked food in the fridge, you limit is 4 days before you should throw them out for food safety reasons. There are always some exceptions to this rule in both directions for some foods, but four days is the usual amount of time that most of your foods will last. I know several people who never cook more than three days worth of food at a time in order to keep things safe and in tasty shape. The choice is yours. Pretty much anything will last three days. Most foods will last four days, few will last for five days. So it's a personal choice. I tend to go for 4 days in most cases. But note that you should NEVER go over three days with seafood or pork.
Meats – Chicken, beef, pork and even seafood. A serving of protein is typically no more than 30 grams of protein. Usually between 4-6 oz. of protein, depending on what protein you are prepping.
Vegetables – Hard veggies work the best, medium veggies will prep well but for less time, and soft, delicate veggies will prep for the least amount of time prior to consuming them. With vegetables a serving size is typically a 1/2 cup, but can go up to 1 cup for very low calorie veggies.
Fruits – I find whole fruits like uncut apples, nectarines and other fruits you can eat off the seed and have edible skins are always the easiest because you don't have to actually do anything to them other than wash them unless you really want to cut them into smaller pieces. But they tend to last longer and better if you keep them uncut. Fruits with inedible rinds such as oranges or pineapple simply require being peeled and cut into bite-size pieces. This is usually a quick and easy process if you stay away from very exotic or hard-to-work-with fruits. Fruit servings are typically kept to a 1/2 cup or 1 piece of fruit such as 1 apple or 1 orange.
Grains – Some grains will go bad quicker than others once cooked, but pretty much any grain will last up to four days. So prep enough for that. In most cases, that means 2 cups of cooked grains since most grains have a 1/2 cup serving size once cooked.
Best Meal Prep Containers
There are several types of containers you can use. None of them are wrong, it just depends on what your preference is. Here we'll go over the pluses and minuses of each and what each one is typically best used for.
Plastic Meal Prep Containers
EZ Prepa [20 Pack] 32oz 3 Compartment Meal Prep Containers with Lids – Durable BPA Free Plastic Reusable Food Storage Container – Stackable, Reusable, Leak Resistant, Microwaveable & Dishwasher Safe
These containers should always be durable, BPA free, food-safe, freezer-safe, microwave and dishwasher-safe. You want a container that is going to hold up for several uses, is easy to clean and separates your food the way you want for many varied types of food. And don't forget the lid! These particular containers can be found on Amazon. See link below.
Best Use: For individual meals stored in either the freezer or fridge.
Pluses: They store well, clean easy and can be used multiple times before they have to be thrown out.
Minuses: They do have to be thrown out after a few uses and they are… plastic. Some people (like me) prefer to avoid plastic. It's a personal choice.
Glass Meal Prep Containers
Prep Naturals Glass Meal Prep Containers 3 Compartment 5 Pack – Bento Box Containers Glass Food Storage Containers with Lids – Food Prep Containers Glass Storage Containers with Lids Lunch Containers
I prefer these. They are heavier and require a bit more storage room because they don't stack quite as compact, but I like them because I don't like hot food sitting in plastic, even if it's considered food-safe. Especially if I'm warming up my food in the microwave. Yes, I'm paranoid and I'm okay with that. Make the choice that is right for you. These glass containers can be found on Amazon. See link below.
Best Use: For individual meals stored in either the freezer or fridge. You can buy glass containers without the partition as well if that's your preference.
Pluses: They store well, clean easy, are durable and never have to be thrown out unless you crack or break one (which is rare because they really are quite durable)
Minuses: While the glass portion is great, the lids do wear out after a while. The plastic can become brittle, so it's best to hand wash them and never use them in the microwave or oven (the glass portion should be oven-safe).
Reusable Zipper Top Food Storage Bags
SPLF 12 Pack UPGRADED Dishwasher Safe Reusable Storage Bags (5 Sandwich Bags, 5 Snack Bags, 2 Gallon Bags), BPA Free Freezer Safe Leakproof Silicone and Plastic Free Ziplock Lunch Bags Food Storage
Some people prefer to buy the disposable ones at the grocery store. Typically the Ziplock brand or some other well known brand in a gallon size will do the trick. But if you don't want to constantly throw out plastic bags, there are reusable bags that work quite well and are freezer-safe. These zipper-top bags can be found on Amazon. See link below.
Best Use: For either individual meals or for a larger portion of food for family meals, soups, stews and meals you prep and freeze to cook in the slow cooker or Instant Pot. The best use will depend on the size of bag you purchase.
Pluses: Plastic bag pluses are that they don't require washing, freeze easily and can be frozen flat for easier stacking. Silicone bags (pictured above) pluses are that they are reusable and can freeze flat for easy stacking (although not quite as flat as a regular plastic version)
Minuses: Plastic bag minuses are that they are plastic. Something some people like to avoid. They add to the landfill because they generally are a pain to wash out, so most folks dispose of them after one use (although they technically could be washed by hand if done thoroughly) Silicon bag minuses are that they do require washing after every use. Some people mind, some people don't.
Condiment Containers
Tablecraft 2.5 oz Dipping Cups with Lids, 2.5-Ounce , 6 Pack, Silver
These are great for dips, salad dressings and nut butters. Anything you'd like to enjoy on the side. There are a few different ones on amazon as well. See link below.
Recipes For Meal Prep 101
Note that this list will be updated with links as more becomes available. If something is listed here that you can't click, it means I'm working on it and as soon as I have an active blog post for you to visit, I'll add the link for you to click. That's why I suggest bookmarking this page for future reference. I'll be updating this page over time with all sorts of recipes and information!
Note that this list will be updated with links as more becomes available. If something is listed here that you can't click, it means I'm working on it and as soon as I have an active blog post for you to visit, I'll add the link for you to click. That's why I suggest bookmarking this page for future reference. I'll be updating this page over time with all sorts of recipes and information!
Meals In Jars
One Pot Meals Prep
No Cook Meal Prep
Find all my meal prepping recipes and shopping lists here!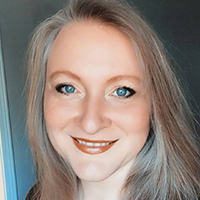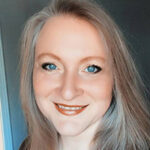 I'm Tiffany, a writer for MSN and the AP Newswire, a cookbook author, digital publisher, food lover, and mom. I create healthy, clean eating recipes for everyday living.