Clean Eating Meal Planner
Get your free, clean eating meal planner!
Ready for a clean eating meal planner you can print out at home?
It's funny. Sometimes as a blogger, I just go along doing what I think I'm supposed to be doing, and then end up missing the obvious. Case in point…
I've been using a meal planner for a while now. It's just a very simple layout that helps me organize my meals for the week. It never dawned on me to post it here on my blog. Can we say… DUH???!!!!
Well, that's all fixed now. Here is my Clean Eating Weekly Menu Planner! Check out instructions for using it below.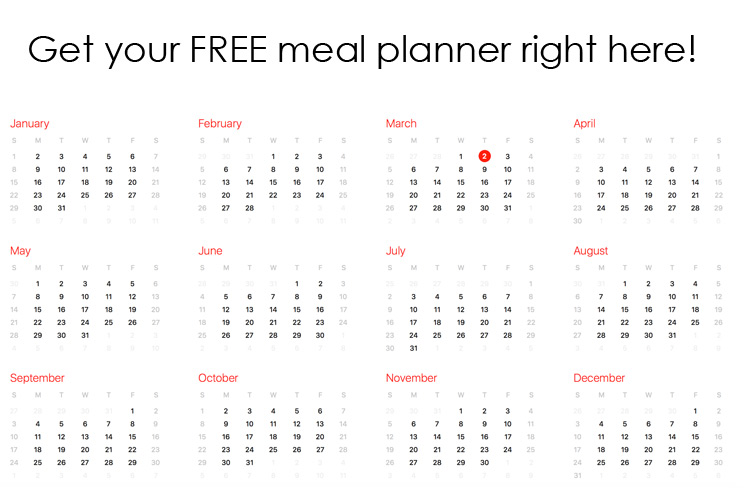 And don't forget to check out my free clean eating shopping list downloads for many of your favorite grocery stores!
HOW TO USE IT:
Sign up for my newsletter below and the planner will be delivered to you for free, via email. (I promise, no spam. I hate it too!)
Once you have it in your hands, grab a pen and write down your main meals (I like to start with dinner. It generally inspires the rest of the day.). I have it broken down by breakfast, lunch, dinner and snacks. I simply plan three main meals and then divide them in half and spread them out over the day, about every 2-3 hours. (Hint: Use my blog for meal ideas!!) That being said, I don't typically do that with breakfast, which is where snacks come in.
For the snack section, I plan roughly three snacks that are easy to grab and travel with. On-the-go types of snacks. This might be cucumbers and hummus, roasted chickpeas or muffins. I choose three for variety and make enough to eat all week long. I just work them into my meal plan where needed, because lets face it, the week never goes as planned.
When I plan my meals, I make larger batches and freeze everything I can. I try to fit a soup in (they freeze easy) and pair that with a salad on a busy night. I also make sure to prep a slow cooker meal or two for when my evenings run late and I have no time to cook dinner. You'll have to plan and adjust for your own lifestyle.
CLEAN EATING MEAL PLANNER:
Now go check your email (check your spam folder if you don't see anything) for a confirmation email. Click the link inside of that email and you'll be all set!