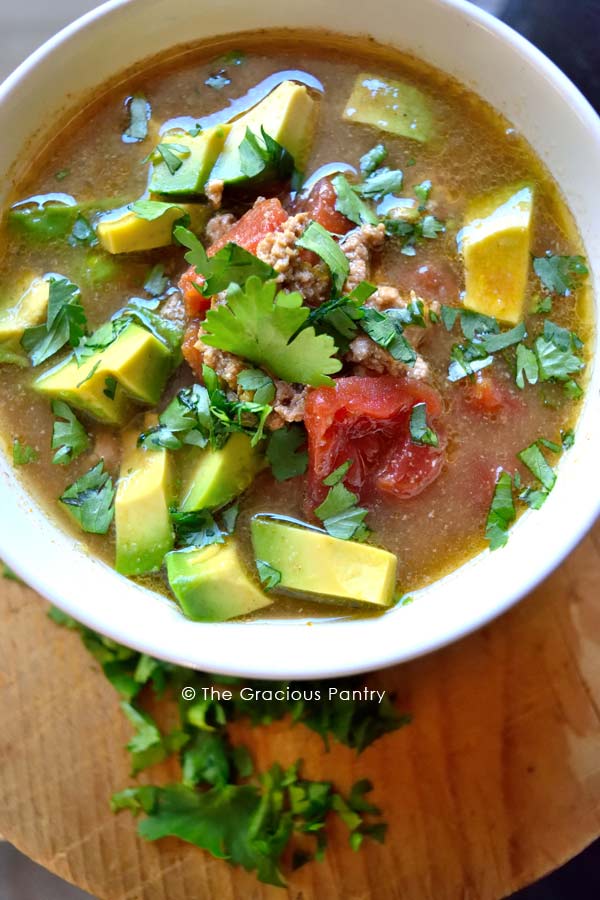 I think most of you know by now that I have serious love for Mexican flavors. The Mexican food section of my blog is always growing because I just can't get enough!
I did a taco soup recipe a while back, but wanted to try one in my slow cooker because it's been so blasted hot here during the day that I just didn't want to turn on the stove. But the nights have been chilly, so it's perfect for soup.
I love this recipe simply because all you have to do is make the easy base and then let everyone add their own toppings and additions. It makes it easy to make everyone happy at the dinner table with minimal work or slaving over a hot stove!
Please know that the base is just that. Something that you want to add things to. So if you try the base and aren't totally thrilled with the flavor, rest assured that things really get kicked up a notch when you add in all those other flavors. Although, I have to say that both Mini Chef and I enjoyed the simplicity of the base. But in the end, we enjoyed the soup with our additions much more.
This could be a great soup for packing for lunch too. Just pack your toppings on the side, keep the soup warm in a thermos and add everything else when you are ready for lunch. Pretty simple and very tasty!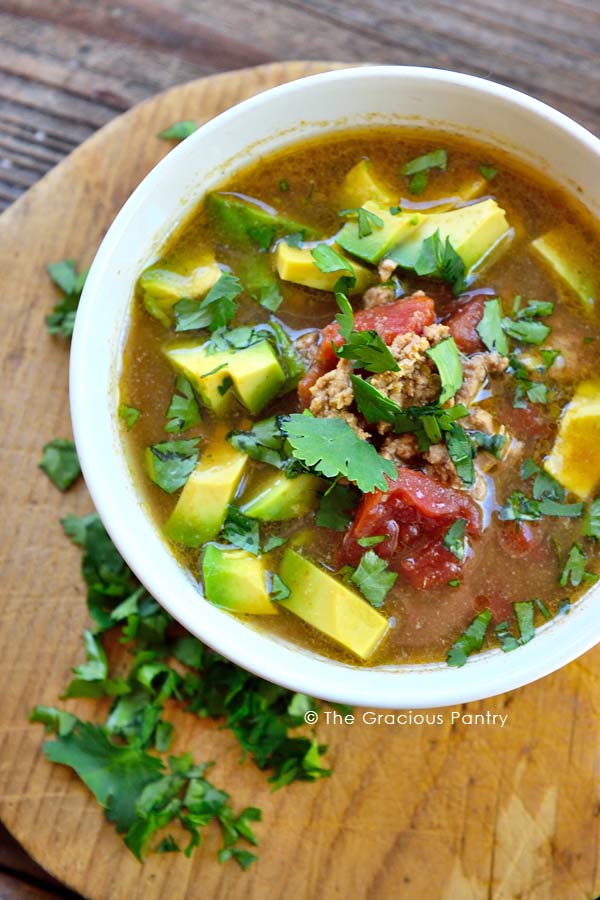 YOU MIGHT ALSO ENJOY:

Clean Eating Slow Cooker Taco Soup Recipe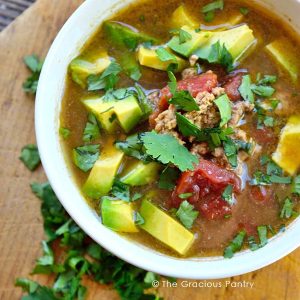 Author:
Tiffany McCauley | The Gracious Pantry.com
Yield:
Approximately 6 cups
Ingredients
1 lb. ground turkey
1-2 tbsp. oil
1 cup diced tomatoes in juice (canned or fresh)
4 cups beef or chicken broth ( I used beef)
1 tbsp. garlic powder
1 tbsp. onion powder
2 tbsp. ground cumin
1 tbsp. chili powder
OPTIONAL TOPPINGS:
1-2 cups corn (frozen is fine)
½ cup favorite, clean salsa (watch the sodium!)
Chopped fresh cilantro
Chopped, fresh avocado
Chopped fresh onions
Grated cheese
Sliced black olives
Instructions
In a large skillet, brown the meat in the oil.
Transfer to the slow cooker crock and add in all other ingredients.
Cook on low for 2-3 hours
Serve, top with the toppings of your choice and enjoy!