Peaches were never one of my favorite fruits growing up because of their skin. I never liked the fuzz. Not even a little. Nectarines were great, but I just couldn't get past the fuzz on peaches.
This recipe created and shared in collaboration with eBay.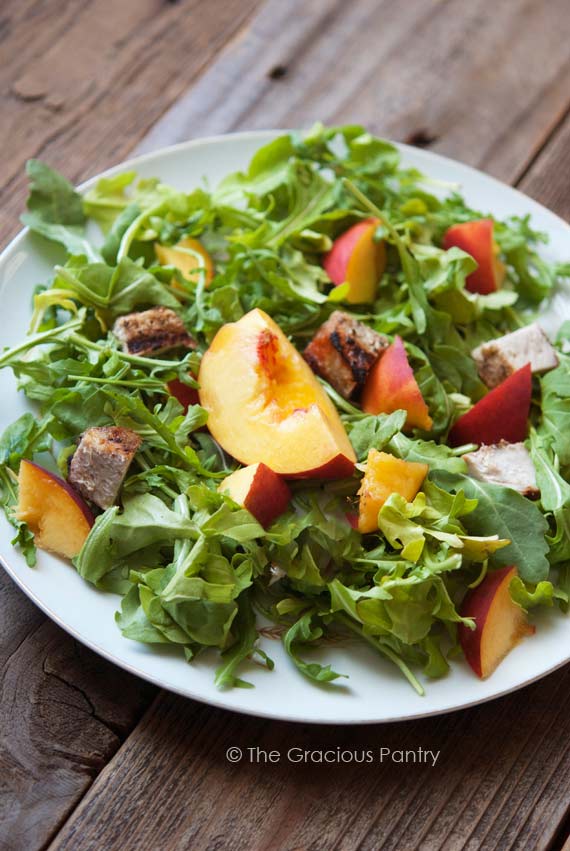 Eventually, I did learn to simply peel them and now I enjoy them every summer. I've come to gain an appreciation for the unique flavor of a peach and it inspired me to create this recipe.
I love the combination of flavors here. A little spicy kick from the arugula, the sweetness of the peaches and the savory from the pork all come together to make quite the delicious salad. Top it with a little peach vinaigrette and you're set to go!
YOU MIGHT ALSO ENJOY:

Please note that this was created in collaboration with eBay. You can  VIEW THE ORIGINAL RECIPE HERE.

Clean Eating Pork, Peach & Arugula Salad With Peach Vinaigrette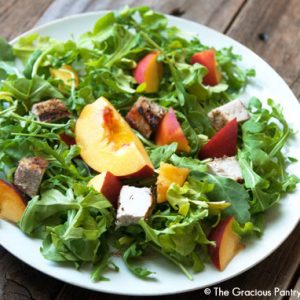 Author:
Tiffany McCauley | The Gracious Pantry.com
Ingredients
3 boneless pork chops (about 1¼ lb)
Garlic powder
Ground nutmeg
3 peaches
2 cups fresh arugula
Dressing to taste (please see link below for recipe.)
Instructions
Place the pork chops on a flat work surface. Season both sides of the chops liberally with garlic powder and nutmeg.
Place on the grill and cook until done.
Cut up the chops into bite-sized pieces.
Cut up your peach and assemble your salad.