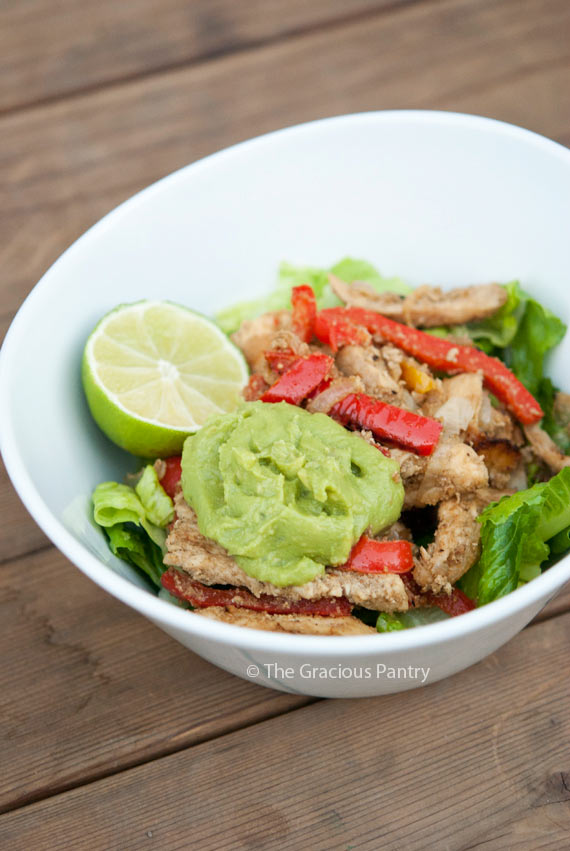 I don't eat out all that much anymore. But when I do, I usually try to navigate my way into a Mexican restaurant so I can put this delicious salad together out of their typical fajita offerings.
I order the fajitas without the beans, rice, salsa (which often has added sugar) or tortillas. Then I order a side plate of lettuce.
But better still is when I make this at home. My lettuce is actually crisp and I know for sure my seasonings are exactly what I want to be eating.
This particular bowl was my mom's dinner the other night. I had friends over for my first gathering at the new house and I served them fajitas while my mom had the salad, which she preferred. It's a fabulous lower carb option and it's still very filling! And if you eat low carb and need more fats, just load up on healthy, homemade guacamole!
YOU MIGHT ALSO ENJOY:
RECIPES USED:

Clean Eating Fajita Salad Recipe
Author:
Ingredients
1 batch clean eating chicken fajitas (minus the tortillas)
Lettuce, as much as you'd like
Guacamole, as much as you'd like
Fresh cut limes to squeeze over the top
Instructions
Prepare the fajita chicken.
Layer the lettuce in the bowl, then the chicken and top with guacamole and lime.