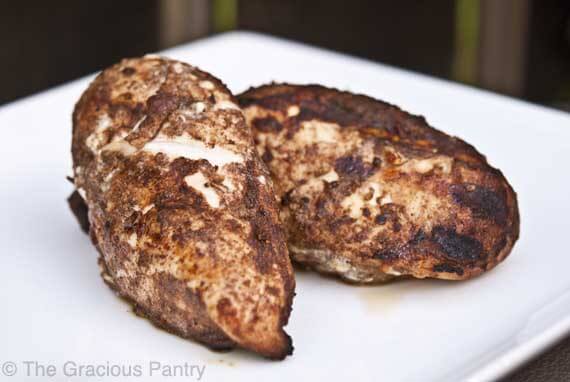 I eat a lot of chicken. And sometimes, I wonder how many different ways I can possibly prepare it.
I mean, I know the possibilities are pretty endless, but chicken is just one of those things that can draw a blank for me sometimes. I mean really, how many different ways are there to prepare chicken????
Well, thankfully, I found one more. Mike said that this was the absolute best chicken I've made so far since we've been married. Mini Chef didn't say much, he just ate. So I guess that's a compliment coming from a picky 4 year old.
I loved it too and was grateful to have something different again. I've been making a lot of baked Tarragon Chicken lately, and it was starting to get boring. Thank goodness for spice rubs! The possibilities truly are endless!
YOU MIGHT ALSO ENJOY:

Clean Eating Middle Eastern Style BBQ Chicken Rub
Ingredients:
1 tablespoon cinnamon
1 tablespoon garlic powder
2 teaspoons cumin
1 teaspoon coriander
1 teaspoon onion powder
1/4 teaspoon cloves
Directions:
Blend all spices in a small mixing bowl.
To make your chicken, simply place the raw chicken, some oil and this spice in a bag and shake to coat evenly. Then place on your barbecue to cook.
Note: This entire recipe was enough to coat 8 large chicken breasts.