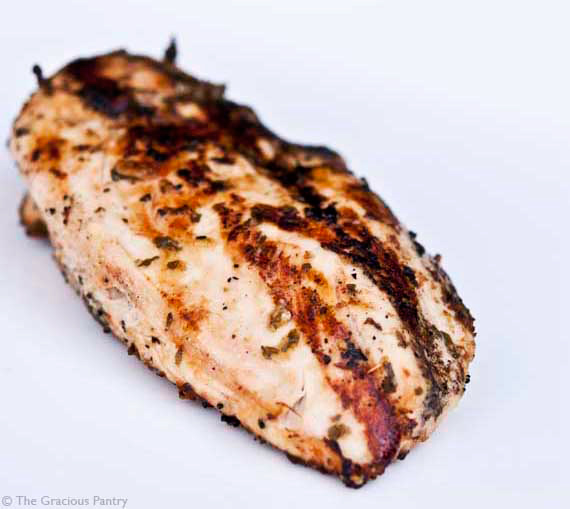 Mom's always make the best food. Don't you think? Even if your own mom wasn't the greatest cook, I'd be willing to bet you know somebody's mom who could cook like no other.
My mom is a case in point. She can make just about anything taste great. She taught me to bake my chicken with lemon juice and tarragon. Fabulous stuff!
So it wasn't a far stretch to use that recipe for a fantastic BBQ dinner. The flavor of the tarragon is a bit milder and more subdued because the flavor of the bbq becomes prevalent with this recipe. But it's a fantastic flavor when it's done!
In fact, I encourage you to try it both ways. Try it on the grill AND in the oven. You'll love them both!
YOU MIGHT ALSO ENJOY:

Clean Eating BBQ Tarragon Chicken
(Makes 2 chicken breasts)
Ingredients:
2 chicken breasts, boneless and skinless
2 tablespoons lemon juice
2 teaspoons garlic powder
2 teaspoons onion powder
1 tablespoon dried tarragon
1 tablespoon olive oil
Directions:
Place all ingredients in a plastic bag, tie off and shake until the chicken is completely covered in the seasonings and oil.
Remove the chicken from the bag and place it on the bbq. Cook until it reaches about 165 degrees F. with a meat thermometer.